How Organization Development Brings the Best ME to Every Situation
Marco Cassone, MSOD '14
As a student with several trimesters under my belt in Pepperdine University's top-ranked MSOD program and graduating this year, I thought it would interesting to interview a student new to the program. I recently spoke with Luis Morejon about his experience as a member of the Pi Prime cohort, class of 2015. With a passion for learning and development, Luis serves as the district head of HR USA South at Panalpina, a provider of intercontinental air and ocean freight forwarding services, and supply chain management solutions worldwide. With 16 years of HR experience focusing on compliance and regulatory reporting, Luis explains his motivations for seeking to develop a higher level of leadership at Pepperdine.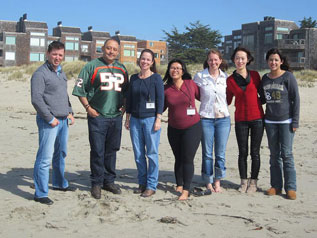 MC: Luis, thank you for agreeing to a blog interview. My hope is that our exchange will give an intimate look at what it's like to enter this amazing program. What first attracted you to check out getting your MSOD from Pepperdine?
LM: Honestly, a little Google goes a long way. I searched for "top organization development graduate programs" and for "best online masters in OD," and there it was: #1 editor's pick on several sites. I must admit I was impressed. The best of business strategy and behavioral science in one degree––what a find! Subsequent conversations with alumni David Schechtner and Matt Auron confirmed what I was reading. What about for you, Marco?
MC: I remember a distinct, butterflies-in-my-stomach conversation with Mary Tabata and Shany Mahalu in the program office. One said, "Prospective students tell us over and over: 'Wow, this is the program I've been looking for, but never knew existed!'" As a creative entrepreneur, I'm like the poster child for experiential learning, and the MSOD's international practicums really excited me. Tell me your take of the application process coming in, Luis.
LM: Well, have you ever seen in cartoons when characters are turned upside down and shaken, held only by their ankles and literally everything is emptied out—wallet, loose change from their pockets, keys, gum wrappers, etc.? That was what the application process felt like for me. It gave me an opportunity to look at all the pieces of Luis to reflect on who I am, what had shaped my life, who and what is important to me, and why. The application questions helped me evaluate so much. Why Pepperdine? Why the MSOD program? What impact did I want to make? Why me? Why now?
MC: I've learned that inquiry itself is a form of intervention, and to never underestimate the power of a good question. How did the process change you?
LM: Interestingly enough, the more I answered questions about myself, the clearer my purpose became: I want to live a fulfilled, inspiring/inspired life, and help those around me to do the same. I realized that everything I had learned up to that point had unequivocally prepared me for the next chapter of my life. I made a conscious decision to give it my best, to risk doing things I had often only thought of and to experience living an authentic and courageous life. The MSOD program would be the place where I could finally be.

MC: I really get it. As you know from learning and development, Luis, adults learn by doing. Our program takes an integrative, inside-out approach to human systems, starting with the individual and continuing with small- and large-system practicums in Europe and Central America. The next stop for my cohort will be transorganizational collaboration in Asia. I'm thrilled! What were some of your impressions from your first intensive at Pajaro Dunes?
LM: Pajaro was such an eye-opening experience for me. I came away with lots of questions, quotes, reflections and ideas. Here are a few:
Who could I be if I were at my very best as a leader?
With as many issues as I think I have to work on, why do I also feel responsible for changing the world?
Our ability to evolve is a function of our relationships with others. The quality of our relationships regulates fear, anxiety and stress.
If I'm going to help a system, I need to be clear about who I am
If better is possible, then good enough is just not good enough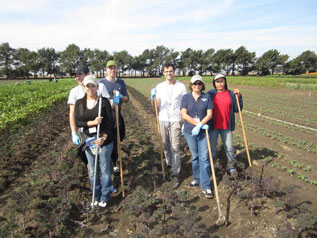 MC: My post-Pajaro notebook was full of similar insights. I've tried explaining what we learn to friends or family, but it's not easy. What makes experiential learning extraordinary is experiencing it. But people do pick up on the difference they see in us as we start to live what we learn. What are a few of your post-session reflections?
LM: Two or three thoughts come to mind. I need to be willing to struggle through cognitive dissonance around human behavior; sometimes it's just unpredictable and messy. Second and more importantly, I want to develop a deeper understanding of who I am and how my values, mindsets, motivation, relationships, and actions shape who I am and impact my leadership and effectiveness.
MC: Yes, the practice point of view we develop as students will one day become our biggest resource as consultants.
LM: The third is advice to myself to go easy on the perfectionist in me and live the moment. I remember Dr. Ann Feyerhem passing along a phrase from MSOD program founder, Pat Williams: "Grab this time; you will never pass this time again."
MC: It's like the perfect lifetime intervention. The first few months are indeed precious: not only is it the first time we get profoundly changed from the experience, it's the last time it will ever be the first time. We are learning about life from the inside-out, starting with our own.
LM: It is, most definitely. And thankfully I realize I don't need to sweat the small stuff or try to get it right as much as try to bring the best me to every situation. I'm so excited and passionate about what I'm learning, Marco. I can't wait for what's ahead.
MC: Thank you for your time and for helping to give a little insight to the first few months of life in the MSOD program. Congratulations, Luis, and enjoy the journey.