Graziadio Hallmarks: Values-Centered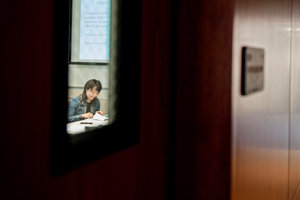 Inspired by our Christian values, we seek to: Promote transformational learning, Create applied knowledge, and Equip our students to become Best for the World business leaders and entrepreneurs.
Values-Centered Leadership
A values-centered leader is one who believes ethics and profits need not be mutually exclusive to achieve success in business. In fact, we believe they should go hand in hand.
That's why we provide opportunities for values-centered leadership both in and out of the classroom. For example:
Noteworthy examples abound of Graziadio School students emerging as courageous leaders, compassionate global citizens, and people of integrity – the future of business.
Who-Based Career Decisions
Make decisions based on who you are and not what you think you are or think you should be, urged April 2013 graduation speaker and Distinguished Alumni Award recipient Blake Irving (MBA '88), CEO of Go Daddy, the world's largest provider of Web hosting.