Irvine Graduate Campus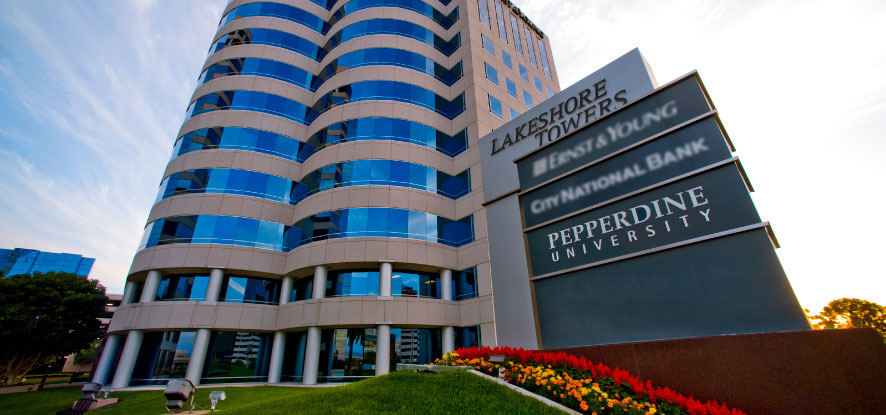 Graziadio Campus Locations
Business School Programs Offered Here:
Irvine Campus
Lake Shore Towers lll
18111 Von Karman Avenue
Irvine, CA 92612
Irvine, California, is located within Orange County, a major southern California business market. Irvine industries include software, pharmaceuticals, entertainment, and design. The Pepperdine Graziadio School is located within Lake Shore Towers III at The Orange County Center—a premier, world-class corporate environment. Just east of the John Wayne Orange County Airport, this complex features an on-site restaurant, bakery, dry cleaner, and a 24-hour fitness facility. Beautiful landscaping yields a one-acre "Central Park" and pond.
With a focus on Graziadio part­-time and executive programs, the Orange County Center at Lake Shore Towers location complements the busy schedules of area professionals. Parking is provided in the adjacent structure, and the Irvine Metrolink Station is just 12 minutes away. The campus is on the second, third and fourth floors of the Lakeshore Towers Building III in the Lakeshore Business Complex. Students have access to complete educational services – executive-style classrooms, faculty offices, computer labs and reference facilities.
Driving Directions
From the 405 freeway, all points north and south:
Exit MacArthur Blvd. and turn left. At the next light, which is Michelson Dr., turn left. Go past DuPont and turn left at Bixby. Continue to the end of Bixby where there is a stop. Immediately to your right will be our parking structure. Turn right and enter. Once you have parked, enter the Ernst & Young building through the City National Bank entrance. Proceed to the second floor. Please bring your parking permit for validation.
*Students enrolled in the Executive MBA and Presidential MBA program will take courses at our Malibu, Irvine, and West Los Angeles campus locations.