Clubs and Organizations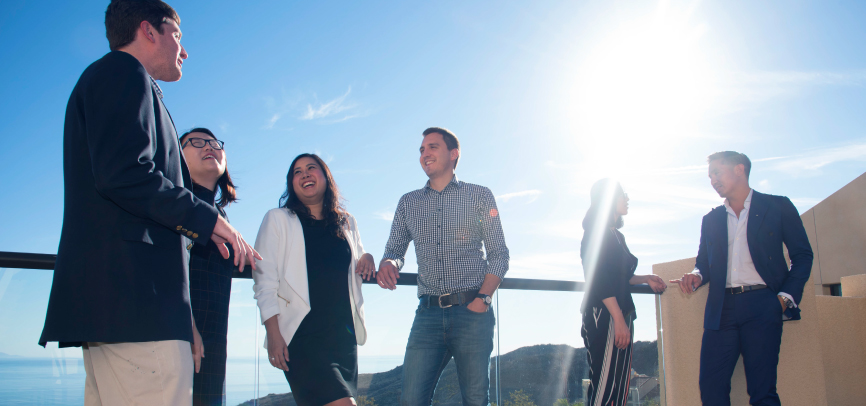 Our student body is actively involved in a number of clubs and activities outside the classroom. This involvement enhances the overall learning experience and encourages the collaborative spirit fostered at the Graziadio School. If you would like more information on any of the clubs below, please email the contact listed.
Student Clubs
Student Organizations
Student Life Council

Applications are now open for the Graziadio Student Life Council.

Student Engagement & Success is now accepting applications for the new Student Life Council (SLC), which is a newly formed Graziadio advisory council. The first active term for the SLC will begin Summer 2019. To be considered for SLC membership, please submit the online application. Applications will be received on a rolling basis and considered for membership for either the current or following term, depending on council membership needs.

About the SLC

The SLC is an advisory body that provides a representative student voice on matters involving the full-time student experience outside the classroom, including allocation of the Pepperdine Graziadio Business School (PGBS) Student Activity Fee and the development and implementation of student-focused programs, initiatives, and services.

As stakeholders in their graduate student experience, SLC members develop a significant level of expertise and insight into the administration of PGBS co-curricular programs, processes, and services, and advise PGBS staff and administrators on matters that directly impact the current and future student experience. For more information about the SLC, please view the Student Life Council Procedures.
Graziadio Student Ambassadors

Purpose

The Graziadio Student Ambassadors (GSA) provides our current student community with an opportunity to become involved in marketing the full-time programs at the Graziadio School. This organization allows the student body to promote our programs by attracting qualified and capable students and as a result, shape the future of the Graziadio School.

These goals are accomplished through hosting on- and off-campus events such as open houses, career fairs, and recruiting panels. Additionally, the GSA hosts prospective students and assists Recruitment and Enrollment Services by sharing their student experience through lunches, on-campus events, and tours.

Officers

President: Karishma Lulla, karishma.lulla@pepperdine.edu

Staff Advisor: Danielle Mastronardi, Senior Advisor, Enrollment Management, danielle.mastronardi@pepperdine.edu
Emerging Leaders

Please note: The Emerging Leaders are intended to guide and advise students about the graduate school experience, and should not be considered a source for official University information.

The Emerging Leaders mentorship program is a student-based initiative designed to enhance the overall Pepperdine experience for full-time Graziadio School students. These individuals, who are carefully selected by faculty, work closely with the student recruitment staff and faculty to develop programs and activities designed to assist you, the new students, as you transition into this MBA program. The mentors consist of a number of student club officers (listed below). We are here to assist you with anything from academics (concentrations, workloads) to getting around in LA and introducing you to all that the Graziadio School has to offer.

Contact the Emerging Leaders

For questions, we invite you to contact the Emerging Leaders Co-Presidents, Matthew Kichaven and Jeanette Lee

Meet Your 2018-2019 Mentors
Matthew Kichaven
Co-President
matthew.kichaven@pepperdine.edu
Matthew Kichaven is a full-time MBA student at Pepperdine Graziadio Business School. He is concentrating in Applied Analytics. Matthew spent 5 years working in the sports and entertainment industries after receiving his Bachelor of Arts in Creative Writing from the University of Arizona. Matthew is very involved in student life at Pepperdine as President of the Analytics and Digital Innovation Club and Co-President of the Emerging Leaders alongside Jeanette Lee. Outside of his studies, Matthew is passionate about his poodle, fantasy sports, and golf.
Jeanette J. Lee
Co-President
jeanette.lee@pepperdine.edu
Jeanette Lee is currently a Master of Business Administration student at Pepperdine Graziadio Business School. She is the President of Emerging Leaders and is a member of Net Impact, Pepperdine Microenterprise Program, and is working towards attaining her SEER Certificate. She was born and raised in San Jose, California, home to many of the world's largest high-tech corporations of Silicon Valley. Her undergraduate degree is a Bachelor of Arts in Communication Studies with a Film Studies minor at Chapman University. After graduating, she moved to Seoul, South Korea to work as a producer in film and television production; her production team oversaw and developed all phases of production, from pre- to post- production. She also served as the company's representative with overseas market buyers, expanding the broadcast media content to a global audience.
Olivia Bao
olivia.bao@pepperdine.edu
Olivia Bao is currently a MBA student at Pepperdine Graziadio Business School. She received her Bachelor of Business Administration undergraduate degree in Human Resource Management at Shanghai University of International Business and Economics. Post-graduation, she worked in a well-established snack-chain company, Lyfen, as an HR Business Partner for the Supply Chain department. She later joined the executive branch to support the company's CEO, where she learned to assist and manage the day-to-day operations on behalf of her. Throughout the years, she has cultivated managerial, analytical, and problem-solving skills. Olivia is now looking forward to applying her overseas professional experience with her MBA studies, to ultimately, understand and thrive in the U.S. market.
Taylor Dick
taylor.dick@pepperdine.edu
Taylor Dick is a second year MBA candidate at Pepperdine Graziadio Business School. He received his undergraduate education at Elon University in Economics. Prior to starting his MBA, Taylor worked for a radio broadcasting group in North Carolina doing acquisitions. Over the summer he worked at SVN-Real Estate Partners furthering their investment portfolio. In addition to his studies, Taylor is the president of the Finance Club and Director of Finance for the Student Board of Directors.

Jordan Stack
jordan.stack@pepperdine.edu

Andrew Walton
andrew.walton@pepperdine.edu

Chi Zhang
chi.zhang@pepperdine.edu