Clubs and Organizations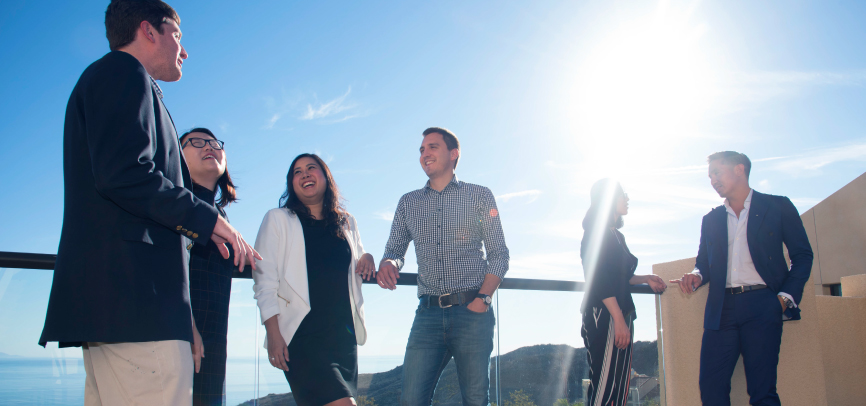 Our student body is actively involved in a number of clubs and activities outside the classroom. This involvement enhances the overall learning experience and encourages the collaborative spirit fostered at the Graziadio School.
For more information about student club involvement and leadership opportunities, please email Student Engagement and Success at pgbs.ses@pepperdine.edu. To view all of our club pages, please visit the Graziadio Student Hub.
Student Clubs
Graziadio Black Students Association
Purpose: Graziadio Black Student's Association seeks to provide an affirming space for students of color and those that stand in solidarity with students of color. Our purpose is to promote diversity and affect equity in the workplace as well as in the Graziadio Business School community.
Graziadio Women's Business Association
Purpose: The Graziadio Women's Business Association (GWBA) is a Pepperdine Graziadio Business School professional club that actively cultivates Best for the World Leaders by supporting, challenging, and empowering women to thrive in the business world. By engaging the community through innovative initiatives and thoughtful programming, the Women's Business Association promotes meaningful connections, diversity, and gender equity.
Pepperdine Real Estate Association
Purpose: We are a dynamic and diverse association, passionate about developing our real estate expertise through academic achievement and impactful relationships within the Pepperdine & Global Real Estate communities. Our goal is to establish a solid foundation for the MS in Real Estate program through communication, respect and support. We are the voice of our program, for our program.
Purpose: Net Impact is a global leadership organization committed to nurturing an extensive and influential network of current and future business visionaries who believe in making a profit while affecting a positive social and environmental change. Pepperdine Net Impact Chapter aims to create an added competitive advantage for the students by providing practical tools and knowledge on how to maximize positive business impact. It is a platform for business innovation and unique networking opportunities. Pepperdine Net Impact Chapter hosts renowned speakers, hands-on workshops, networking events, company tours and provides an opportunity to attend the annual National Net Impact Conference. Chapter members closely collaborate with Pepperdine's Certificate in Socially, Environmentally, and Ethically Responsible (SEER) Business Strategy, a nationally renowned program for its robust curriculum and the annual SEER Symposium featuring industry leaders and other executive level speakers.
For more information on Net Impact Central and to see all the benefits of becoming a member, check out www.netimpact.org.
Pepperdine Graziadio Marketing Association
Purpose: The Pepperdine Graziadio Marketing Association celebrates our members' passion for marketing and prepares them to excel in their chosen career paths by providing opportunities for professional development, career exploration, and networking within the marketing community.
Purpose: The Finance Club will connect students to organizations and individuals within the various fields of finance. This club desires to allow students to better network, obtain knowledge on fields outside of the immediate and direct courses of Finance provided by Pepperdine University, but also to encourage leadership and personal development.
Purpose: The Pepperdine Spectrum is an LGBTQIA+ club and safe space for Graziadio students and alumni. All identifying individuals and allies are welcome! We operate in an educational environment that focuses on queer issues as they relate to business and politics.
Purpose: Harness the power of the Latinx allies within the PGBS community to strengthen diversity, inclusion and belonging. We are committed to developing students' leadership skills while building meaningful connections and celebrating Latinx cultures.
Emerging Technologies Association
Purpose: Emerging technologies have fundamentally changed how business, science, law, and our daily lives our conducted. This organization exists to bridge the gap between technological education and innovation.
Our goals are to engage students, alumni, and businesses to discuss the use of emerging technologies in Business, Law, Science, Politics, and our everyday life. With a better understanding of how to utilize these technologies, we will be able to make an exponentially greater impact on the lives of others, furthering Pepperdine's mission of Purpose, Services, and Leadership.
Purpose: At Peppermasters we are focused on developing the networking, leadership, and other professional skills of our members to provide them an edge in today's business environment and a network of professionals with which to succeed.
Student Organizations
Graziadio Student Advisory Board
Purpose: Facilitated by the Office of Student Engagement and Success, the Graziadio Student Advisory Board (GSAB) is an advisory body that provides a representative student voice on matters involving the student experience outside the classroom, including allocation of the Pepperdine Graziadio Business School (PGBS) Student Activity Fee and the development and implementation of student-focused programs, initiatives, and services.
As stakeholders in their Graziadio student experience, GSAB members develop a significant level of expertise and insight into the administration of PGBS co-curricular programs, processes, and services, and advise PGBS staff and administrators on matters that directly impact the current and future student experience.
GSAB members are selected by Student Engagement and Success staff based on an application and interview process.
Apply Today: Student Engagement and Success accepts Graziadio Student Advisory Board (GSAB) applications on a rolling basis for a limited number of board seats as space is available.
Graziadio Student Ambassadors
Purpose: The Graziadio Student Ambassadors (GSA) is an association that provides a student voice on matters involving any prospective student activity or experience. As participants in the graduate student body experience, members develop a significant level of expertise and insight into the administration of Pepperdine Graziadio Business School (PGBS) co-curricular programs, processes, and services, and advise PGBS staff and administrators on matters that directly impact the student recruitment process.
GSA members are selected by Enrollment Engagement staff based on a recommendation and application process.
Purpose: The purpose of the Master of Science in Management and Leadership (MSML) Champions Group is to foster a stronger MSML community, encourage greater alumni engagement, career development opportunities, and assist in the recruitment of new MSML students through collaborative efforts.
The Graziadio MSML Champions consists of current students and alums representing this Master's degree program. The board members are appointed to a two-year term. Candidates are selected by the current President and advisors based upon the candidate's willingness to serve the MSML community.
Connect With Us: For more information please contact Desiree Williams, Employer Engagement Specialist, Professional Programs & Alumni Career Services.
Purpose: This networking organization is intended to enhance Graziadio Scholar Full-time MBA students and alumni's connectivity w/ co-scholars, faculty, and staff throughout their educational journey and beyond. Students must be nominated, vetted, and interviewed in order to be part of this student organization.
Connect With Us: For more information, please contact Kandace Phyall, Director of Recruitment Operations and Partnerships.