Graziadio Hallmarks: Experience-Driven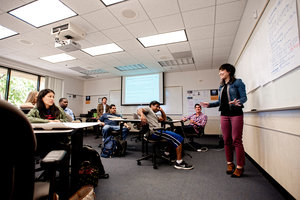 Hands-On, Day One
While some schools teach only abstract theory, Pepperdine students also learn how to tackle real-world, real-time business challenges, providing valuable experience employers want.
Applied Learning Highlights
E2B Applied Learning
The Pepperdine Education-to-Business program allows MBA students to work directly with companies to find solutions to a real business problem. Many companies go on to implement student ideas into their business plans, and students get to apply MBA-level concepts in an actual business situation.
Your Company is the Curriculum
The curriculum is designed to relate directly to your job, so you can apply what you learn in class at your workplace the next day. Students are encouraged to bring in business challenges from their current job to share with the class and work out ideas and solutions.
Faculty Leading Business
Our faculty combines superior academic credentials with extensive real-world business experience, ranging from cutting edge start-ups to Fortune 500 companies. Many continue to work in business today so students receive information that is relevant and up-to-date.
Real-World Connections
The Graziadio Business School hosts regular networking and panel events so students can connect with alumni and other professionals.