Center for Women in Leadership
Empowering Individuals to Lead at the Highest Levels of Confidence
Organizations are seeking leaders who can make an impact. At the Pepperdine Graziadio Center for Women in Leadership (CWL), we focus on building confidence and instilling the strongest sense of competency and readiness for the challenges and rewards of leadership. Through mentorship programs, industry engagement, and research on gender diversity, we contribute to an ongoing dialogue about leadership all around the world. The purpose of the Center is to educate and empower women to positions of leadership, and all individuals who are interested in promoting that purpose, regardless of gender, are welcomed and encouraged to participate in the Center's programs and events.
We believe now is the time to inspire and develop our students, faculty, and staff to their greatest leadership expression. In the words of Bernice Ledbetter, Director of the Pepperdine Center for Women in Leadership, "Now is the time. Tomorrow may be too late."
Graziadio Grads Making a Difference
---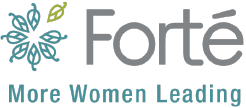 We are committed expanding leadership opportunities, and proudly partner with Forté – a nonprofit working
to launch women into successful and significant careers. Through Forté's alliance of leading
companies, top schools, and pioneering donors, we empower women to rise higher.
---