Online Business Degree Programs
California Roots, Global Connections
At Pepperdine Graziadio, we've been trailblazing the future innovations of values-based business for over fifty years. Fulfilling our mission of developing Best for the World Leaders, we provide an academic experience that is ethical in focus and global in orientation. Our online business programs provide students with the unique opportunity to earn a top-ranked degree from anywhere in the world while immersing themselves in the cherished Graziadio culture and Southern California experience. Explore our vast range of academic options and learn which master's program is best for you and become part of the next generation of values-based business leaders and entrepreneurs.
---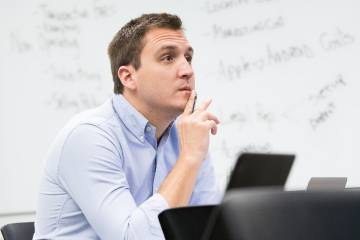 Today's business landscape needs ethical leaders who want to make a positive impact on their organizations and communities. Designed for driven business professionals, the Online MBA program from the Pepperdine Graziadio Business School can be completed in as little as 20 months and will prepare you to think boldly and lead with integrity.
Enjoy the best of both worlds by enjoying a blend of online and in-person learning with our hybrid Part-Time MBA program. Available exclusively at our West Los Angeles campus, the hybrid option is designed for working professionals and offers the flexibility of an online program with the added benefits of in-person learning, peer-to-peer collaboration, personal faculty interactions, and networking.
Complete in 20 months
Five concentrations
GMAT/GRE not required
1 immersion
---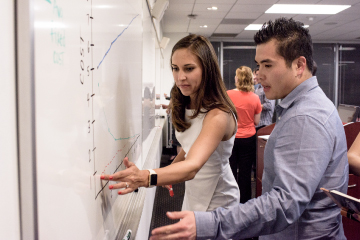 Pepperdine Graziadio's online Master of Science in Business Analytics curriculum provides both the intensive analytics skills and the strategic communication skills you need to analyze data and communicate your findings effectively. In as few as 16 months, you will be prepared to pursue positions in financial analysis, supply chain management, marketing, and project management.
Complete in 16 months
GMAT waivers available
1 immersion
AACSB Accredited
---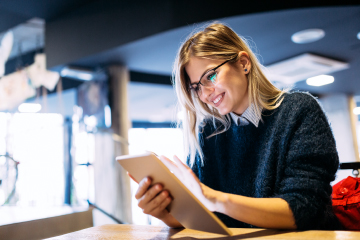 Connect talent management and business strategy with the Pepperdine Graziadio Business School online Master of Science in Human Resources degree program. Aligned with the official curriculum requirements of the Society for Human Resource Management (SHRM), these critical guidelines are woven into our MSHR program with curriculum guide books and templates, equipping students with specific tools and expertise to position themselves as a thought leader within the HR field. This AACSB-accredited online program can be completed in as little as one year.
Complete in 16 months
No GMAT/GRE required
2 immersions
SHRM Aligned Curriculum
---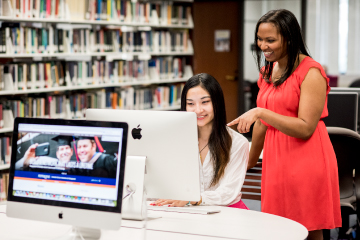 Developing the skills to lead in times of disruption shouldn't mean disrupting your career as you know it. Through the online Master of Science in Management and Leadership at Pepperdine Graziadio, you can earn a specialized master's in as few as 16 months while working full-time. Drive collaboration across your organization through enrolling in this AACSB-accredited online program.
Complete in 16 months
No GMAT/GRE required
1 immersion
AACSB Accredited
---
Soak Up the Sun in Southern California
If you're looking to earn your degree in an in-person, hands-on format, our flexible on-ground program options allow you to enjoy our various Pepperdine campuses located across beautiful Southern California as you earn a reputable business degree. Learn more about studying on-campus and see which program options are the best fit for you.