Graziadio Alumni Ambassador Program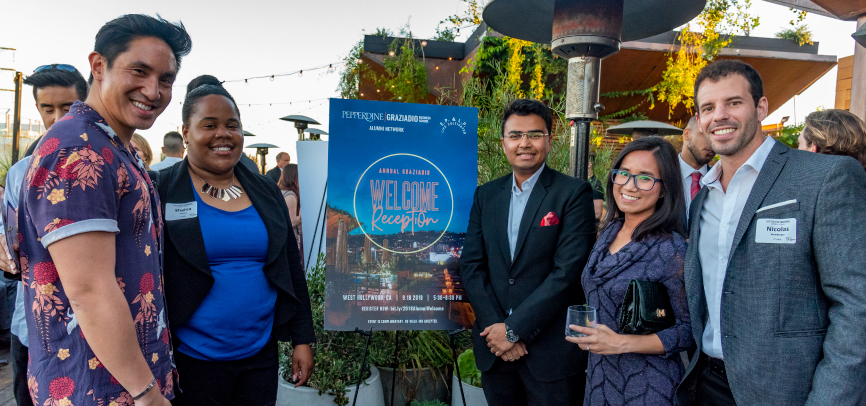 Office of Alumni Engagement
Share your time and talent with the school and our students. Alumni play a critical role in the student experience at the Graziadio Business School. Become a Graziadio Ambassador to share your volunteer interests and expertise. Please know we may not have a matching volunteer opportunity at the moment, but your interests will be saved in our volunteer database that is consulted as volunteer opportunities present themselves.


Advancement Ambassador
Help promote annual Give2Pepp day, help fund student scholarships, and learn more about our exclusive Executive Associates Program.
Career Ambassador
Post jobs on the Career Portal, hire students or provide internships, provide off site company visits to students/alumni, or offer informational career interviews to students/alumni.
PeppConnect Online Champion
PeppConnect offers alumni and students the ability to connect with fellow Waves who have made themselves available to offer professional advice, career opportunities, and other valuable resources in one convenient location.

Regional Representative
Serve as a primary point of peer-to-peer contact for alumni, both in the United States and across international regions of the world by state or country.
Recruitment Ambassador
Speak at a recruitment event, host a Lunch and Learn, speak with prospective students on an individual basis, and help to market our Referral Scholarship for a prospective student to receive a $2,500 scholarship.


Social Media Ambassador
Share messages from the Graziadio Business School across your social media networks such as Facebook, LinkedIn, Twitter, Instagram, YouTube etc. Generate buzz and help us spread the word on the latest alumni and school news. Always be the first to know!
Student Support Ambassador
Support current students on campus in such areas as orientation, resource fairs, student organization activities, judges in the classroom, or provide an Education to Business (E2B) or Education to Community (E2C) project at your company.


---
Graziadio Alumni Student Advocacy Council
The Graziadio Alumni Student Advocacy Council will provide support and advice, as requested, to enhance the experience of current Pepperdine Graziadio Business School (PGBS) students to make their journey from orientation to graduation remarkable.
Council Members
Lori Colleran, MBA '96, Vice President, FP&A and Business Finance at Global Eagle
Rob Comeau, MBA PKE 137, CEO, Business Resource Center, Inc. (www.biz-rc.com)
Brandie N. Harris, MBA '19
Robert Jahncke, EMBA '85, Supply Chain Subject Matter Expert and Consultant,
Kelly Javier, BSM, '19, Principal, Digital Marketing and Events, Partner Engineering and Science, Inc.
Manivanh Khy, MSML '19, Chief of Staff, www.firstfruit.org
Charlotte Law, MSOD '11, Owner, High Impact Training & Coaching Systems
Michael Lawton, MBA '96, Executive Director, TKLF
Carol Lizak, EMBA '18, Chief Accounting Officer & SVP Finance, Jaguar Health, Inc.
Caroline MacDonald, EMBA '13, Group Vice President of Sales, Marketing & Business Performance www.rosewoodhotels.com
Eric Ostgarden, EMBA '19, Sr. Director, AvalonBay Communities
Joanna Park, MBA '19
Veronica Raulin, MSML '15, Head of Change Management
Meisha Sherman, MBA '05, Vice President, Human Resources and Corporate VP, Diversity + Inclusion , Envista Holdings Corporation
Michael Sprague, MSOD '16, Director, Organizational Effectiveness, VF Corp
Amy Towner, MBA '18, PKE, Chief Executive Officer, Health Care Foundation for Ventura County, Inc.
David Grant Trauth, BSM '16 MBA '19, Regional Territory Account Manager, trocglobal.com
Stuart Wehofer, MBA '01, Finance Emphasis '05, Senior System Engineer, Northrop Grumman
Questions? Please contact the Graziadio Alumni Engagement Office at pgbsalumni@pepperdine.edu, to discuss engagement opportunities at the Graziadio Business School.
Also be sure to keep your contact information up-to-date so we can continue to support you and invite you to events in your region.