Graziadio Alumni Ambassador Program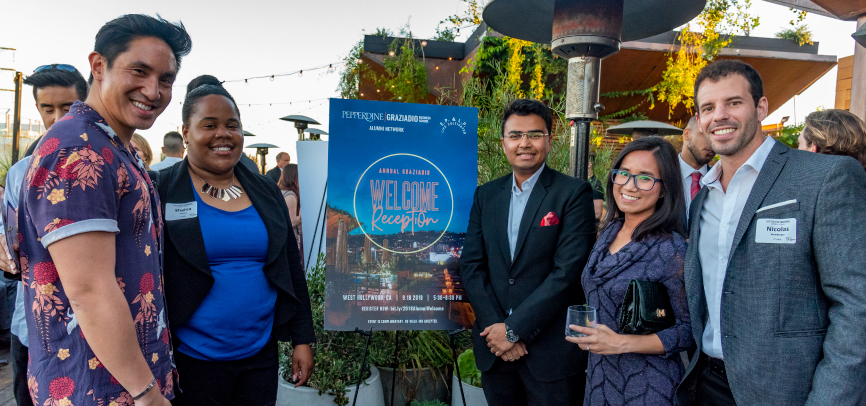 Office of Alumni and External Engagement
Share your time and talent with the school and our students. Alumni play a critical role in the student experience at the Graziadio Business School. Become a Graziadio Ambassador to share your volunteer interests and expertise. Please know we may not have a matching volunteer opportunity at the moment, but your interests will be saved in our volunteer database that is consulted as volunteer opportunities present themselves.


Advancement Ambassador
Help promote annual Give2Pepp day, help fund student scholarships, and learn more about our exclusive Executive Associates Program.
Career Ambassador
Post jobs on the Career Portal, hire students or provide internships, provide off site company visits to students/alumni, or offer informational career interviews to students/alumni.
PeppConnect Online Champion
PeppConnect offers alumni and students the ability to connect with fellow Waves who have made themselves available to offer professional advice, career opportunities, and other valuable resources in one convenient location.

Regional Representative
Serve as a primary point of peer-to-peer contact for alumni, both in the United States and across international regions of the world by state or country.
Recruitment Ambassador
Speak at a recruitment event, host a Lunch and Learn, speak with prospective students on an individual basis, and help to market our Referral Scholarship for a prospective student to receive a $2,500 scholarship.


Social Media Ambassador
Share messages from the Graziadio Business School across your social media networks such as Facebook, LinkedIn, Twitter, Instagram, YouTube etc. Generate buzz and help us spread the word on the latest alumni and school news. Always be the first to know!
Student Support Ambassador
Support current students on campus in such areas as orientation, resource fairs, student organization activities, judges in the classroom, or provide an Education to Business (E2B) or Education to Community (E2C) project at your company.


Questions? Feel free to contact Brigette Young, assistant director, alumni concierge services by email at brigette.young@pepperdine.edu, to discuss engagement opportunities at the Graziadio Business School.
Also be sure to keep your contact information up-to-date so we can continue to support you and invite you to events in your region.