Diversity and Inclusion at Graziadio
Pepperdine is a Christian University fully committed to diversity, equity, and inclusion. Our faith cherishes the sacred dignity of every human being and celebrates diversity as a true representation of God's love and creative expression. We endeavor to build a diverse community that fully engages the transformative educational process across expressions of human difference.
Therefore, we strive toward academic excellence and a shared sense of belonging with the understanding that a broad range of diverse perspectives enriches the quality of our learning, scholarship, and leadership.
---
Racial and Ethnic Diversity By The Numbers
Faculty and Staff
Last updated: 10/2/2020. All data is Graziadio-specific.
Students
Board
---
Gender Parity at Graziadio
Faculty and Staff
Last updated: 12/18/2020. All data is Graziadio-specific.
Students
Board
---
Defining Diversity at Pepperdine Graziadio
At Pepperdine Graziadio, we are wholeheartedly committed to diversity, equity, and inclusion. We believe fulfilling our mission of developing Best for the World Leaders includes cherishing every human's sacred character and celebrating their intrinsic worth as an unique individual. We are continually striving to build a diverse community of leaders that fully undergoes and contributes to the transformative educational experiences that Graziadio offers. We aspire to send a message to all that anyone who chooses to be part of our values-based community, you are welcome here.


At Pepperdine Graziadio, we welcome, respect, and support a community encompassing a diverse range of backgrounds and identities (ethnicity, nationality, gender, sexual orientation, socioeconomic status, religion, age, and physical ability). This allows everyone to widen their business and social perspective and to cultivate Best for the World Leaders.
Equity means equal opportunity for all—regardless of background or circumstance. Pepperdine Graziadio aspires to provide unparalleled access to resources, information, and opportunities to individuals both inside and out of our Pepperdine family. Building upon a strong foundation of respect and dignity, we ensure everyone receives fair treatment, recognition, and consideration as both an employee and student of our ever-evolving academic community.
As we continue to expand our global footprint, we actively seek a culture of inclusion by inviting all people's contributions and participation. We recognize that everyone has a voice and deserves a chance to be heard and showcase their potential to the fullest extent. We know one person is not representative of an entire community, and therefore we allow all members within Graziadio to be their most authentic selves and share their voices. By continuously encouraging our community members to play an active role in Graziadio's story, we can accumulate a diverse representation of all that we are as an institution founded on values-based leadership.
Belonging refers to how people feel they fit into their organization in all aspects of the workplace. This includes facets such as onboarding, career development, and team structures. Motivated by its Christian mission, Graziadio aims to instill a sense of belonging at the very core of our community through employee development programs, employee resources, culture and sensitivity education, and emphasis on work-life balance. Whether you're a student, faculty, staff, or alumni, you will always find a home at Pepperdine Graziadio.
---
Voices for Change
The Pepperdine Graziadio Business School Diversity Council (GDC) serves as a catalyst for advancing these core principles among our professional community and promoting a School-wide climate that affirms diversity and fosters an inclusive environment for innovation, respect, and equal voices among its members.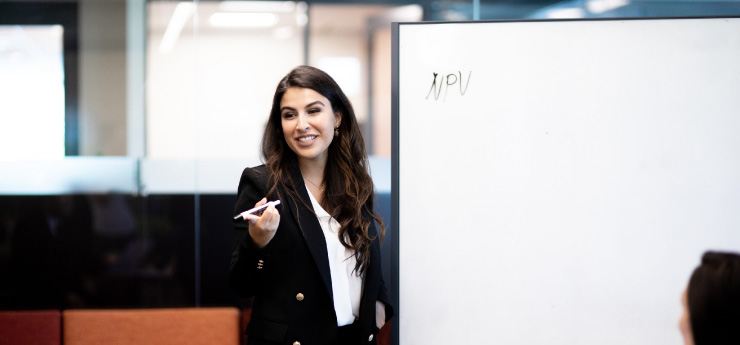 Graziadio Board Diversity Scholarship
At the Summer Meeting of the Graziadio Board, Dean Van Rensburg challenged the Graziadio Board to launch a new scholarship. Led by his own gift, Dean Van Rensburg emphasized to the Board that "diversity wins," and that our school must match Los Angeles in terms of diversity. Board members responded en masse, creating the Graziadio Board Diversity Scholarship, which supports students from underrepresented backgrounds.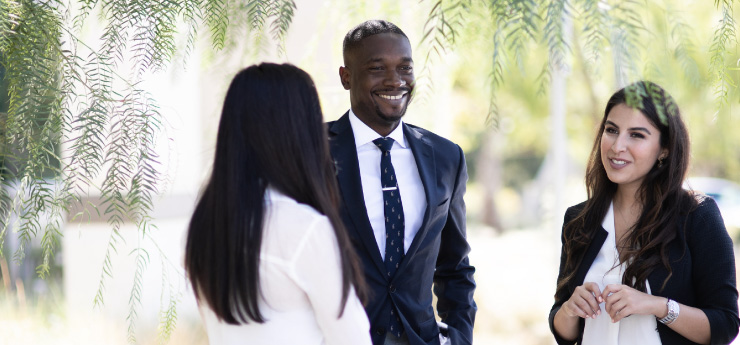 Women Making a Difference
At the Pepperdine Graziadio Center for Women in Leadership (CWL), we focus on building your confidence and instilling the strongest sense of competency and readiness for the challenges and rewards of leadership. Through mentorship programs, industry engagement, and research on gender diversity, we contribute to an ongoing dialogue about women in leadership all around the world.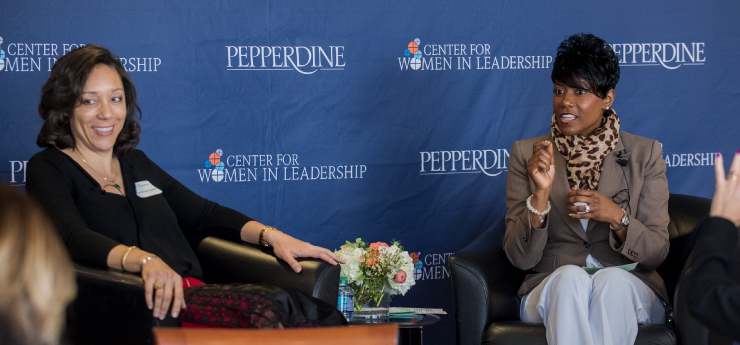 ---
Recent Stories
---
Diversity Initiatives