Presidents and Key Executives MBA Program
A Professionally and Personally Transformational World-Class Executive MBA
Our Presidents and Key Executives (PKE) MBA is a unique program strategically designed to challenge top-level executives charged with organizational goal setting, strategic decision-making, and bottom line results. The PKE MBA is one step above an Executive MBA, and is the only program in the world designed for senior, C-suite executives and entrepreneurial business owners – offering a transformational experience that will facilitate critical thinking while introducing new and emerging leadership trends and insights.
Throughout the 15-month experience, executives work alongside peers from diverse industries who make up a small cohort that acts as your personal advisory board. PKE MBA cohorts will challenge, support, and learn from each other—encouraging an atmosphere in which every leader is present at the table, establishing lifelong relationships, and developing broader business perspectives.
Program Highlights
Meet In-Person Approximately Once a Month
Boardroom Style Classroom
Global Alumni Network of 47,000+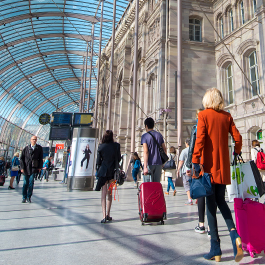 Global, Experiential Curriculum: The immersive PKE MBA program includes a four-day executive workshop, a two-day ethics and law session, and an eight-day international residential session.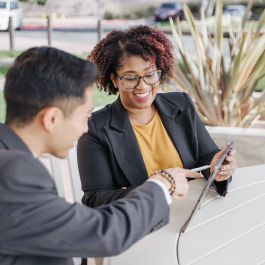 Strategic Management Project: Directly apply your research towards your current organization through an integrated Strategic Management Project that addresses fundamental learning, productivity, and quality of your corporate culture and overarching business strategy.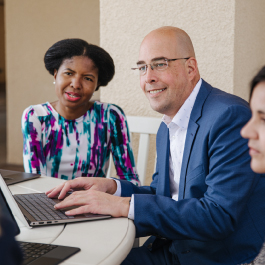 Learn in the Boardroom: Cohort meets on a monthly basis in boardroom-style classes designed to cultivate collaborative learning and greater sharing of diverse industry perspectives.
Executive Mentor: Assigned to each PKE MBA cohort is an executive mentor, who acts as chair and advisor to provide guidance to both the group and individuals throughout the entirety of the program.
Quick Facts
Location(s)
Malibu, West LA, Irvine
*Cost of tuition is in effect for the 2023-2024 academic year and is subject to change at the University's discretion.
Take the Next Step
Reach out to us to learn more about the Graziadio Business School.
Get in Touch
Fill out the Request Information form to learn about the opportunities that await you as a student at Pepperdine Graziadio.
Attend an Event
Learn more about your program by signing up for a class visit, information session, webinar or graduate fair.
Start Your Application
Ready to start your journey to Pepperdine Graziadio? Begin your application today to take the next step towards your future.
PKE MBA Admission
Fall 2023 Term Deadlines
Residential Workshop Begin
Summer 2024 Term Deadlines *
Residential Workshop Begin
*Summer 2024 applications will open on September 7, 2023.
Tuition Information
Prospective students for the Presidents and Key Executives MBA program can expect to pay a tuition cost of $151,380* after merit awards. Without merit awards, the cost of tuition is $161,500.
| | |
| --- | --- |
| Full program cost | $161,500 |
| Average merit award reduction | -$10,120 |
| *Total tuition with merit award | $151,380 |
Cost of Attendance Calculator
Use our Cost of Attendance Calculator to estimate the cost of your program of interest. This tool incorporates additional per term expenses such as $11,300 in living expenses (food and housing), $1,625 in Transportation, $2,600 in Miscellaneous Personal Expenses, $2,600 in Books, Course Materials, Supplies, and Equipment, and $167 in Fees.
*Pepperdine welcomes federal and state aid eligibility and veteran benefits which may further reduce tuition cost. Estimated tuition is based on the average merit award. Students must maintain a cumulative GPA of at least 3.0 or above.
The Company You'll Keep
When you join the Graziadio community, you'll join a global network of over 47,000 alumni actively shaping the world of business at top organizations, including: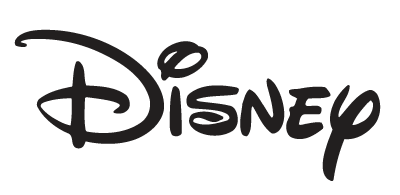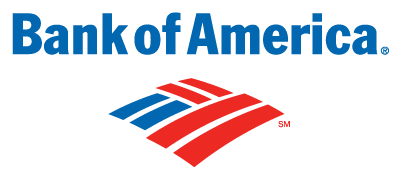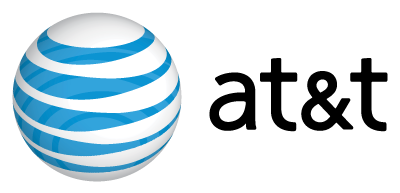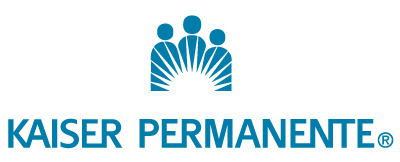 ---
Fall 2021 Student Profile
22 Years
Avg. Work Experience
What Our Students Are Saying
"The PKE MBA program at Pepperdine is unique. I don't believe that can be replicated in any other educational institution. The diversity of the cohort lends itself to a number of different perspectives that the experience you gain from the program is just an amazing transformation." - Raymond Hall, PKE Alumnus
Executive Student Experience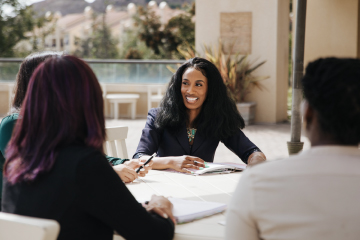 Values-Based, Personalized Learning
The President and Key Executives MBA at Pepperdine Graziadio comes with small, collaborative classes led by our renowned faculty who are personally committed to your academic and professional success. With ethical, sustainable business woven into the core of our teachings and an emphasis on experiential learning, you'll experience a truly unique, transformational graduate degree within a global community of Best for the World Leaders.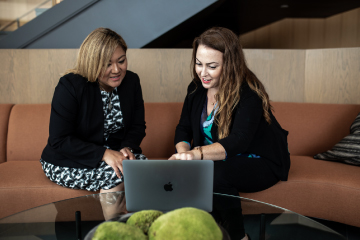 Dedicated Executive Mentor
The Pepperdine Presidents and Key Executives MBA program is the first and only MBA for the C-suite to feature a dedicated executive mentor. An executive mentor is an experienced, accomplished alumnus with a comprehensive portfolio of academic accomplishments and executive-level success. They are an integral member of your class cohort throughout the duration of the program, serving as mentors to both individuals and the entire group. They review students' papers, provide advice and counsel, mediate conflict, and maintain continuity throughout each program cohort. Our Executive Mentors are all "doctorally trained" as all mentors are required to have a doctoral degree or be pursuing one.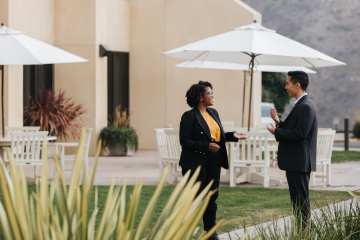 Speak with Our Alumni
Alumni from the Presidents and Key Executive program are always happy to speak with prospective students. Whether you have questions about schedule, their experience or how it benefited their career, we're happy to connect you with alumni of our program. Please reach out directly to Pearl Quintana, Associate Director of Recruitment at Pearl.Quintana@pepperdine.edu or by phone at 323.901.3109.
Enroll in a Top Ranked Business School
We strive to facilitate an enriching student experience. The Princeton Review, and CEO Magazine have reported on our high-quality programs and faith-based education.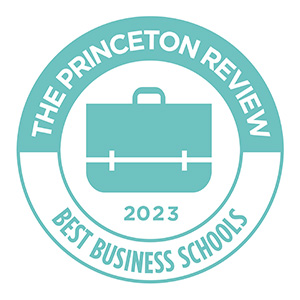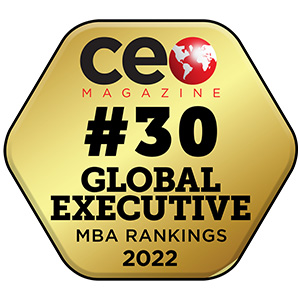 Contact Us
Pearl Quintana
Pepperdine University
Graziadio Business School
6100 Center Drive, Suite 400
Los Angeles, CA 90045
Download Brochure
Discover Pepperdine Graziadio's top-ranked business programs and explore our hands-on curriculum taught by industry-leading faculty.