Executive Doctor of Business Administration
Program Overview
School: Graziadio Business School
Cost: $160,000*
Units: 55 units
Terms: 3 years
Location(s): Malibu
Accreditation: AACSB, WSUSC
Deadlines:
Fall 2019 Application Deadlines
Round 1: February 1, 2019
Round 2: April 1, 2019
Round 3: May 15, 2019
*Cost of tuition is in effect for the 2018-2019 academic year and is subject to change at the University's discretion.
Challenge Yourself with a Pepperdine DBA
Pepperdine Graziadio is adding to its robust portfolio of executive programs with an Executive Doctor of Business Administration degree. This program is designed specifically for the established executive who would like to deepen and sharpen their professional knowledge through applied research.
Our DBA is an academically rigorous program that will help you build new knowledge in your field of business that culminates in a dissertation and/or two publishable papers. Designed with an executive's schedule in mind, the program requires only six residential sessions in the first two years, freeing up the third year for you to focus on your research.
Quick Facts
3

Year Program

6

Residential Sessions

10 yrs

Min. Work Experience

1

DBA Conference
Testimonials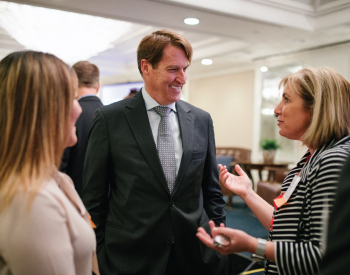 We are dedicated to fostering leaders who are truly Best for the World through their commitment to global perspectives, innovation, and ethical leadership. That is why we are thrilled to launch the next frontier in executive level education—the Doctor of Business Administration—and welcome our inaugural cohort who form a prestigious group of Best for the World executives."
FAQs
Is the Executive DBA accredited?
Our DBA is the only Doctor of Business Administration program taught by a top ranked AACSB accredited US business school in the Western Region.
What do you look for in an Executive DBA applicant?
The Executive Doctor of Business Administration program is designed for highly accomplished executives who have substantial work experience, a graduate degree, and seek to understand and solve complex business problems through rigorous, applied research.
We carefully assemble each program cohort for maximum academic benefit. This means you will be surrounded by students with educational and work experience commensurate with your own and with diverse backgrounds to broaden your perspective.
For the Executive Doctor of Business Administration degree, we are specifically seeking accomplished business executives with strong intellectual curiosity, a motivation to make a significant contribution through practice-oriented research, and a global mindset.
What is the total cost of the DBA program?
The total cost of tuition for the three-year Executive DBA program is $160,000. Please be advised that, if accepted to our Executive Doctor of Business Administration program, a $5,000 nonrefundable fee is required to secure enrollment.
To help you align your education with your budget, we are available to guide you through funding and tuition assistance options to finance your Doctor of Business Administration degree. Contact our Financial Aid Office by phone at 310.568.5535 or by email at PGBS.FinancialAid@pepperdine.edu for more information on how you can make Pepperdine possible.
| | |
| --- | --- |
| Year 1 | $60,000 |
| Year 2 | $60,000 |
| Year 3 | $40,000 |
| Continuing dissertation completion fees after Year 3 (if needed) | $15,000 per trimester |
What distinguishes an Executive DBA from a PhD or a traditional MBA program?
An Executive DBA differs from our MBA programs through its focus on research: whereas our MBA programs aim to develop strong leaders through existing business knowledge, students in the DBA program will be creating new knowledge.
Why pursue a Pepperdine DBA?
At the Graziadio Business School, we continually look for ways to provide the most innovative and intellectually stimulating education possible for business executives. The DBA challenges top-tier executives to grow in new ways through rigorous applied research, mentorship with expert faculty, and collaboration with classmates at the peak of their careers.
Contact Us
Executive DBA Advising
Pepperdine University
Graziadio Business School
24255 Pacific Coast Highway
Malibu, CA 90263