Instructions for Graduates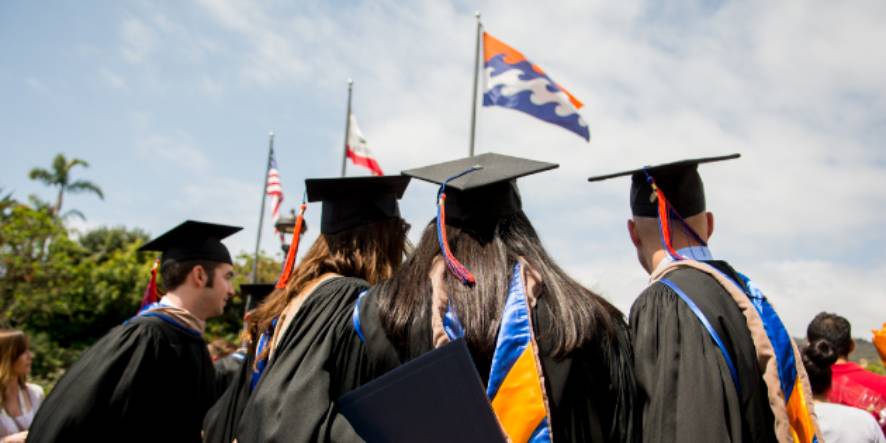 Check-in
We request that graduates arrive 1.5 hours prior to the start of the ceremony to check in, get assistance robbing, and to line up.
Upon arriving at Pepperdine University (Malibu Campus), please go directly to Alumni Park where you will find the check-in tables, that will be arranged by program. At this time you will be asked to verify your personal information and be given a name card.


Cap and Gown
After check-in, graduates will then be directed to the area where you will be assisted with robing. Graduates should arrive to campus with their pre ordered cap and gowns. CAPS AND GOWNS WILL NOT BE AVAILABLE ONSITE PLEASE PRE-ORDER THEM BY JULY 11, 2021.
Graduates will then be directed to the area where you will be assisted with robing.
We suggest wearing "business casual" attire and do not recommend wearing a suit, which is likely to be too warm. Comfortable shoes are also suggested, as you will march in the processional and recessional. Please note: there will not be a storage area for personal belongings.
Gowns must be returned to the designated return area after the ceremony.


Line Up
Line up of graduates will begin one hour prior to the ceremonies start time.
Please listen for instructions which will be made over the PA system. When your program is called, please report promptly to the designated area and line up in numerical order (according to the number on your name card). Once the line up process is completed, students who excelled in their studies will be recognized for their achievement during the presentation of the honor cords. You will then be lead down to begin the processional.


Ceremony
The graduation ceremony will begin promptly at its indicated start time and will last approximately two hours.
During the ceremony, graduates should remain standing until all graduates have completed the procession. Men should remove their caps for prayers, the national anthem, and the pledge of allegiance.
When the graduate candidates are asked to rise, please rise together and remain standing until the president or dean confers the degree, then you may sit down. Upon cue from the ushers, graduates will rise and proceed to the stage row by row.
Enter the stage on the RIGHT side.
Hand your name card to the card collector.
As your name is called, walk across the stage to receive your diploma jacket in your left hand.
Shake hands with the president with your right hand.
Exit the stage on the LEFT side to have your photo taken.
Return to your seat.


Guest Seating
A Ceremony Ticket for commencement is required for all guests of the graduates who plan to attend the Commencement Ceremony. All guests over the age of two will be required to have a ticket in order to gain access to Alumni Park. Seating is available on a first-come-first-served basis. Any child(ren) who look over the age of 3 will require a ticket.
Graduates will receive detailed information about ticket quantity (per graduate), ticket distribution, and opportunities to request for additional tickets approximately 8 weeks prior to the ceremony via an email to their Pepperdine email address. Graduates will gain access to retrieve tickets approximately 4 weeks prior to the ceremony. Graduates do not need tickets.