Awardee Biographies
2023 George Awards Ceremony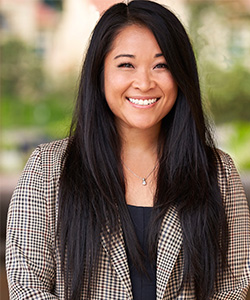 Kaitlyn Iwashita
Outstanding Full-Time MBA Student
Kaitlyn (Kaity) Iwashita is an MBA candidate from the San Francisco Bay Area. She graduated from University of California, Santa Barbara with a BA in Economics in 2013. Before returning to school to pursue her MBA she worked in digital marketing for about 7 years and had most recently led the User Acquisition team at a technology company in San Francisco called Life360.
Kaity has always had an interest in sports, she grew up playing basketball and before the pandemic was a certified indoor spin instructor. Her dream has been to pursue a career at Nike where she could make an impact on people's lives through movement and sport. Over the summer she had the opportunity to intern with Nike's Global Connected Membership team and will be joining the team full-time at World Headquarters in August.
Kaity whole-heartedly believes that every situation is what you make of it, which is why she has done everything she could to make the most out of her two short years at Pepperdine Graziadio Business School. During her first semester she took on a leadership position with the Graziadio Women's Business Association, joining them as Vice President of Marketing and Communications. During her second year of the program took on the Co-President role, where she was able to bring her vision for the club to life. She started a mentorship program with a local high school, brought on-ground club meetings back to campus, and created numerous opportunities for students to network across all Graziadio programs. She hopes that during her time at Graziadio she has been able to make the same lasting impact on the school and its students as most of her professors and cohort have done for her. She is graduating with broader leadership skills and knowledge that will help her achieve her career goals, but more importantly has become a part of the strong Pepperdine Graziadio Alumni family and network.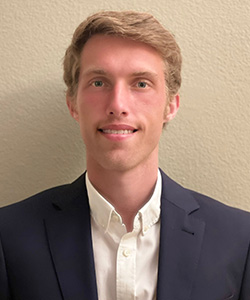 Tim Zeitvogel
Outstanding MS Student (Business Analytics)
Tim Zeitvogel, a graduate of Pepperdine University in 2022, completing a Bachelor's Degree summe cum laude in Mathematics, is currently pursuing a Masters Degree in Business Analytics. Throughout his Pepperdine career he has conducted research projects and presented at numerous recognized conferences with fellow professors. He has also served as a teaching assistant while an undergraduate student.
Along with his numerous accolades in the classroom, Tim is a captain of the Men's Tennis Team at Pepperdine, a Division I top 20 nationally ranked team. He has played a a crucial role in helping the Men's Tennis win the WCC Conference title and has helped transform the culture with his character and toughness. He has served as the President of the Waves Leadership Council, and won the West Coast Conference Student Athlete Sportsmanship Award, and was selected as the Raphael Osuna Sportsmanship Award recipient to recognize his leadership and sportsmanship.
During his time at Pepperdine he has also interned at three different companies in the real estate, healthcare, and sport management businesses working with the data analytics and software engineering departments. He has enjoyed connecting relationships from different areas of interest, often working with business leaders who he also enjoys sparring with in tennis.
Tim has a passion for supporting people around him to make the world a better place, regardless of his environment. He has embraced every aspect of holistic development available at Pepperdine, seeking to grow as a student, athlete, and spiritual person. As he has pushed for excellence in all areas, he embraces an attitude of being an 'infinte player', believing in the process of getting better every day, rather than focusing on finite goals.
Following graduation, he will pursue his passion of data analytics working for a startup healthcare company while simultaneously pursuing a professional tennis career.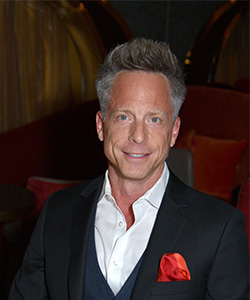 Frederick Heim
Outstanding BSM Student
Frederick Heim will graduate this summer from the Graziadio School of Business with a BS in Business Management and will continue his leadership trajectory with an MBA. He had previously studied under the visualization program at the Minneapolis College of Art and Design (MCAD), which brought his scholarly journey to Pepperdine. As a marketing professional in the sports and fitness space, he has a passion for emerging technologies which enhance interactive experiences.
Fred serves as a Pepperdine Student Ambassador, is a member of PeppVet, and is the VP of Interactive for the Pepperdine Entertainment, Media & Sports Society (EMSS). Fred is honored to receive this prestigious George Award.
As a lifelong athlete and effectual leader, Fred served five years as a Rescue Swimmer in the US Navy during the Gulf War, logging over 1,000 hours of flight time before transitioning to civilian life. He continued to hone his leadership skills as a global product line manager at Nike, launching multiple new products during his tenure. He has held several marketing positions in executive leadership roles, and worked with notable brands, including Polaris, Spinning, and Red Bull.
His broad experiences of managing diverse international teams and remote workers has leveraged his entrepreneurial drive and dynamic, inspirational leadership style. Fred has a unique perspective that merges Fortune 500 and startup experience to deliver data-driven creative solutions with exceptional value.
In his free time, Fred builds VR games, plays beach volleyball, sings karaoke, and volunteers as a high school volleyball announcer.
Fred is inspired by his blended family, and wife, Laura, an author, and Registered Nurse at Hoag Hospital in Newport Beach.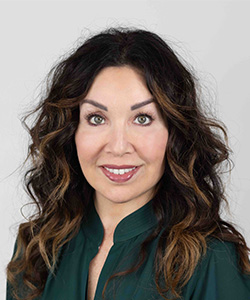 La Donna Margaritte Wertlieb
Outstanding Fully-Employed MBA Student
La Donna holds a Bachelor of Science in Management from Pepperdine University Graziadio Business School, awarded with Academic Dean's Honor Roll, Magna Cum Laude, and Beta Gamma Sigma. Before she arrived in the BSM program at Pepperdine, La Donna completed her Associate of Science degree in Business Management/Leadership with Honors at Santa Monica College. Education has been a winding road for La Donna, with many starts and stops along the way. The journey will meet its destination by completing her MBA in Leadership and Managing Organizational Change in the Spring of 2023.
Beginning her career years ago in the legal profession, La Donna worked her way up from Bookkeeper to Accounting Manager of three different law firms to ultimately become Legal Administrator. She reported directly to the Managing Partner and managed a support staff of over 80 employees in the Los Angeles office of a prominent international law firm.
After two decades of dedication to her career, La Donna took time off to raise her growing family and recently returned to school to pursue higher education. Today, La Donna is the Director of Development and Donor Services at Windward School. She applies the business skills she has learned throughout the BSM and MBA programs to elevate her role and bring the novel perspective of being a past parent and donor. In addition, La Donna thrives at using her creativity to design impactful and engaging campaigns.
La Donna is passionate about her work with Hope in a Suitcase, an organization providing vital necessities for Los Angeles County foster children. She learned of this opportunity through a Business-to-Consulting (B2C) assignment in the MBA program. The lasting impact has given her a sense of great responsibility to serve those most vulnerable.
La Donna lives in Los Angeles with her husband and two Goldendoodles. She has three adult sons who have enjoyed attending college simultaneously with their mother. This shared experience of learning and mentorship was unique and beneficial to the entire family.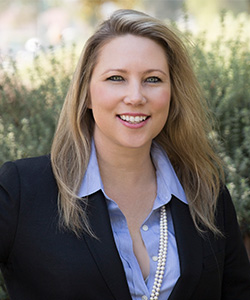 Tara Hotchkis
Outstanding Online MBA Student
Laguna Beach native Tara Hotchkis is a Pepperdine Gradiazio Business School MBA Candidate, a real estate entrepreneur, an award-winning real estate agent at Compass, Beverly Hills, and the founder of Luxury Homes + Spaces.
Upon graduating from the University of California, Irvine, Tara began her real estate career as an investor, purchasing properties throughout Southern California and across the US. Tara is passionate about helping people and sharing her real estate knowledge; she is currently writing a book to help first-time home buyers navigate the challenging environment of the home-buying process.
In addition to real estate, Tara is passionate about the arts, be it film, television, painting, or writing. As a student-athlete at UCI, Tara was bitten by the entertainment bug when she was offered the opportunity to work for Emmy Award Winning Director Walter C. Miller at the Grammy Awards in New York City.
Tara went on to serve as a creative marketing producer for Sony Pictures, helping to develop the brand identities of tentpole films like Spider-Man and Men in Black. Following her studio career, she continued her creative pursuits in front of the camera by hosting television shows and appearing in numerous films and commercials.
Tara recently graduated from UCLA's feature film screenwriting program and was a quarterfinalist at the Los Angeles International Screenplay Awards. As she continues to promote compelling narratives and support up-and-coming filmmakers, Tara Hotchkis serves as Executive Producer on the films En Pointe, A Gettysburg Haunting, and What is Your Raison D'être!?
Tara supports several non-profit arts organizations, serves as an Ambassador for the Los Angeles Public Library Foundation's Young Literati, and is a member of the Los Angeles Museum of Contemporary Art's Advisory Circle. Tara also serves as a current Advisory Board member at her alma mater, The University of California, Irvine.
Tara's real estate articles have been published in Forbes Magazine 26 times. She has been featured in Angeleno Magazine's 2017 and 2018 Los Angeles Power Players Issue, has been a featured real estate expert on CurbedLA, is a former NCAA Division I tennis player, a Graduate of REALTOR® Institute, a graduate of Sotheby's Institute of Art, a graduate of UCLA's feature film screenwriting program, a member of The California Club in Los Angeles, and a member of WE Global Studios. Tara holds a Bachelor's degree from the University of California, Irvine, and is an MBA Candidate at Pepperdine University's Graziadio Business School in Malibu.
Tara lives in Venice, California, with her wife and co-author of their uplifting children's book, Piper Poppy Dreams Big.
Tara dedicates her George Award to her mom, Anna Flynn Kuhnert, who inspired her and encouraged her every single day.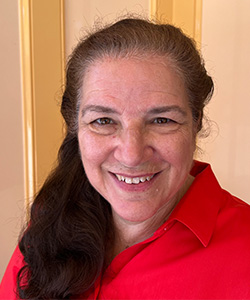 Martha Molina Bernadett, MD, MBA
Waves of Service Award
Family Physician and healthcare executive Dr. Martha Molina Bernadett has lived a life of service, including providing direct patient care and creating innovative programs to improve the health of individuals and communities. As founder and CEO of the Molina Foundation (along with her husband Faustino Bernadett), a 501(c)3 public charity, she extended her reach as a physician to impact the social determinants of health including literacy and numeracy through the distribution of new books and programs to children and families in need.
Under her leadership, The Molina Foundation has partnered with First Book, Imagine Science, Cooperative Extension, 4-H, Code for America and thousands of community non-profit organizations and schools to reach over 10 million children and families across the USA.
Dr. Molina Bernadett served as Executive Vice President and Chief Innovation Officer for Molina Healthcare (NYSE: MOH), where she took the company public in 2003 with her family, the founders of Molina Healthcare. During her career as a healthcare executive, she led teams that secured new contracts and managed major initiatives to transform the delivery of healthcare services. She was considered the "heart of Molina," applying her values, family medicine experience and common-sense approach to designing practical solutions to complex problems. She led the creation of the first fully domestic bilingual nurse advice call center in the country.
Dr. Molina Bernadett has served as principal investigator and delivered research, programs, and solutions for The Robert Wood Johnson Foundation, Centers for Disease Control, National Governors Association, and First5 California. She consults for hospitals, health systems and municipalities, addressing culturally congruent healthcare access for limited English speaking populations. She is known for providing practical solutions to complex problems.
In addition to leading The Molina Foundation, Dr. Molina Bernadett serves as a trustee of the Larry and Helen Hoag Foundation, First Book, The Gasol Foundation, and National 4-H Council, where she serves as a Liaison to Cooperative Extension. She is an Executive Member of the Latino Corporate Directors Association and National Parks Foundation Council. She strongly supports community college education and serves on the Board of Governors for Long Beach City College. She has served as a trustee for the CA Healthcare Interpreting Association, CA Association of Family Physicians Foundation, the Saban Community Clinic, Children's Health Fund and the Smithsonian Institute Latino Advisory Board. She is a founding member of the Translation Automation Users Society (TAUS), has served on the California Health Manpower Commission and as Large Group President of the LA County Medical Assn.
She lives in California, where she enjoys sunny outdoor activities with her family, movies with happy endings, and evaluating new technologies.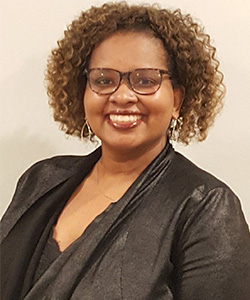 Joy L. Shields
Executive DBA Student
Joy is an award-winning writer, editor, and marketing subject matter expert with extensive experience in planning, executing and delivering world-class marketing initiatives and results for brands such as Mars Wrigley, Kraft Heinz, and PepsiCo. Joy is an expert in omnichannel marketing campaigns concentrating on lead-generation, acquisition, retention, and brand awareness with strong knowledge and utilization of digital ecosystems.
As a university lecturer, Joy trains EMBA students both domestically and internationally with in-depth and rigorous marketing coursework, bridging theoretical frameworks with practical applications.
Joy holds a BA in Film Production from Columbia College, an MBA in Marketing from Saint Xavier University, and an MS in Project Management from Saint Mary's University of Minnesota. A doctoral candidate, Joy's research focuses on sensory perceptions and consumer shopping experiences.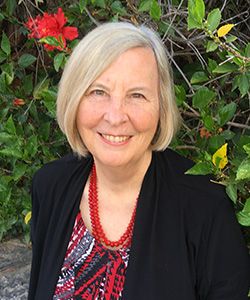 Teri C. Tompkins, PhD
Outstanding Faculty Award
Dr. Tompkins brings a unique perspective to her faculty duties, having managed diverse functions such as marketing, human resources, strategy, and operations in the corporate, small business, and not-for-profit markets. She is an entrepreneur and started five business. She currently co-owns a medical practice and manages her real estate portfolio. She has consulted and conducted research for firms such as Motorola, LA Cellular, Boeing, TRW, US Forest Service, Xerox, LearnShare at Comcast, Canadian Imperial Bank of Commerce—Canada, and Phillips—Europe and North America. In the not-for-profit and government sectors, she held significant regional management responsibilities with the Girl Scouts of the U.S.A. and the Girls Club of America, and she has consulted with the YMCA, YWCA, California State Department of Rehabilitation, and numerous colleges and universities. She has held offices in the Western Academy of Management and Western Casewriters Association. She recently completed a five-year term as department chair of the management department. She has served on spiritual retreat teams, and volunteers for numerous positions at her church. She currently serves on the Personnel and MS in Human Resources Committees at PGBS. In her consulting practice, Dr. Tompkins specializes in facilitating conversations in organizations to develop team learning, insure positive transformations, and manage toxic employees.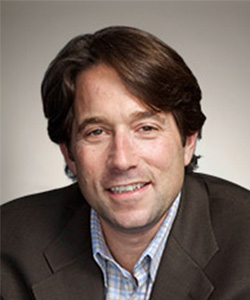 Joshua Taub
Outstanding Alumni Award
Joshua Taub is not only a Pepperdine University alum but also the Chief Operating Officer at Activision Publishing, one of the world's top video game and entertainment companies. His work spans over two decades, where he's held several leadership positions in the videogame and consumer products industries, lending his expertise, mentorship, and strategic management of several global brands and commercial initiatives for Fortune 500 companies. Currently, he oversees an extensive roster of epic blockbuster games -- Tony Hawk, Spyro, Crash Bandicoot, and Call of Duty.
Taub's previous achievements include doubling Activision's business, being the General Manager of the $3.5 billion, award-winning Skylanders franchise, and working for Mattel, Inc., where he served as Vice President of Sales. At Mattel, he oversaw $300 million in sales for the toy manufacturer's second-largest customer for numerous top brands, including Barbie, Fisher-Price, Hot Wheels, Matchbox, and American Girl. He also held leadership positions at Vivendi Universal Games and The E. & J. Gallo Winery. Taub holds an MBA from Pepperdine University.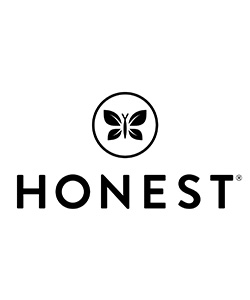 The Honest Company
Outstanding Corporate Partner
The Honest Company (NASDAQ: HNST) is a consumer-first, mission-driven and digitally-native brand focused on leading the clean lifestyle movement, creating a community for conscious consumers and seeking to disrupt multiple consumer product categories. Since its launch in 2012, Honest has been dedicated to creating thoughtfully formulated, safe and effective personal care, beauty, baby and household products, which are available via honest.com, third-party ecommerce partners and approximately 50,000 retail locations across the United States, Canada and Europe. Based in Los Angeles, CA, the Company's mission, to inspire everyone to love living consciously, is driven by its values of transparency, trust, sustainability and a deep sense of purpose around what matters most to its consumers: their health, their families and their homes. For more information about the Honest Standard and the company, please visit www.honest.com.