Awardee Biographies
2022 George Awards Ceremony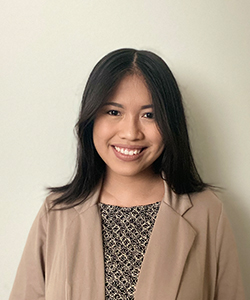 Kirstine Donato
Outstanding Full-Time MBA Student
Ever since she was a little girl, Kirstine's passion has always been to improve the lives of others through their health. That has not changed. However, fulfilling that passion looks different from what she had imagined it to look back then. After receiving her bachelor's degree in Kinesiology, Kirstine was on the path to becoming a Doctor of Physical Therapy. Still, she realized how much she preferred and enjoyed working behind the scenes at a medical practice to ensure the team has the support and resources to do their job – to serve patients. Upon her realization, Kirstine decided to pursue her MBA to make a more significant difference in the healthcare industry.
Throughout her time as an MBA candidate, Kirstine wanted to soak up everything that the program had to offer – knowledge, skills, and most importantly, relationships. She took up a leadership position with the Graziadio Women's Business Association in her first semester, eventually becoming president during her final year in the program. In June 2021, she began a Summer MBA internship with Blue Shield of California and had been grateful to have been granted an extension to continue to intern for the company while she completed her program as a full-time student. While all these big milestones were significant, the small moments between them have left a more substantial impact on Kirstine. The positive dissent in classes, the walks to Heroes Garden during class breaks, and many more memories that may seem small but were big. It was the friendships with people who challenged Kirstine to be better, not just as a professional but as a person.
After graduation, Kirstine is looking forward to becoming an active member of the Graziadio Alumni Network and changing the healthcare space with people-centered innovation.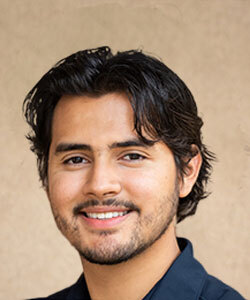 Leonardo Reyes
Outstanding MS Student (Applied Finance)
Leonardo is currently pursuing his master's degree in Applied Finance at Pepperdine Graziadio Business School. He graduated from CSU Fresno in 2020, earning a Bachelor of Science in Business Administration with an emphasis in International Business. After graduating from Fresno State, Leonardo worked for one year at State Farm, earning valuable experience in both sales and marketing as an Account Associate. While studying at Pepperdine, he had the opportunity to work as a Research Analyst Intern at 118 West Capital, a boutique investment fund in Long Beach, doing equity research for the firm. Leo also had the privilege to represent Pepperdine at the 2022 CFA research challenge, where his team won second place in the regional competition. In addition, Leo worked as a finance intern at a software startup company based in DC called Parker Health. While working for Parker Health, Leo engaged and received firsthand experience in SEC compliance and active capital raises with some of the Nation's largest investment banks. After graduation, he plans to continue his finance career, specifically in Corporate Finance or Investment Banking.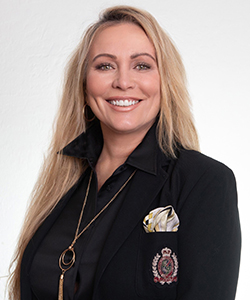 Michelle Derheim
Outstanding BSM Online Student
Michelle Derheim is a graduate of Graziadio School of Business with a BS in Business Management and looks to further her learning experience by pursuing an MBA and Ph.D. in Business. Before Pepperdine, Michelle's self-determination for being a leader was exemplified through graduating in the top 10% of her educational experiences and garnering top awards and honors for service and accomplishments throughout her career. Michelle has had a well-rounded career with over 40 years in the fields of marketing and advertising, holding senior management positions. During her career, Michelle had the privilege to work for well-respected companies such as Disney, ABC Television, and Hearst Media Group. She has worked in start-ups where business practices centered on collaboration helped strengthened the ability to work in today's team environments.
After 20+ years in the for-profit space, Michelle has transitioned to the non-profit sector where the experience has been life-changing. That experience pushed Michelle to go back to school to continue her life journey where knowledge is indeed power, the power to change yourself, and, through actions, the course for others. She is looking ahead to earning an MBA and Ph.D. in Business, emphasizing non-profit consulting.

Having married late in life, Michelle and her husband split their time between San Francisco and their second home on the Big Island of Hawaii, continually growing to live a more balanced life. The couple's last trip to Cuba saw firsthand how perseverance and determination change how one sees the world around them.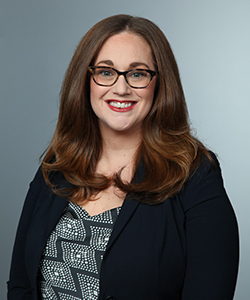 Kelly Javier
Outstanding Fully-Employed MBA Student
Kelly Javier is a Pepperdine Alumni Associate as well as a student ambassador, where she supports recruitment efforts by speaking to prospective students through virtual informational sessions that Graziadio puts together. She participates in Coffee Chats and is part of the PeppConnect mentoring program. Kelly recently published a blog on making the most out of a virtual education.
Kelly is the Marketing Director at Partner Engineering and Science, Inc. (Partner) With more than twenty years of experience in all aspects of marketing, she helped build Partner's marketing team from the ground up and helped Partner grow from a $20 mil to $300 mil company. She is responsible for strategic planning and execution, accountable for a $3 mil marketing budget and committed to the career development of the professionals on her team. Kelly helped to establish and grow two commercial real estate industry groups, CLRM and EFMR. During her time at Pepperdine, Kelly was voted by her Partner colleagues to become a principal of her firm.
Through her mentorship and volunteer work, Kelly values mentoring young professionals, caring for cats at a local rescue, and volunteering with Second Harvest Food Bank. Through her Pepperdine E2C project, she connected with a non-profit, The Lantern Network, which is focused on professional and skills development for black youth. She has been working to help support them through various efforts. Kelly's ultimate goal is to leverage her Pepperdine MBA to be on the board of a youth focused non-profit and give back to her community.
A second generation and double alum, Kelly received her BS in management at Pepperdine's business school in 2019 and expects to receive her MBA in global business in 2022. Kelly's father is a class of 2013 MBA alum.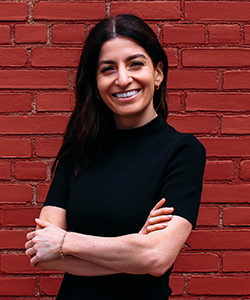 Alexandra Devolites
Outstanding Online MBA Student
Alexandra is an experienced brand strategist and marketing leader. She has spent nearly a decade building beloved global brands such as lululemon, Away, and currently, On.
Alexandra graduated from the University of Virginia in 2010 with a BA in Psychology. She was a proud member of the Virginia Dance Team and Virginia Dance Company.
Upon graduating from the University of Virginia, Alexandra moved to Los Angeles to pursue a career in dance. She experienced the joy of pursuing a passion, independence, and the magic of diverse and creative communities.
Alexandra values authenticity, collaboration, curiosity, kindness, and the desire to do good. She found these qualities in her peers, professors, and the entire Pepperdine Graziadio Business School ecosystem during her time in this MBA program. She is honored to receive this prestigious George Award. She will graduate in August 2022 with a concentration in Digital Innovation and Information Systems.
She currently resides in Brooklyn, NY, with her rescue pup, Penelope.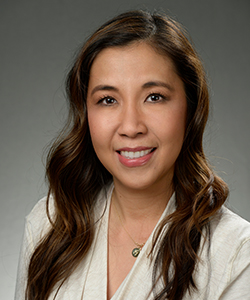 Maricar Cutillar-Garcia
Outstanding Executive MBA Student
Maricar Cutillar- Garcia is a practicing physician currently working at Kaiser Permanente Antelope Valley Medical Center. She has been a Kaiser Permanente physician for the past 25 years, and her field of specialty is Allergy and Immunology. After receiving her medical degree MD at the University of the East, she continued her postgraduate medical education and training in Pediatrics at the Kaiser Permanente Los Angeles Medical Center. She then pursued a subspecialty training in Allergy and Immunology at the University of California Los Angeles David Geffen School of Medicine and Harbor-UCLA Medical Center in Torrance, California. Cutillar-Garcia is a Diplomat of the American Board of Pediatrics and the American Board of Allergy and Immunology. She recently received her MBA degree from Pepperdine University Graziadio Business School.
Aside from her clinical role as a physician, she is involved in leadership positions at Kaiser Permanente. She served as the Chief of Service of the Department of Allergy and Immunology and physician leader for the medical center's asthma team for several years. Other committees she was involved in included Drug Utilization, Quality Improvement, and Coding Standards. Cutillar-Garcia is a member of the Los Angeles Society Allergy, Asthma and Clinical Immunology and the American Academy of Allergy, Asthma, and Immunology. She is also a member of the Pepperdine University Chapter of Beta Gamma Sigma Business Honor Society.
With a passion for life-long learning and mentorship, Cutillar-Garcia volunteered her time teaching medical students and resident physicians as an assistant clinical professor at the Department of Pediatrics UCLA David Geffen School of Medicine, Harbor-UCLA. She continues to give lectures to primary care physicians on developing topics in her specialty area. To reconnect with her heritage and her desire to be part of the global community, she organized a group known as "Roots for a Cause," which raises awareness and funds for nonprofit organizations based in the Philippines to benefit pediatric patients with special needs. Residing in the Los Angeles area for most of her life, she enjoys spending time with her husband and their five children.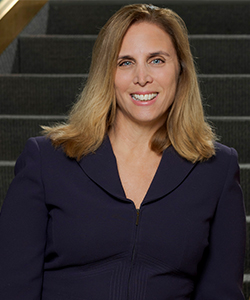 Dr. Jolie Gutentag
Outstanding Executive DBA Student
Dr. Jolie Gutentag has held leading management positions at notable companies such as Procter & Gamble, Nestlé, acquiring extensive experience in the areas of strategic marketing, product innovation and general management in Europe. Her passion lies in empowering diverse teams and individuals with knowledge and methodologies to achieve breakthrough results. She was CEO of Tempo Electronics, a semiconductor packaging company, which she sold to Advantek. More recently, Jolie has worked as an interim executive, consultant and trainer for renowned organizations to develop and implement brand growth strategies. She recently received her Doctorate of Business Administration from Pepperdine Graziadio Business School while working as an adjunct Professor in Marketing, Sustainable Business Strategy and Cross-Cultural Management. Her research, which demonstrates how framing sustainability as circularity (circular economy) can shift consumer behavior, has been recognized at top academic conferences. In the Fall 2022, Jolie will join Pepperdine as Visiting Assistant Professor of Communication.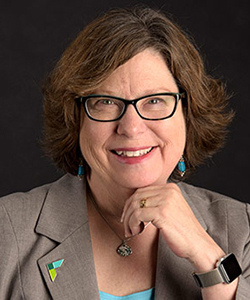 Ann Feyerherm, Ph.D.
Outstanding Faculty Member
Raised in the Midwest by parents who were educators, it seemed natural for Ann to gravitate to the teaching profession. She attended Iowa State University for her bachelor's and master's degrees. After eleven years working for Procter & Gamble, she returned to education, receiving her Ph.D. at the University of Southern California. Having worked at Pepperdine University for almost 30 years, she has enjoyed teaching students in multiple programs. She helped create or improve more than four degree programs, and served in administrative capacities as a program director, department chair, and Associate Dean. Her research involves issues in change management, leadership development, and trans-organizational systems and she presents at conferences and publishes in academic journals and books in addition to consulting. She is the recipient of the Howard A. White Award for teaching excellence and the John Nicks service award and was honored by the Organization Development and Change Division of the Academy of Management for her many years of service.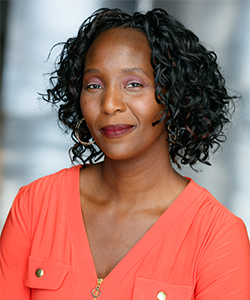 Stacey Gordon
Outstanding Alumni Award
Leading at the intersection of diversity, inclusion, and workplace culture, as CEO of Rework Work, Stacey focuses on reworking how companies work; including how they inclusively recruit, hire and engage employees, effectively creating inclusion and belonging for all.
In her role as Executive Advisor and Diversity Strategist, she coaches and advises executive leaders on DEI strategies for the business while offering a no-nonsense approach to education for the broader employee population. As a globally recognized keynote speaker, leadership consultant and sought-after expert on DEI, Stacey has provided subject matter expertise to Harvard Business Review, SHRM, Fast Company, Skillsoft, Forbes, NPR Radio, BBC Radio, and the Association for Talent Development.
Stacey is the creator of a course on the topic of unconscious bias which was the #1 most viewed course on the LinkedIn Learning platform for 2021. With several courses on the platform, she has surpassed the milestone of having reached more than 1 million unique learners overall and her unconscious bias course has been translated into more than four languages. Her work has been utilized by Fortune 100 companies around the globe including, Microsoft, GE, HP and AT&T. Stacey is also the author of Unbias: Addressing Unconscious Bias at Work, a book that reached #1 on several Amazon New Release lists.
Previously employed as an Adjunct Professor teaching Diversity in Organizations at Phillips Graduate University, she now teaches at Pepperdine University in the Business School where she earned her MBA. Formerly the Director of Education for the largest SHRM affiliate in the country, Stacey earned both her Inclusive Workplace Culture credential and her SHRM Senior Certified Professional certification from the Society for Resource Management (SHRM).
She was recognized by Pepperdine University as a Top 40 Over 40 Leader, by the Los Angeles Business Journal for her work in Diversity and by Forbes as a Top 3 Business Leader Who Spoke Out About Diversity & Inclusion.
A mom of three daughters, she is proud of the work she does to make all the difference in the world, as she knows that will eventually make the world a better place for them.