Awardee Biographies
2019 George Awards Ceremony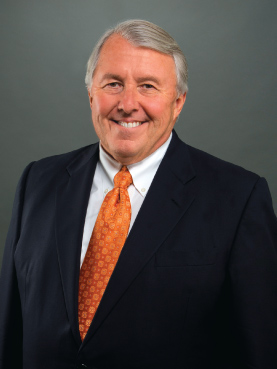 Andrew K. Benton
Lifetime Achievement in Leadership
Appointed in 2000 as Pepperdine University's seventh president, Andrew K. Benton has led Pepperdine to prominence among the nation's top universities. He currently serves as chair of the National Association of Independent Colleges and Universities (NAICU) and is former chair of the American Council on Education (ACE). Benton was also chair of the Association of Independent California Colleges and Universities (AICCU), served on the Council for Higher Education Accreditation (CHEA), and is a member of the President's Cabinet of the West Coast Conference.
AEG
Outstanding Corporate Partner Award
The Graziadio Business School is pleased to award this year's Corporate Parter Award to AEG. Each year this award is presented to an organization that has helped to enhance the mission and reputation of the Graziadio School. With an extraordinary demand for talent in the sports and entertainment space, AEG and Pepperdine University partnered with the goal of creating world-class sports and entertainment management educational programs. The unique partnership offers postgraduate and undergraduate level educational experiences that combine AEG's expertise and international network of venues, sports properties and franchises, and live entertainment assets with Pepperdine University's academic excellence. In the fall of 2017, the Pepperdine/AEG Internship program was jointly launched to give students unprecedented access to the business acumen behind the world's leading sports and entertainment company. In honor of its 50th anniversary, The Graziadio Business School launched the 50th Anniversary Scholarship to recognize high achieving employees at corporate partner organizations and proudly awarded a $50,000 Part-time MBA scholarship to AEG employee Austin Caldwell and several merit scholarship were also offered to highly qualified candidates at AEG.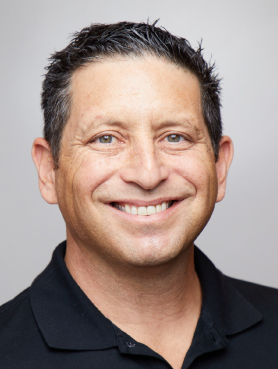 Steve Bilt
Waves of Service Award
Steve Bilt is the Chief Executive Officer at Smile Brands Inc. (SBI) and OneSmile, LLC. He co-founded Smile Brands and OneSmile and in 2016 combined the two businesses (collectively "Smile Brands"). Steve was integral in SBI's three initial platform acquisitions and led the acquisitions of Monarch Dental Corporation [NASDAQ: MDDS] and Castle Dental Centers Inc. [NASDAQ: CASL]. Steve also serves as Chairman of the Smiles for Everyone Foundation. The Smiles for Everyone Foundation has established international outposts serving six countries in South America, Asia and Africa and conducts ongoing events throughout the United States. Steve earned a Bachelor of Arts degree in business economics from the University of California, Santa Barbara; a Presidents and Key Executives MBA from the Graziadio Business School at Pepperdine University; and completed the Harvard Business School Presidents' Program. He is a Certified Public Accountant (inactive) in the State of California.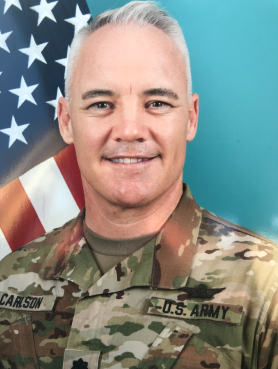 LTC Daniel J. Carlson
Outstanding Fully Employed MBA Student
Lieutenant Colonel Daniel J. Carlson entered military service in 1990 as a Private First Class. He demonstrated the capacity to lead right way by completing the US Army Ranger School and Airborne School within the first two years. He earned a commission through ROTC at California State University Long Beach and started his Officer career as a Helicopter Pilot. Lieutenant Colonel Carlson has been selected to command 7 units up to Battalion size Aviation elements. He has also served 5 years at a strategic level national military command center called NORAD. He has been awarded a Bronze Star and Air Medal for his role in Operation Iraqi Freedom. He has over 2500 flight hours. In his current role as Battalion Commander in the California Army National Guard is to provide logistical infrastructure for army aviation forces and respond to state emergencies such as wildfires. In August 2017, LTC Carlson was awarded a Masters of Business Administration from Pepperdine University in Malibu, CA. He lives with his spouse Shannon Carlson in Garden Grove, California. His adult children are Dillon, Hannah, Regan, and Kelsey with her husband Josh Calderon. They enjoy spending time with their two grandchildren Ethan, and Brinley.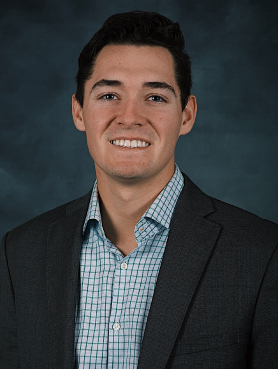 Kiko Garcia
Outstanding Full-Time Joint BS/MBA Student
Kiko Garcia is currently a BS/MBA candidate at Pepperdine Graziadio Business School. He is on track to graduate in April 2019 with a Finance concentration. Kiko graduated from Pepperdine University with a Business Administration degree in December 2017. Kiko is originally from Chula Vista, California, a town just outside of San Diego. In Summer 2017, Kiko worked as a Portfolio Management Intern for Financial Strategies Group, a San Diego based Financial Services Group. In Summer 2018, Kiko worked as a Mergers & Acquisitions consultant for Deloitte Risk and Financial Advisory in Chicago, where he accepted a full-time position beginning in September 2019. Kiko was a pitcher for the Division I Pepperdine University baseball team where the team has appeared in an NCAA Regional in 2015, and qualified for the West Coast Conference Tournament in 2015, 2016, and 2018 winning the Tournament in 2015. The team also won the WCC regular-season title in 2018.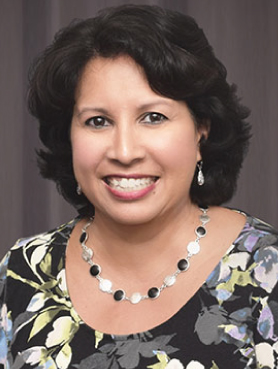 Charla Griffy-Brown
Outstanding Faculty Member
Charla Griffy-Brown is currently Professor of Information Systems at Pepperdine University's Graziadio Business School where she has held many leadership roles. She has experience developing digital platforms to achieve strategic objectives and has worked with executives to achieve top and bottom-line growth leveraging digital innovation. She has a strong track record helping executives implement new initiatives in social media analytics, service design, cloud/IoT based enterprise systems and business intelligence/analytics.
Dr. Griffy-Brown graduated from Harvard University, is a former Fulbright Scholar, and holds a Ph.D. in Technology Management from Griffith University in Queensland, Australia. She has worked for NASA at the Kennedy Space Center and served as a consultant for the United Nation's Global Environmental Facility and the European Commission.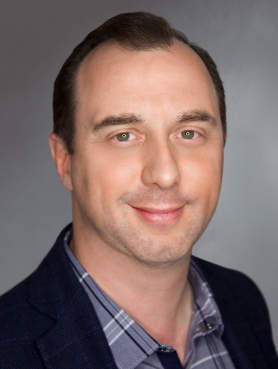 Brian Hamilton
Outstanding Joint BSM/MBA Student
Brian Hamilton is a credit union evangelist and financial technology geek who consistently strives to be a servant leader. He has 25 years of experience with financial institutions and fintech start-ups, where he has managed all facets of consumer lending operations, and has led key initiatives in the development of groundbreaking on-line applications, custom scorecards, and loan origination systems. Brian joined CU Direct in 2017 as the Vice President of Innovation and Insights, where he leads research efforts on emerging trends and product innovation for the credit union movement. Prior to his position with CU Direct, Brian was Vice President of Lending at several of the largest credit unions in the United States, Senior Vice President at California Community Bancshares, and Chief Credit Officer at BlueYield. Brian holds a bachelor's degree in management from Pepperdine University and is currently pursuing an MBA in Digital Innovation and Information Systems.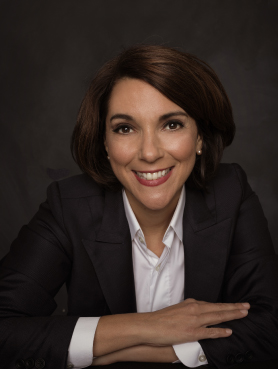 Kristy Lapidus
Outstanding MS in Organization Development Student
Kristy Lapidus is the founder of Corvo Consulting Group, a boutique business and technology management consultancy that partners with clients to navigate strategic transformations. As a 2019 Master of Science in Organization Development (MSOD) candidate, she is recognized for her strengths in collaborative leadership and compassion as well as her demanding work ethic and commitment to community service. She is a 2018 Pepperdine Waves of Service recipient; serves as the Chair of the 2019 OD Network conference, sits on the OD Network board and has spoken at international conferences on technology strategy, consulting, and business transformation. In alignment with Pepperdine's leadership principles, Kristy values building authentic trusting relationships that foster the co-creation of innovative solutions aligned with strategies that keep apace with rapid technological change. She has furthered her expertise in strategic planning through her master's research exploring the impact of scenario planning on the efficacy of digital transformations in the high-tech industry. Kristy earned her Bachelor of Arts in Journalism with a second concentration in Spanish from Indiana University in 2001.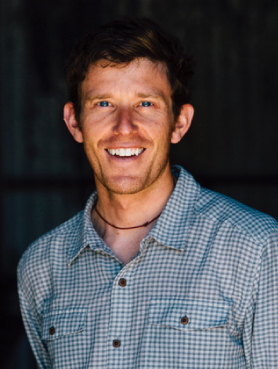 Linden Mallory
Outstanding Executive MBA Student
Inspired by mountains landscapes from an early age, Linden began his career navigating glaciers and mountain peaks as a mountain guide, leading climbing expeditions from the Andes to the Alaska Range to the Himalaya. Living amongst the world's highest peaks instilled an appreciation for the focus, dedication and humility demanded by the mountains and a passion for sharing those experiences with others. This passion for wild places and desire to use the power of business as a tool and model for responsible consumerism led Linden from the mountains to the coast where he is Patagonia's Global Alpine Product Line Manager, responsible for Patagonia's largest technical product line. Linden grew up in Colorado and Annecy, France and received his BA from Dartmouth College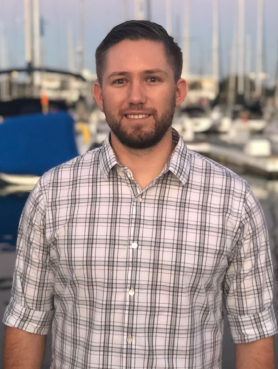 Carl Schroder
Outstanding MS in Human Resources Student
A recent honorably separated veteran of the United States Navy with five years of experience as a Resource Manager for military projects, Carl Schroder is specialized in staffing operations, providing mentorship, conducting performance reviews, and coordinating rotation of on-boarding personnel. His expertise includes maximizing team performance through process improvement, staffing, and training. His is also responsible for the security of personal information, safety compliance, and ensuring ethical conduct. Mr. Schroder's experience includes international travel to the Pacific Rim, Middle East and Italy while working with a broad range of governmental agencies. He will graduate this summer from the full-time MS in Human Resources program at the Pepperdine Graziadio Business School.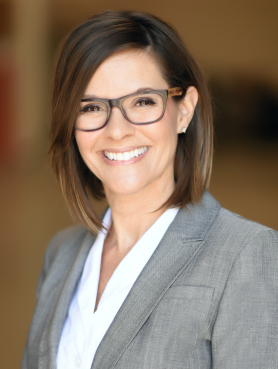 Lori Torres
Outstanding Graziadio Alumnus
Lori A. Torres is the founder and CEO of Parcel Pending, the nation's leading provider of innovative package management solutions with 100% Always-On Customer Service®. She is a dynamic and successful entrepreneur with more than 25 years of real estate experience. Additionally, she has been recognized on multiple occasions for her leadership, including being named 2017 "Innovator of the Year" by the Orange County Business Journal and chosen as one of 13 entrepreneurs admitted into the EY Entrepreneurial Winning Women™ 2017 North America class.
Lori holds a Master of Business Administration from Pepperdine Graziadio Business School. She also holds a California Real Estate Broker License and is a certified property manager.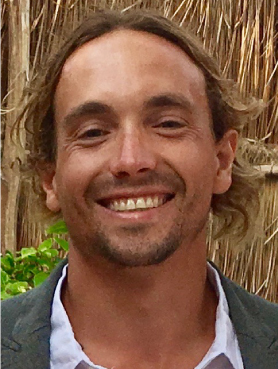 Hunter Turpin
Outstanding Full-Time MBA Student
Hunter holds a BA in Cultural Anthropology from the University of Colorado and will complete his MBA with a concentration in Entrepreneurship in the spring of 2019. Hunter's diverse background includes work in venture capital with early and growth stage companies in CleanTech, Life Science, IT/Media, and Hospitality. Hunter has also worked in action sports and entertainment, and in the music industry at The Agency Group (now UTA Music). Hunter remains active in venture investing, privately and with companies such as Saint Archer Brewing, Sanctuary Medicinals, Sonder Corp., and Madre Mezcal, and as an Advisory Partner at the Gideon Hixon Fund. Hunter celebrates life each day, and as a lifelong surfer and snowboarder, travels the globe chasing waves and fresh powder.