Commencement FAQ
Pepperdine Graziadio Business School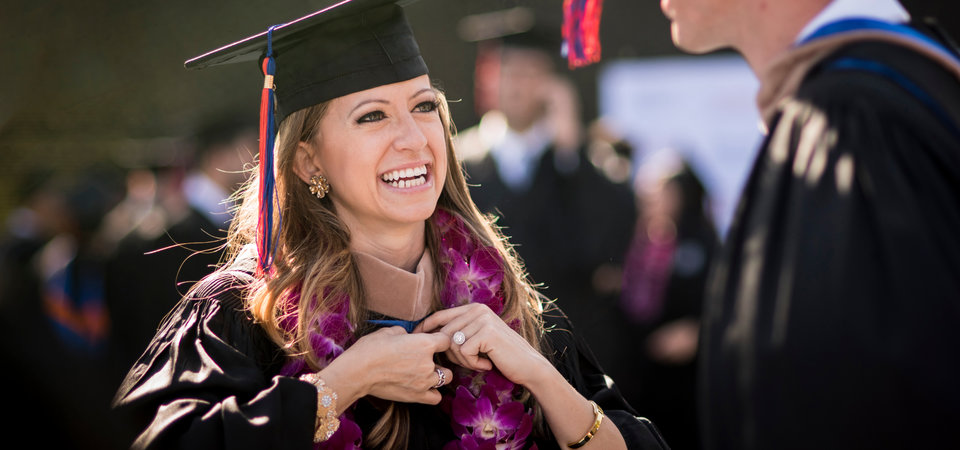 Get Ready for Commencement
I have never been to the Malibu campus; will I know where to go and where to park?
Upon arriving at the Malibu campus there will be signs directing you to the Fieldhouse Parking Lot and other designated parking lots. Guests and graduates may park in the following lots: Rho, Upsilon, Main, Theme Tower and Drescher. Additionally you may park on Seaver Drive, Banowsky Blvd, and John Tyler Drive. Be prepared to walk a short distance. 
If my guests arrive with me what should they do prior to the ceremony?
If guests arrive prior to 10:30 am, when the ceremony begins, they may walk around the campus, purchase coffee/merchandise, and select their seats.
Can my family come later than 8:45 a.m.?
Yes. The commencement exercise starts promptly at 10:30 a.m. We ask that guests be seated prior to that time.
I am a graduate, do I need a ticket?
That will not be necessary, your cap and gown will admit you.
Do my guests need tickets to attend the commencement ceremonies?
Yes, tickets are required for ALL guests.
Does my child need a ticket to attend?
Any child(ren) who look over the age of 3 will require a ticket. Please note, strollers are not permitted in the ceremony venue.
Can anyone attend without a ticket "standing room only?"
There will be no standing room in the area. The event will be available for viewing via live stream.
Are there any special disability accommodations?
If you have a family member who requires special assistance in walking, he or she can be dropped off directly in front of Firestone Fieldhouse before parking your vehicle. A special section is reserved for guests with special needs (i.e. wheelchairs, walkers). The graduation volunteer hosts will be able to provide directions to special seating once you arrive.
Is my cap, gown, and master's degree hood mine to take home?
No. The cap, gown, and hood are rented for the day. However, if you would like to purchase a cap, gown or hood, you may do so by contacting Beth Levin, representative of Herff-Jones here.
May I pick up my cap and gown early to have portrait photos taken?
No. Caps and gowns are delivered directly to the campus the morning of the graduation.
What do I do with my cap and gown once the ceremony has been completed?
Cap and gowns need to be returned to the designated return area located near the reception area.
Will there be an opportunity to take pictures in the cap and gown?
Yes! After the ceremony we will be hosting a light reception where you and your guests may take pictures prior to returning your regalia.
What happens if I don't return them?
The cost of the cap and gown will be charged to your student account. Please make sure to identify who you are when you return them.
Is there a place for graduates to keep their belongings?
There is no secure place for graduates to store their belongings during the ceremony. It is suggested that you leave your personal items with a family member or keep them in your car.
Will the bookstore be open?
The bookstore will be open for business after graduation. It will also have a booth located at Firestone Fieldhouse. You may purchase merchandise at both locations.