Harnessing the Power of Diversity and Inclusion in Business: June Edition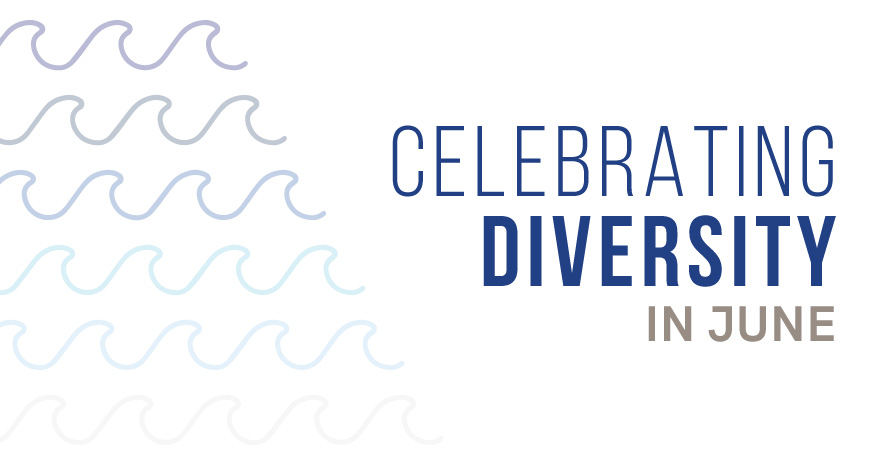 As companies were looking to improve business processes mid-pandemic, there was more to the conversation than redirecting marketing efforts or adjusting supply chain logistics. The most valuable assets to organizations were and still are human capital, initiating larger discussions around performance, culture, and leadership. Diversity and inclusion are emerging topics as firms determine their unique approaches to highlighting their community and representing culture in the workplace. When companies make an effort to embrace a more diversified work environment, employee performance levels and values-based leadership grow exponentially – in a 2020 study conducted by Fundera, diverse companies are 35% more likely to perform better. People come from a wide variety of backgrounds, providing their teams with the opportunity to learn from each other and advance their organization in a positive direction. Just through conversations with coworkers or within groups, we share experiences that go beyond business and develop a sense of belonging – harnessing the power of inclusion to create communities of change.
Throughout the year, the Pepperdine Graziadio Business School honors the diverse cultures and traditions celebrated by our community. Engrained with the values of inclusion and belonging, we are committed to providing a culture where every person, near or far, can feel accepted, acknowledged, and a part of a family. A key way Graziadio establishes diverse strategies within our school is through our Graziadio Diversity Council (GDC). Meeting each month, GDC strives to foster an inclusive environment for innovation, respect, and equal voices while honing into the diverse backgrounds inherited school-wide. Working closely with the leadership team at Graziadio, GDC identifies opportunities to showcase the community through a diverse lens within programs, future strategies, and organizational culture. Made up of staff and faculty members, we are proud of the GDC for spotlighting what makes Graziadio unique and showcasing the many incredible cultures that combine to form the basis of our community.
During the month of June, we recognize two important holidays that stand as times to remember, honor, and celebrate people who associate within these communities: Juneteenth and Pride. It is through our students, alumni, faculty, and staff that we are able to come together to learn the history and the traditions behind both holidays. As we recognize African American and LGBTQIA+ communities this month, we continue to provide support throughout their professional and personal journeys as Best for the World Leaders.
Recognizing Pride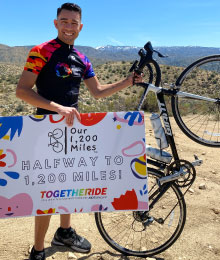 As an avid traveler, highly-involved MBA student, and LGBTQIA+ ally, Michael Mardirossian is making waves in the Graziadio community and having a lasting impact. Michael holds multiple leadership roles within a variety of student organizations on campus, including Chairman of the Graziadio Student Advisory Board (GSAB) and Vice President of Community Services for Net Impact. Outside of attending club events and studying for exams, Michael spends his free time volunteering for a local nonprofit organization, AIDS/LifeCycle, to support the San Francisco AIDS Foundation in providing HIV/AIDS medical care to broader communities. In 2020, Michael raised $2,500 for the nonprofit by cycling 1,200 miles! Looking towards the future, Michael hopes to showcase diversity and grow his professional endeavors through his newly acquainted experience – bringing awareness of inclusion to the forefront for workplace cultures.
"As I begin working for J.P. Morgan Chase (JPMC) this summer, I plan to get involved with PRIDE, which is JPMC's business resource group for the LGBTQIA+ community. By working alongside others who identify or are allies of my community, I believe we can strive to have a more inclusive work environment. Together, we can work to promote not only our well-being but also our progression upward in management at JPMC and Corporate America in general."
Recognizing Juneteenth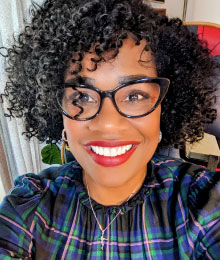 Leading the recruitment team at Graziadio for over two years as Executive Director, Karen Jackson executes values-based strategies towards developing the student population across all three verticals (full-time programs, part-time programs, and executive programs). Standing as a prominent community member, Karen works alongside industry leaders to cultivate standards and structures that enhance the recruiting process. When not at her desk, Karen spends time with her family, friends, and community, whether that is celebrating Juneteenth or simply getting together on a weekend. Karen highlights the importance of honoring diversity though implementation of organizational practices, specifically speaking to the June holiday.
"Businesses recognizing Juneteenth creates an inclusive environment for their staff and acknowledges the significance of the holiday. For many African Americans, Juneteenth is equivalent to July 4th. It's truly a joyous time and it's wonderful that everyone is celebrating it!"
Through sharing stories and traditions, we are creating an environment where everyone belongs and feels empowered to be who they are. Opening up the communication lines regarding diversity opens up possibilities to improving as an organization overall. In a Forbes article about diversity and inclusion, several benefits are listed to harness the power of diversity in organizational culture: improves innovation, helps with recruitment efforts, leads to diverse perspectives, and increases productivity and performance. With that being said, if you think the future of business is leaning towards more diversity, then you guessed right. Gaining a perspective on effective diversity and inclusion strategies in the workplace begins with an education that thrives on welcoming all backgrounds. At Pepperdine Graziadio, your unique story is our future.