Most Fundable Companies®
We Believe In Great Companies. We Help Them Succeed.
Presented by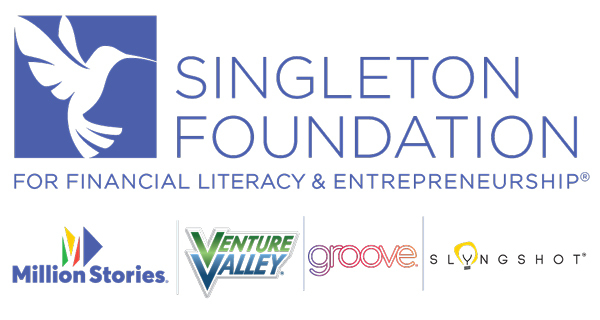 ---
Our goal is to bridge the gap to get startup companies funded. Are you an early-stage U.S. company seeking private capital? Does your business generate between $0 and $10 million in annual revenue? Are you willing to answer a few questions and invest some of your time to learn about the due diligence process and determine your company's fundability?
If you answered YES to any of these questions, take part in our survey today! The Most Fundable Companies program is not limited to Pepperdine student and alumni startups, and is not a pitch competition. Get objective feedback on how your business will be viewed by potential investors beyond your introductory pitch. We aim to help you think about how to structure your business and position your service or product so that you are seen as a worthy investment. In 2022, over 4,000 startups across all 50 states were screened into the nation's top startups and selected for the annual Pepperdine Most Fundable Companies list.
Gala Event Highlights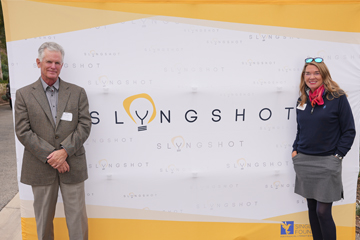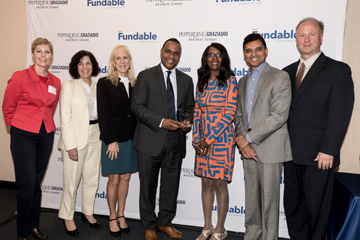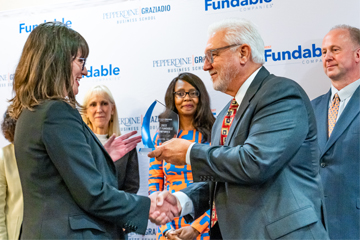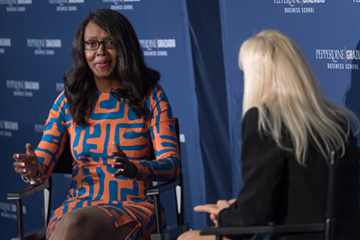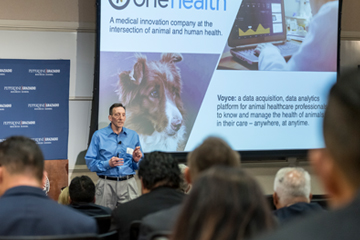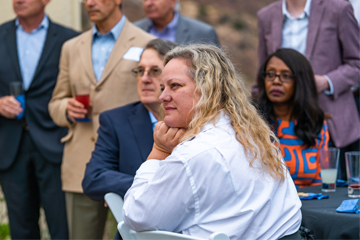 ---
Is Your Company Fundable?
Start with a Pre-Screen and Qualifier Survey. All companies receive the following benefits upon qualifier survey completion:
Private, risk-free analysis and feedback, customized for your company
General guidance on your likelihood for funding
Opportunity to participate as semi-finalists in our Fundability Assessment phase
---
Completing the Pre-Screen and Qualifier Survey are the first step in being recognized as a Most Fundable Company.
After completing the Fundability Assessment, companies that are selected to be on the Most Fundable Companies list receive the following benefits:
Recognized nationally
Targeted credible exposure to potential strategic partners, investors, customers, and new hires
Brand awareness and marketing tools
Access to exclusive events, networking, and services
View Past Winners
---
Overview
Complete the Pre-Screen and Qualifier Survey 
Semi-finalists (approximately 100 companies) will be invited to complete the more intensive Fundability Assessment survey.
Top performers collaborate in the final stage to complete your company story.
Top finalists are selected for the Most Fundable Companies list, which provides national recognition and a feature at our annual showcase event in Malibu, CA.
There is no cost to participate.  In addition to our annual list and showcase event, our program exists to educate and enlighten founders on what constitutes a fundable company, as well as support relevant distinctive research in identifying characteristics of successful startups.
Please note these key dates:
| | |
| --- | --- |
| Top Company Introductions and Verification | July 2023  |
| Gala Event and Announcement of Winners | September 21, 2023 |
| Pre-Screening Round | February 1 - May 26, 2023 |
| Qualifier Survey | April 3 - May 26, 2023  |
| Fundability Assessment | June 1 - 30, 2023  |
1. Can any company participate?
 The program is not limited to Pepperdine affiliated startups. All startups characterized by the following are invited to participate:
US-based privately held businesses

Original founder(s) is actively involved and is on the executive team

Prior 12-month revenue up to $10M
 Companies we cannot support at this time include:
Franchise businesses (either franchisors or franchisees)

Nonprofits

Any business engaged in products or services not consistent with the goals or mission of Pepperdine University
Startups are about community. Share the program with your network.
2. Is there a cost?
No, Pepperdine is pleased to offer the surveys and feedback report at no cost to you. Your time to complete the surveys will be rewarded with private actionable feedback specific to your company for your use, plus consideration to be featured in the Pepperdine Most Fundable Companies List and its related benefits.
3. How does the competition work?
Companies across all industries are evaluated using Pepperdine's proprietary methodology, which focuses on investor due diligence, and has been utilized to review thousands of startups.
4. Who will be named on the Most Fundable Companies List?
Semi-finalists invited to complete our Fundability Assessment and final stage introductions and verification will be considered for the Pepperdine Most Fundable Companies List.
5. If I don't make this year's list, can I resubmit next year?
Yes! A goal of the Most Fundable Companies program is to provide you with constructive information to generate favorable results for your business and a better position next time. Plus, a lot can happen during a year in the life of a startup, therefore you will need to begin the process from the beginning.
6. Are survey responses kept private?
The information you provide will be used to evaluate your eligibility for various programs and opportunities. Pepperdine University may disclose some or all of the contact information you provide to third parties, such as sponsors or strategic partners. Please carefully review the Terms and Conditions before you begin the Qualifier Survey.
7. What if I am not looking for funding?
Insights from the Qualifier Report are valuable to any company. They offer a critical view of your business that you can utilize to help your company grow and thrive. For any company that is currently pre-series A, consider the alignment of your future fundraising plans with timing of the list winners announcement and the subsequent national exposure provided by making the list.
8. Can I nominate a company?
Yes! Share the survey within your network or portfolio of companies. We understand that advertising and PR are expensive and startup resources are limited. The value of potential brand exposure outweighs the time it takes to participate. Plus, every company that submits a Qualifier Survey receives a Qualifier Report that contains objective and customized feedback to improve their readiness for funding.
9. What if I still have questions?
Please contact us at mostfundablecos@pepperdine.edu.
Final Stage: Introductions and verification may include an on-site or remote interview and a background check. Pepperdine University, in its sole discretion, may choose not to publish a company for any reason it deems appropriate.
The Pepperdine Most Fundable Companies List does not represent an offer to sell securities. It does not constitute investment advice, nor is it an endorsement of any particular product or service. Pepperdine University is not a broker-dealer and does not perform services provided by a broker-dealer, including but not limited to any financial or investment advising.
Start growing with unparalleled analysis today
Our Partners:
Title
Singleton Foundation for Financial Literacy & Entrepreneurship
Legacy
George and Reva Graziadio Foundation
Platinum
Anonymous  •  CFO Plans  •  StartEngine  •  Wealth Teams Alliance
Gold
JPMorgan Securities
Silver
Astrella  •  Palmer Center for Entrepreneurship & the Law  •  Startup Mavericks
Resource Partner
Diversified Professional Coaching  •  Flying Point Industries  •  LAVA  •  Mecoy Communications  •  Netcapital  •  
Scherzer International  •  SoCal IP Law Group  •  Stubbs, Alderton, & Markiles
In-Kind Premium
Business Rockstars  •  CoFounders Lab  •  Keiretsu Forum SoCal  •  Pismo Ventures
In-Kind
AWS Amazon Web Services  •  Christian Angel Investors  • Connective  •  Crunchbase   •  Donna Griffit   •  Elevate My Brand  •  F6S  •  Global Talent Builders  •  HubSpot  •  Miller Law Partners  •  Neutrino Donut  •  Pitch Genius  •  Scroobious  •  Shoobx  •  Spark xyz  •  StartupStarter  •  Syndicate 708  •  The Launch Box  •  Wefunder  • WeTransact.Live  •  V3nture Works

As featured in:
smallbizdaily  •  Entrepreneur  •  GreenBiz  •  Invincible Media  •  KNX1070  •  SecurityWeek  •  Los Angeles Business Journal  •  StartupNation
---