Master of Science in Real Estate Program
Broaden Your Approach to Real Estate, Increase Your Career Potential
The MS in Real Estate (MSRE) at Pepperdine Graziadio Business School is a 12-month Full-Time competitive program located at our beautiful Malibu campus which serves as a gateway to some of the most renowned commercial and residential real estate developments in Southern California. Our rigorous curriculum prepares you for the competitive world of real estate by developing a fundamental understanding of real estate finance, development, and asset management and trains you to solve complex issues facing today's most notable real estate organizations.
With the Greater Los Angeles as your backdrop, you will have the opportunity to cultivate local partnerships through our Education to Business (E2B™) immersive initiative that complements your education with practical, real-world executive experience. Develop critical multidisciplinary and technical skills needed to pursue an exciting and meaningful career that drives impact, globally.
Program Highlights
Global Alumni Network of 47,000+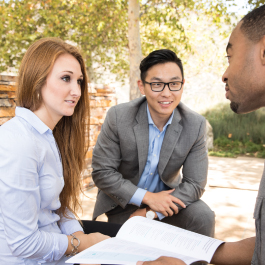 CCIM Fast-Track: As an official Certified Commercial Investment (CCIM) member, students who graduate from the MSRE program can waive certain CCIM core designation courses and achieve CCIM designation at an accelerated pace. CCIM is recognized as a benchmark demonstration of significant professional competence.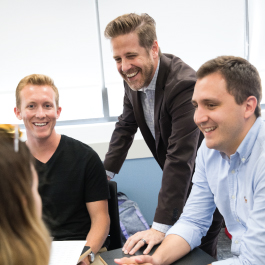 CA Real Estate Articulation Agreement: MSRE graduates may waive the two-year work experience requirement for the California Department of Real Estate broker's license exam. Additionally, many MSRE requirements count towards the salespersons and/or brokers pre-licensing courses.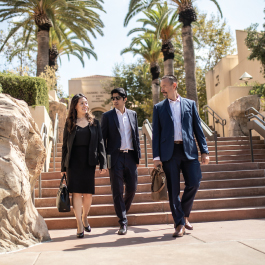 Education to Business (E2B™): Apply your degree in the real-world with our experiential, client-based projects where you'll act as a business consultant and work alongside leading executives at renowned organizations.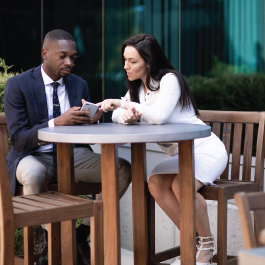 12-month OPT: Opportunity for students with an F-1 visa to apply for optional practical training opportunity (OPT).
Quick Facts
*Cost of tuition is in effect for the 2023-2024 academic year and is subject to change at the University's discretion.
Seaver Graduates: Double Up on your Pepperdine Future
Receive a 20% tuition discount or merit scholarship when you apply and enroll into the Full-Time MBA program.
Take the Next Step
Reach out to us to learn more about the Graziadio Business School.
Get in Touch
Fill out the Request Information form to learn about the opportunities that await you as a student at Pepperdine Graziadio.
Attend an Event
Learn more about your program by signing up for a class visit, information session, webinar or graduate fair.
Start Your Application
Ready to start your journey to Pepperdine Graziadio? Begin your application today to take the next step towards your future.
MS in Real Estate Admission
Fall 2024 Deadlines
Standard Deadline: Submit the application form by this date for a $2,500 award.
Final Deadline: Submit the application form by this date for a $1,500 award.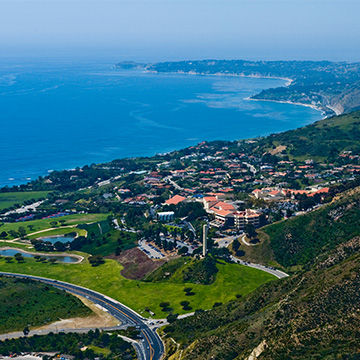 See Your Future Differently From Malibu
Classes are held at the Malibu campus in sunny California. The expansive Malibu campus sits on 830 acres and overlooks the Pacific Ocean with nearly every spot on campus featuring stunning views of the beaches. Pepperdine is consistently ranked as one of the most beautiful places to study. Graziadio students also have access to graduate student housing and amenities like the library, gym, and swimming pool at our scenic Malibu campus.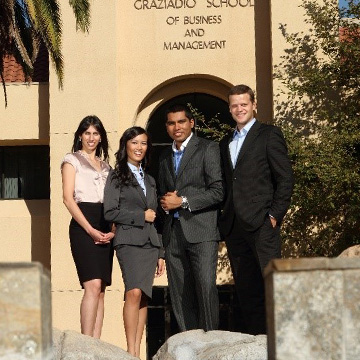 International Student Experiences
As a visa-eligible program, we offer exceptional support to international students.
A dedicated enrollment services officer will make your admissions process easy and comfortable.
We integrate international students across our campuses. The Office of International Student Services (OISS) provides additional support for international students.
Enjoy access to housing and amenities at our scenic Malibu campus.
Participate in University social, sporting, cultural, and spiritual events.
Build upon leadership skills, peer support, and lifelong relationships with colleagues. The community extends beyond the program to the larger Graziadio and Pepperdine family.
Partnerships with professional networks and conferences and a robust alumni network further students' growth opportunities.
---
The Company You'll Keep
When you join the Graziadio community, you'll join a global network of over 47,000 alumni actively shaping the world of business at top organizations, including: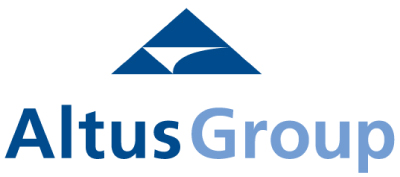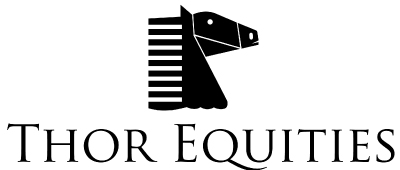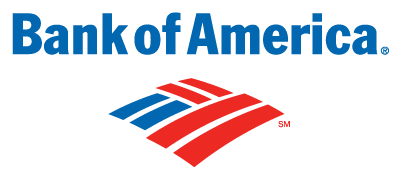 ---
Fall 2021 Student Profile

Top Industries: Bar graph shows the percentage breakdown of current industries our students were employed upon time of application submission. 29%% Real Estate/Development, 13.33% Financial Services/Insurance, 13% Other Industries, 8% Consulting/Business Services, 8% Government Agencies. This information reflects the data collected from MSRE applications for the fall 2021 cohort.
6 Years
Avg. Work Experience
Student Experience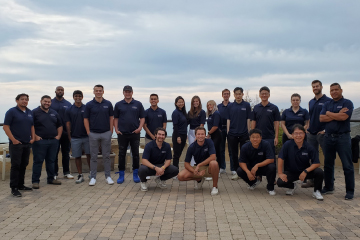 Values-Based, Personalized Learning
The Master of Science in Real Estate at Pepperdine Graziadio comes with small, collaborative classes led by our renowned faculty who are personally committed to your academic and professional success. With ethical, sustainable business woven into the core of our teachings and an emphasis on experiential learning, you'll experience a truly unique, transformational graduate degree within a global community of Purpose-Driven Leaders.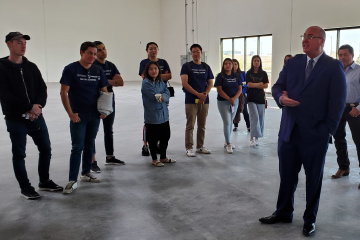 Your Career in Real Estate
Our Career and Professional Development department provides resources to connect MS in Real Estate students with other like-minded professionals and navigate potential career opportunities. Our dedicated advisors provide personalized guidance, career-building tools, and access to an extensive network of students, alumni, and employers around the globe.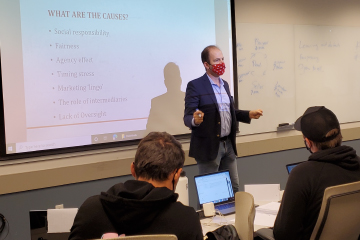 Your Personal Master's Support Team
The academic success of our students is at the heart of everything we do. Through our wide variety of MSRE Student Success resources and workshops, our students have the opportunity to develop their writing, presentation, test preparation, and time management abilities as well as enhance their reading comprehension and access our comprehensive library services.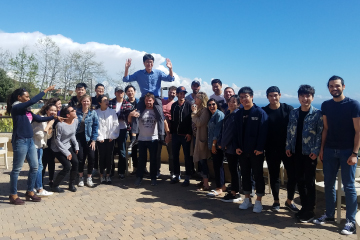 Student Clubs and Organizations
Life at Graziadio extends beyond the classroom with our student-initiated and student-run groups. Develop and enhance your leadership skills in one of the many clubs and organizations that are open to all current students. With over a dozen clubs and organizations such as the Pepperdine Real Estate Association (PREA), Graziadio Women's Business Society, Entertainment, Media and Sports Society, Graziadio Student Advisory Council, and so much more to choose from, you'll be able to find a group that fits you.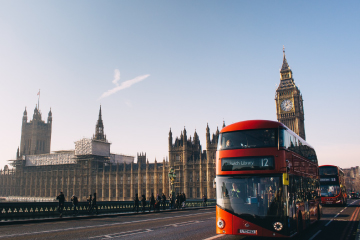 Study Real Estate in a Global Destination
Grow as a leader through international experiences that enhance cross-cultural communication and broaden career opportunities. MS in Real Estate students have the opportunity to apply to and participate in a one-week Global Business Intensive trip or a full trimester program at one of our 40 university partners in over 25 countries.
Testimonials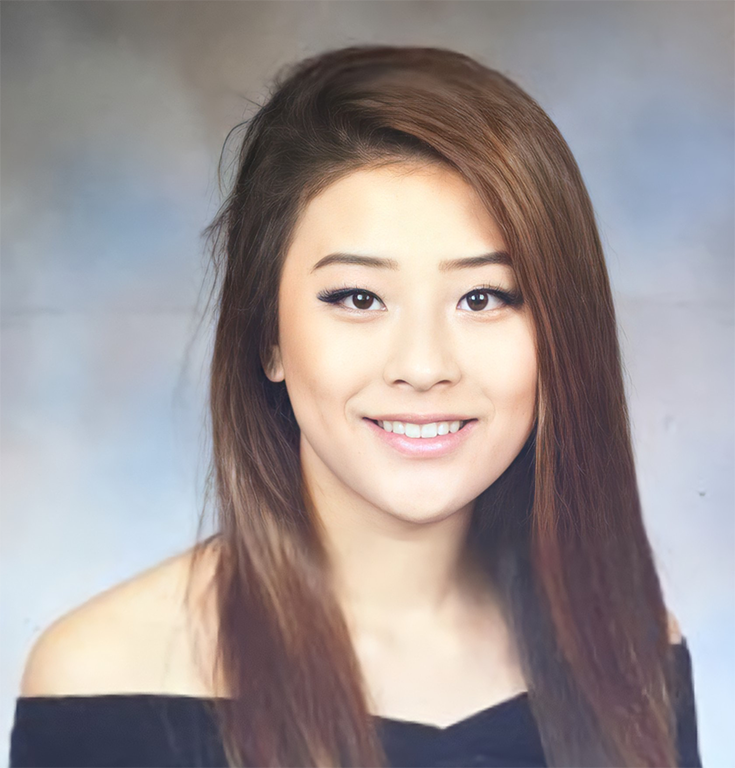 "The program established a deep understanding of real estate principles, finance, investments, and economics from price negotiation practice to global issues. The level of resources and access to market performance updates created a habit to constantly seek new information to stay informed even after graduating from Graziadio is invaluable. The market is constantly changing and understanding the volatility of each market is crucial component of my professional career. The unwavering camaraderie developed between the cohort and professors have made my time at Graziadio the most memorable and I never felt alone on this journey."
Christine Zhu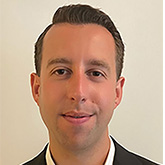 "I gained a tremendous amount of knowledge from the broad real estate curriculum and developed the technical skill set necessary for a career in real estate investing. The mix of faculty, as full-time professors and industry professionals, provided a unique perspective in the classroom and guest speakers, site visits, and the study abroad experience, led to a comprehensive understanding of the multi-faceted industry and unlocked quality networking opportunities across all real estate asset types and investment strategies. The program also had a strong emphasis on professional development, which aided in securing a full-time position after the program and instilled successful applications for future endeavors."
Noah Tillipman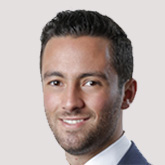 "The MSRE Program at Pepperdine provided me with exceptional knowledge and tools across diverse subjects of finance, investments and legal issues that are experienced in today's unpredictable real estate markets. As an international student, it also gave me great networking opportunities to meet industry leading individuals and networking events that allowed me to easily convert from a graduate student to a working professional in the United States."
Francisco Galvez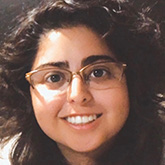 "The MSRE program at Pepperdine helped shape me into becoming a true well-rounded businesswoman. I have the analytical skills needed for the industry but I also have the ability to speak to people with confidence. The professors in the program were phenomenal; they go over and beyond to make sure you understand the material and are ready to go out in the industry with confidence. The program opened my eyes to the unlimited possibilities that exist in the real estate world."
Samira Fatehyar


---
Enroll in a Top Ranked Business School
We strive to facilitate an enriching student experience. The Princeton Review has reported on our high-quality programs and faith-based education.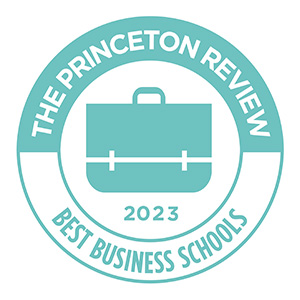 Contact Us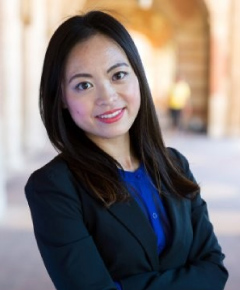 Linda Lenaghan
Assistant Director of Recruitment for Full-Time Programs
Take the Next Step
Learn more about Pepperdine's Master of Science in Real Estate Program