Student Internships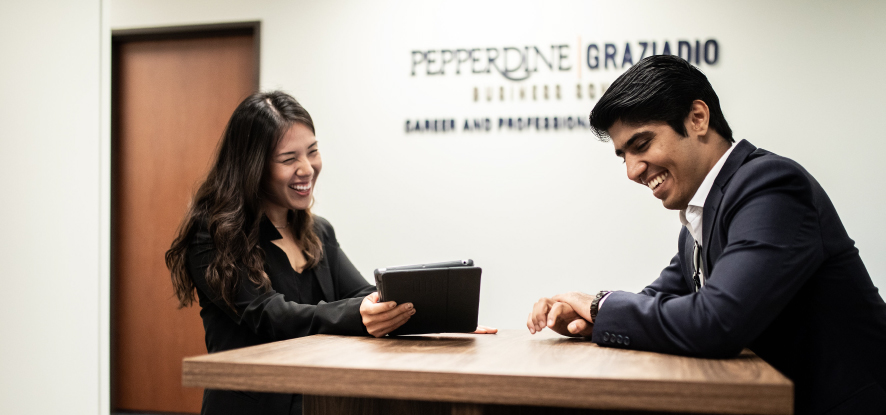 Internships give you the opportunity to gain practical work experience, increase your understanding of and exposure to a given career field, and transform your classroom knowledge into "real-world" application, tangible skills and other professional development opportunities.
By successfully completing internships, you can become increasingly competitive candidates in the job market. Setting an appointment with your Career and Professional Development Coach allows you to increase your understanding of the process and discuss your options.
For more information click on the Internship Handbook, which will provide you with details on the following:
Dates and Deadlines
PGBS 695 Internship Course
Eligibility
Internship Offer Letter
Overview of Academic Credit for Internships
Reporting Requirements
Supervisor Evaluations
Internship Approval Processes
Internship Sample Documents/Templates
Reneging Policy
Reporting an Internship in Handshake
How To Apply For An Internship
Employers will require various materials to apply for an internship, which may include:
• Résumé
• Cover Letter
• Transcripts
• Application
• References
• Interview
• Your availability to start the internship
• Your knowledge of the organization


How To Follow Up To An Internship
When following up, be ready to discuss:
• Your interest in the internship
• Your availability to interview
Importance of following up on the status of your application:
It is recommended that you call, but an email to the contact person is fine after 5 to 10 days after you have applied


Tips for a Successful Internship
Indentify
Consider industries and positions that interest you. Think about the environment you want to work in, what projects or tasks you would enjoy completing, and your own professional goals.
Question
Your site supervisor is there to serve as your mentor and information resource. Don't be shy about asking clarifying questions. They understand that this is a learning experience for you and are there for support.
Engage
Don't be afraid to jump right in when you start your internship. This is your chance to gain on-the-job experience and really engage in hands-on learning within your field of interest. Take on any and every project you have the chance to do, whether it is large or small. This will show your commitment and work ethic and likely lead to other projects during your internship. Actively engage with your co-workers and be a team player; this will enrich the experience for everyone.
Learn
Really take this opportunity to learn from those around you, especially the individuals who have been in the industry for many years. Ask them about their experience and the road to their current position. Conduct an informational interview with someone whose position interests you and you could see yourself doing in the future.


Internship Contact
Donna Brabec
Campus Internship and Education Specialist
donna.brabec@pepperdine.edu
310.506.4510
Want to share your Internship Success Story? Email: cpd@pepperdine.edu to be featured on the PGBS Linkedin page.