Company Testimonials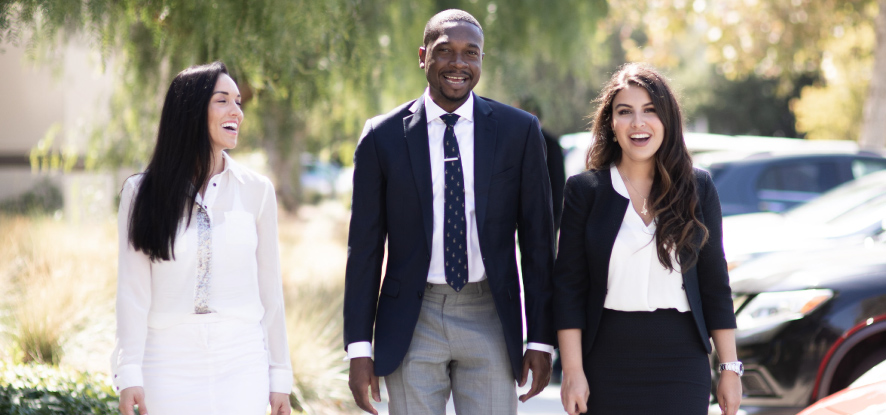 What Employers Say About Graziadio Students
AT&T
"We are looking for candidates with strong leadership experience on campus as well as strong professional experience. Pepperdine candidates have an excellent mixture of both. I think the world of the school. The students are fantastic and the Career Services Office is extremely helpful and engaged. And I look forward to partnering with Pepperdine for years to come."
- Mychele Riddick, Senior University Relations Manager, AT&T Leadership Development Program


---
Bank of America
"The partnership with Pepperdine Graziadio and Bank of America has naturally developed over the years through our relationships with Career Services, current students and alumni. We have seen repeated success from MBA students in our Strategy & Management programs through our summer and full-time opportunities. The students bring a new perspective, open-mindedness and a gift for learning as they utilize the business acumen they have developed at Pepperdine into our campus programs. We look forward to continuing our partnership as we move into the 2021 recruitment season!"
- Deetra Hill, MBA, Campus Recruiter & Program Manager, Bank of America Global Human Resources
---
Bryant Stibel & Company
"Since we began the Bryant Stibel investment class and internship program with Pepperdine's Graziadio Business school, we have been continually impressed with how well prepared and confident Pepperdine students are. Our team is equally as fortunate working with these very bright and eager students as they are working with a group of discerning investors. It's real world preparation for all of us!"
- Jeff Stibel, Founding Partner, Bryant Stibel & Company


---
IBM
"As an alumni of Pepperdine Graziadio Business School, I enjoy coming back and finding leaders to help drive meaningful and positive change in IBM's clients globally. Pepperdine MBA's are uniquely positioned because of the value-based leadership curriculum to help lead in this new era of technology and solve some of the world's most challenging problems. The partnership allows me to help my fellow waves and bring smart and diverse talent to IBM's Summit Program."
- Adam Buffum, Sales Manager, Data & AI, IBM Cloud & Cognitive