Recruit Graziadio Students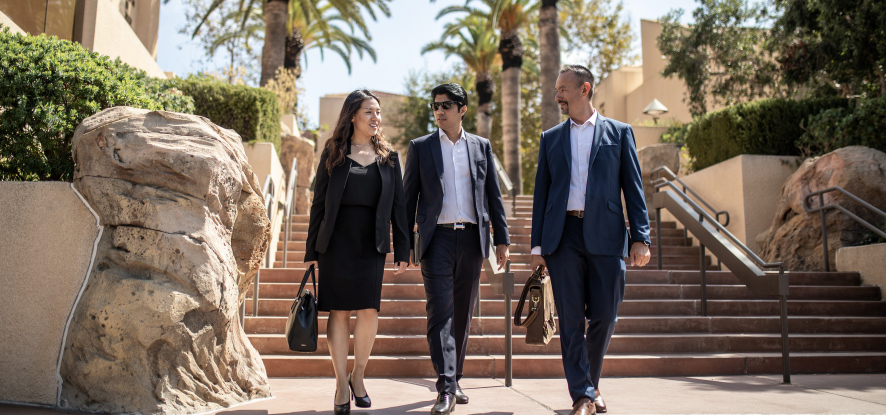 Discover resources for building your company's relationship with Pepperdine Graziadio Business School and for expanding your company's brand on our campus.
Pepperdine students are challenged to apply what they learn in the classroom to real-world business challenges. The Career and Professional Development Coaches partner with our students and walk alongside them to give them the tools needed to contribute to your organization's bottom line. When you hire a Pepperdine Graziadio Business Student or Alum, your organization will gain fresh insights and strategic support proving a worthwhile investment in your talent base for tomorrow! Pepperdine Graziadio Business School imparts the knowledge and tools our students will need for a successful career while focusing on the core values of integrity and innovation in the classroom, workplace, and beyond!
Below you will learn more about hiring at Pepperdine Graziadio Business School and our first-class recruitment platform, Handshake.
We look forward to connecting you to our talented MBA and Master's students in order to help your organization grow and achieve its highest goals! Here are some ways to get started.
Connect with Students
Engage with students at our on-campus events
Make sure company profile and jobs are posted and approved through Handshake
Connect with The Career Team
Hold Employer Information Sessions on campus
Partner with the Career and Professional Development team for career treks, site visits and resume books
Meet with students one-on-one for on-campus interviews
Our Career and Professional Development team welcomes the opportunity to collaborate with you for all your recruiting needs. Recruit Pepperdine Graziadio students and alumni for your job openings through our free, online recruiting system, Handshake, which contains a convenient job posting platform.
Handshake benefits include:
Ability to post, edit, and remove positions at any time
Flexibility to manage your own recruiting experience
Access to The Career and Professional Development Team for assistance with your recruiting process
Start recruiting Pepperdine Graziadio Business School talent now!
Engage with Pepperdine Graziadio Business School
Many companies that successfully recruit Pepperdine Graziadio Graduates make campus visits an integral part of their recruiting strategy. Our beautiful Malibu Campus offers the opportunity to meet students individually or in a group setting at events. The Career and Professional Development Team will fully support your recruiting and interviewing process. Please feel free to reach out with any questions or requests.
Related Links: