About the Center for Women in Leadership
"Our students are eager to learn in order to lead. That's why they came to the Pepperdine Graziadio Business School."
Dr. Bernice Ledbetter
Director of the Center for Women in Leadership
External trends point to a need for more women in the workforce in positions of influence. The Pepperdine Graziadio Center for Women in Leadership has been established to educate and empower our community through mentoring, skills development, research, and our contribution to an ongoing dialogue.
We continually develop programs that serve all of the Pepperdine community — our students, our staff, and our faculty – with the purpose to educate and empower women to positions of leadership. All individuals who are interested in promoting that purpose, regardless of gender, are welcome and encouraged to participate in the Center's programs.
Our Mission
The mission of the Pepperdine Graziadio Center for Women in Leadership is to position Pepperdine as a university of choice for those that seek to grow their leadership potential. In addition, we seek to continually engage with our alumni and additional external stakeholders. The Center for Women in Leadership will enable individuals to achieve this by educating and empowering them through key initiatives. Some of the key initiatives include mentoring programs, skills development, research studies, and an ongoing dialogue. The foundation of the center is rooted in collaboration and inclusivity. Thus, these specific initiatives are carried out in partnership with career services, alumni relations, human resources, and open to everyone – regardless of gender. They also serve as external organizations to prepare people to succeed in their careers, helping them to feel competent, confident, and ready to lead.
Women in Leadership: A Pepperdine Story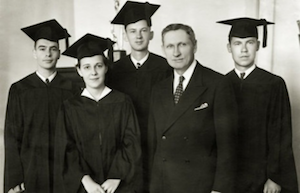 At Pepperdine, we pride ourselves on a long tradition of welcoming women and other minority groups. This began when we opened our doors with the very first graduating class of 1938. In just the cohort of four, Carmen Landrum - a woman - was in the graduating class.
Supporting women is not only part of our history, it is integral to our values and our business school vision to develop Best for the World leaders. In acknowledgment of and inspired by this robust population of bright and ambitious women, Bernice Ledbetter asked herself, "Are we doing enough?"
Dr. Ledbetter is a faculty member at the Pepperdine University Graziadio Business School. A significant part of her impetus to establish the Center for Women in Leadership is her students, many of whom come to Pepperdine from places like China, Saudi Arabia, Europe, and South America.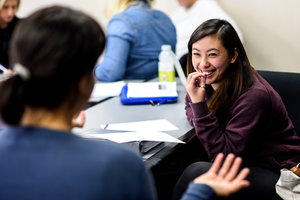 How can we build leaders in our international women students who face unique challenges back home?
What research initiatives can we further among our faculty?
How do we close the "confidence gap" and elevate the profile of people in the workplace and around the world?
The Center for Women in Leadership aims to unite and expand our community of thought leaders through engagement, development, and participation in an important dialogue.
As Dr. Ledbetter says: "Now is the time. Tomorrow is too late."