Message from the Director
We Are Better Together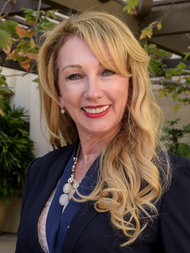 Welcome! The Center for Women in Leadership (CWL) is an initiative at the Pepperdine Graziadio Business School, created through a generous grant from Waves of Innovation, an internal grant program sponsored by the Office of the President.
Our mission is to position Pepperdine Graziadio as a Business School of choice for those seeking to grow their leadership potential. The Center for Women in Leadership will help the Graziadio community achieve this by educating and empowering them through key initiatives; mentoring programs, skills development, research studies, and ongoing dialogue. The foundation of the center is rooted in collaboration as these initiatives are carried out in partnership with career services, alumni relations, and human resources, as well as external organizations to prepare individuals to succeed in their careers, helping them to feel competent, confident, and ready to lead. We continually develop programs with the purpose to educate and empower women to positions of leadership and all individuals who are interested in promoting that purpose, regardless of gender, are welcome and encouraged to participate in the Center's programs.
Working with the Office of the Provost, the Center for Women in Leadership will engage faculty in conducting and promoting gender-related research to advance knowledge and support leadership development for aspiring academic leaders in higher education.
We are committed to empowering and advancing women in the workplace and hope that you will join us on this important journey. There are multiple ways to get involved. If you would like to join this effort as a participant, partner, mentor, please feel free to contact me directly.
Wishing you all the best,
Bernice Ledbetter, EdD
Dean of Students
Director, Center for Women and Leadership
Faculty, Organizational Theory and Management
Pepperdine Graziadio Business School
bernice.ledbetter@pepperdine.edu