Creating the Perfect Storm
Gil Ran, MSOD '14
There are rare moments in our lives where we feel as if everything aligns, where all aspects of a complex reality are working in congruency to create a perfect storm. For me, China was that storm. As the final practicum in our 2-year program, I had high hopes for the last session. It was after all, as Dr. Worley said to us in his cozy Lyon apartment during our 2nd international session, "all about china."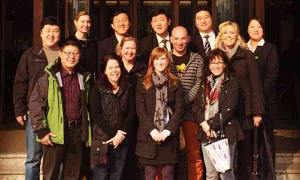 It all started with a superstar team I had the good fortune to be a part of: Juliet Irwin, a recipient of the Pepperdine George Award for outstanding student; Kim Goff, a kindred spirit and a remarkably intuitive Nike OD professional whose very presence can bring calm to the most tense situations; Jennifer Larsen, a dear friend and an incredibly funny, direct and productive Boeing rising star; and Katie Jackson, a sharp, charismatic and bubbly EY consultant who's fire-red hair captures the attention of any room. That's the beauty of the MSOD program; you build close personal and professional relationship with some of the most incredible people you will ever meet.
Yet even the perfect storm requires preparation and our team worked hard for 3 months prior to our engagement. We began by getting to truly know our team members; our passions, our strengths and weaknesses, and what we wished to get out of the project. The time we took to contract between the team members was a critical key in creating a smooth and truly joyous project and served as the genuine testament to the applicability of everything we learned in our program about group formation.
After several phone conversations with our Client, Mr Allen Gao, the CEO of the Eaka365 hotel chain we began gathering data in an effort to identify our client needs and came up with five overarching objectives:
1. Develop a common vision for both franchises and management team
2. Explore and strengthen the network
3. Understand individual role in the network
4. Share perspectives
5. Build future capabilities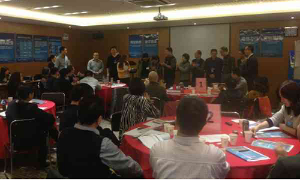 We confirmed the goals with our client, and it was off to the races to begin designing the perfect workshop. We examined over 10 proposed interventions and found that the Future Search model, originally created by Marvin Weisbord and Sandra Janoff, best answered our client's needs. With the help of my dear friend and mentor, John Dupre, we contacted Mr. Weisbord who was kind enough to join us for a phone conversation to iron out any last minute questions.
With a well planned design we headed to China for our first face-to-face meeting with our client. Our client's passion for hospitality was evident from the moment we arrived at our hotel, home of the Eaka365 management team. We were each given our own private VIP room and were immediately treated to a guided tour of the facilities. Pepperdine's reputation preceded us as we were treated like "super-star consultants" right from the start. Every night we were invited to a formal dinner with various government representatives who were genuinely fascinated with our work.
Although we were initially warned by representatives of the management team during our first day that potential conflicts were likely to arise within the 33 stakeholders that were invited to the workshop, we were optimistic about the power of OD and the strength of our design. Immediately following our first icebreaker there was a surge of energy in the room. It was at that moment that we began suspecting we were going to witness something very special.
During the next two and a half days our team witnessed a remarkable process where 33 individuals who have never worked together, and were weary of doing so, came together in creating a shared vision, action plan and commitments, and became a true leadership team right in front of our eyes. The testimonials we received during and after the workshop were both honoring and humbling and will continue to serve as a reminder of the power OD has in changing people's lives.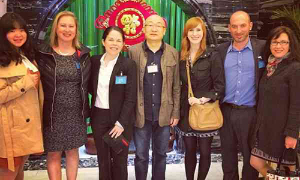 At the end of the workshop, CEO Alan Gao stood up and concluded the workshop by announcing a new training conference that would be held 3 months from that day. It will implement the new direction the chain was committing to taking after our workshop. Later that night we found ourselves in the hotel lobby, dancing the Macarena with the Executive. Unforgettable. Our team later recently found out that managers are now utilizing our design across the entire hotel chain. For me, there could be no bigger compliment, not even the Macarena.
Witnessing such positive transformation of both organizations and individuals in such a short time is a remarkable experience that is difficult to put into words. Realizing that is possible through the personal capacity the MSOD program provided me with during a short 20-month span is equally remarkable. Cherishing the personal and professional relationship built throughout that time is the cherry on top.