Magic World of Design
Alissa Tuschall, MSOD Candidate '17
I was not really sure what to expect from intensive two. Leaving intensive one, I felt such a high and felt so sure that I was in the right program! I felt so happy to have made the decision to join Pepperdine's MSOD program.
Unlike intensive one, which was about "self as instrument of change," intensive two introduced the idea of "self as part of group." How do I show up in groups and how do groups impact me? There is also this component of group dynamics. I know I have come across it in my life and career, but is it actually a real thing? Lastly, what do I need to learn to make sure I end up in a group that produces great results and has great chemistry?
I remember the saying from one of the cohorts and faculty, "trust the process," and I am so grateful that I did. Though my journey started in anxiety, it was soon filled with interesting group projects and incredible reading and assignments on organizational culture and systems and group dynamics such as decision making, power and influence, and psychological safety and trust. Before too long, it was time to meet the rest of the cohort in Pajaro Dunes.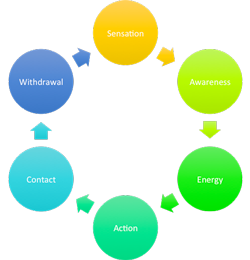 Our days were intense, our first night together was kicked off with a mindful awareness practice, followed by group "speed dating" so we could catch up with each other. The evening ended with an adventurous scavenger hunt. The beginning of intense and high cognitive learning followed the next day when we explored the gestalt cycle of experience. It was great to understand the theory and be allowed the opportunity to explore the whole cycle of experience. Looking back, a lot of our learnings were rooted in this theory.
A little example on what this theory entails (also as a way for me to test my own knowledge): Let's say I am hungry. I know this because of the sensations in my belly that brought awareness to my mind that..hmmm..I am hungry. I then mobilize some energy by thinking of how to solve this problem and will take action to meet my needs/wants, in this case to eat, and off I go to find food and eat it. Contact is where the shift happens, I am eating, my belly is feeling fuller and I start to withdraw by stopping the food intake.
Expanded, the gestalt theory of experience can be applied to learning styles as well as group dynamics which we explored deeply. In between these learnings, we as a cohort took plenty of opportunities to bond through walk and talks around the beautiful Pajaro Dunes surroundings, hanging out by the beach bonfire or playing games after hours (though we all kept a strict bedtime to make sure we were in top shape for the next day's learning ;).
My organization is currently going through a large merger and acquisition, the learning from these sessions provided me with a depth of theoretical and experiential learning that is invaluable. I didn't realize how much I absorbed until I came back to work and applied some of the learnings in my day-to-day interaction.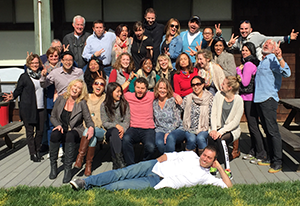 The experience reminds me a little bit of Alice in Wonderland -- she fell into the hole and while panicking on her way down she was able to grab some branches and slowed down her descent so that she could land on the ground safely, standing up strong on her two feet (at least, that is how I remember the story!). That is the magic of Design, it takes you into a journey, and yes, you are scared, anxious, excited. As you descend, you grab onto the learnings from the readings, group projects, assignments and it calms you down. Finally, you find yourself at the beginning of another adventure, armed with a lot more than what you started with. The magic of Design allows for a life-changing experience.
Thank you Dr. Darren Good and Dr. Miriam Lacey for an experience of a life-time and for sparking my curiosity on Design.