Executive Education Certificate Programs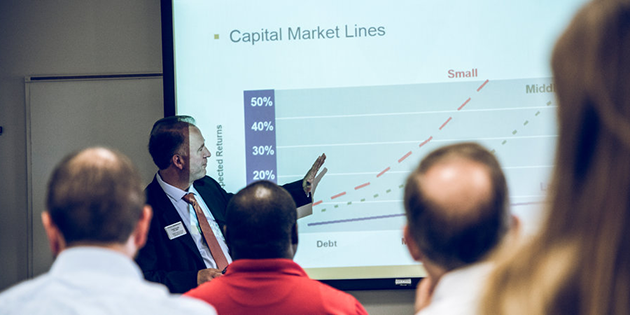 Certificate and Professional Development Programs
In the spirit of the Graziadio School of Business and Management commitment to lifelong learning and hallmarks emphasizing developing values-centered leaders, the Executive Education Department has developed unique program offerings that enrich your knowledge and skills while focusing on current topics and trends that will enhance your continued success in business.
In these short, non-degree courses, participants experience Pepperdine faculty and curriculum while sharpening their business skills in an interactive environment. Many of the programs are based on topics and thought leadership unique to Pepperdine and are taught by both Pepperdine faculty and industry experts.
Certificate in Private Capital Markets
October 16 - 18, 2017
Certificate in Corporate Social Responsibility
Dates TBD
Certificate in Financial Management for the Family Office
Dates TBD
Mini MBA Certificate
September 23 - November 18
Certificate in Financial Planning
January 2017 - June 2018
Certificate in Applied Analytics
Dates TBD
Corporate Development Solutions
Choose from existing programs that can be tailored to fit your specific needs or leverage the deep expertise of our faculty to develop a custom designed solution. These programs can help your business managers and executives update their skills and knowledge while also providing the opportunity to address your organization's strategic goals.