International Student Requirements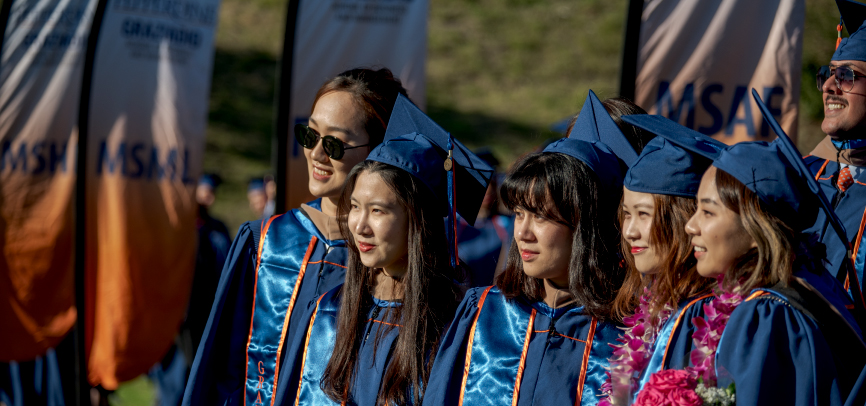 We have prepared this comprehensive guide to assist you as you prepare for coming to the United States to pursue a higher education. We encourage all new international students to read this guide in its entirety, and it is your responsibility to review the information within before coming to Malibu.
---
Obtaining a Visa to Study in the U.S.
It is recommended that this process is started as soon as possible. Once you obtain your I-20 form, you should apply for your F-1 visa as soon as possible. Some applications require additional administrative processing that can add several weeks to the process.
The Graziadio Business School cannot do anything to expedite the process. Obtaining the F-1 visa is the student's responsibility. Students entering with an F-1 visa cannot enter the U.S. more than 30 calendar days before the program start date printed on your Form I-20. It is recommended that travel arrangements are not made until after you receive your visa.
 

Obtaining the Form I-20

Once your deposit has cleared, you will receive an email from OISS@pepperdine.edu with instructions about obtaining your I-20.
 

Paying SEVIS I-901 Fee
This fee must be paid before applying for a visa. More information regarding this fee can be found here.
Payments may be made at this site.
Make sure to print the payment confirmation as some officials may request to see it.
 

Obtaining the F-1 student visa in your passport
 

U.S. Port of Entry Immigration Process upon arrival
It's important that you keep your Pepperdine admissions letter, I-20, passport, student visa, I-901 receipt of SEVIS fee, and financial documentation in your carry-on luggage. Do not put it in your check-in luggage, as you will need to give it to the Customs and Border Protection officer when you arrive at the airport.
Print your Admission (I-94) Number Retrieval Form from this site and keep it with your permanent records.
 

Reporting your arrival to the Office of International Student Services (OISS) to activate your SEVIS record
Log in to the OISS Portal at oiss.pepperdine.edu
Under the "Orientation" tab, please fill out the Mandatory Arrival Reporting form.
---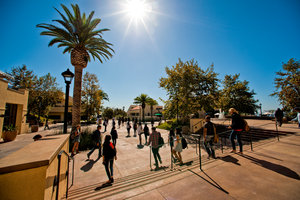 Life in Los Angeles, Malibu, and Pepperdine
One of the best ways to prepare for your time abroad is to learn as much as you can about Pepperdine University, Malibu, Los Angeles and the United States and American culture prior to your departure.
It is unrealistic, however, to expect that you will be able to prepare yourself completely, so we recommend that you expect the unexpected! Your experience at Pepperdine will largely be what you make of it. If you keep an open mind and maintain your sense of humor, it will help you greatly to meet the challenges of studying in a new country and make the most of the experience.
 

Climate

You should come prepared for sunny days and little temperature variation; mild winters, warmer summers, and pleasant days in between.

The temperature frequently drops to 50 degrees F (10 degrees C) in winter and rises to 90 degrees F (32 degrees C) in the summer. Plan to wear warmer clothing during the winter months (November-March). A jacket or coat will be necessary. Clothing for rainy weather might be needed but rain is rare.

Keep in mind that the U.S. uses the Fahrenheit scale when referring to temperatures: 1.00 degrees C = 33.80 degrees F.
 

Clothing

On campus and in the classroom, casual and informal attire such as t-shirts, polo shirts, sweatshirts, jeans, shorts, khakis, sneakers, and sandals are acceptable for women as well as men. When deciding which kind of clothing to pack for your move to the U.S., you may also find it helpful to bring national costumes to wear to special events and international celebrations or to speaking engagements around the city, but this is a matter of personal choice.

Bring formal attire (suit, tie, dress shoes, button-down shirt of conservative color, conservative blouse (for women) is a MUST for class presentations, special and formal occasions, job interviews, and any events that indicate that "business attire" is required for your attendance!
 

Housing

An important choice you will need to make before making your move to Pepperdine is where to live. Housing expenses can be very high in Los Angeles. Make sure these costs are all taken into consideration before coming to the U.S. The Graziadio School strongly recommends that international students reside on campus, especially during their first year as a student here.

On-campus Housing

On-campus housing is very convenient to the Graziadio School, so you will never have to worry about traffic and being late to class. Any questions regarding on-campus housing should be directed to Pepperdine's Housing Office. On their website, community.pepperdine.edu/housing you will find all kinds of important information. Once on their website, click on "Request Housing," then, under "Graduate" click the term you will be starting at Graziadio School. Make sure to check "Housing Timeline" to see if the "Housing Move-In for New Students" date matches with the day you're arriving in Los Angeles. Contact the housing office with any questions about on-campus housing. Their hours, email address and phone number can be found on the above link. Upon move in, the Housing and Residence Life Department recommends you come by their office first, if it is during their office hours. If it is outside of office hours, you can call the Department of Public Safety at 310.506.4442 and request the Residence Director on duty. The Residence Director will help you with your move in. The Graziadio School staff will not be able to answer your questions regarding housing.

Off-campus Housing

Securing a place to live off campus can be a challenging task, especially when moving from another country. If you wish to live off-campus, seek the advice of current Graziadio School students regarding off-campus housing before you come to the U.S.

Here are a few things you may want to consider before choosing a place:
Price

Monthly Rent
Security deposit-many places require a deposit that is the same amount as one month's rent before you move in.
Utilities-make sure to check if utilities are included in your rent. Otherwise you should consider this expense too
Furnished vs. Unfurnished-Some places will come with appliances and furniture. Make sure what is provided before you move in. Appliances can be costly if they're not included

Location

Proximity to campus-some GSBM classes start at 8AM, so be sure to find a place that you can make it to class on time from

Though some places look close on the map, traffic in the Los Angeles area is unpredictable and can often extend the time of your commute

Transportation-How will you get to and from your new place?
Proximity to grocery stores and restaurants
Safety of neighborhood
Living Situation

Roommates-Will you be searching for a place to live alone, or will you find other classmates to share a place with?
Renting a room-Some places listed in the off-campus housing resources below are rooms rented where you will share the place with another person, or even a family

In these cases, find out your access to the rest of the house (kitchen, if the bathroom is private or shared)

Move-in Date: As with On-campus housing, make sure the move in the place is available before or on the day you arrive in Los Angeles
Here are some resources to help you find off-campus housing:
The Graziadio Business School and its staff and faculty are not responsible for assisting students with housing arrangements. It is strongly recommended that housing arrangements be made before you arrive in the U.S.! If you wish to live off-campus, seek the advice of current Graziadio Business School students regarding off-campus housing before you come to the U.S.
 

Driving and Transportation

Around Campus

Pepperdine Wave Shuttle

If you are on campus, but need to get somewhere on the other side of campus, you can use the free Pepperdine Wave Shuttle. Refer to this page to see the schedule and the pick-up/drop-off points: https://community.pepperdine.edu/businessservices/transit/schedule.htm You can also use the Pepperdine University app to see where the shuttle is at in real time. Note: There is a separate schedule if classes are not in session.

Malibu Shopping Shuttle

Another free service to students is the Malibu Shopping Shuttle. This is an especially convenient service to students living on campus who do not have a car. This shuttle will take students to the Ralphs shopping center for grocery shopping. This schedule can be found on the above link as well. Contact the transit services office for the shopping shuttle's schedule if classes are not in session.

Public Transportation

Compared with many large cities around the world, Los Angeles' public transportation system is not always the most convenient option to get around, especially here in Malibu.

To and From West LA (through Santa Monica) There is only one bus line, Metro Bus line 534, that runs between West Los Angeles and Malibu via Santa Monica.

You can find the map and time tables of Metro Bus line 534 here: http://www.metro.net/riding/maps/500-599/ You can get off line 534 at the corner of Malibu Canyon Road and Civic Center Way in Malibu, right in front of Pepperdine, and enter the university campus to catch the free Pepperdine Wave Shuttle. Warning: the Metro Bus does not run after 10pm, and some classes at Graziadio finish after 10pm, so this is not the most convenient form of transportation.

To and From the Valley (Calabasas, Woodland Hills)

Currently there are no bus lines that will take you to points north of Malibu, such as Calabasas, Woodland Hills, and Agoura Hills.

Driving in California

Because of the somewhat limited public transportation options, many students of Pepperdine University find it necessary to have a car to get to and from school, as well as to explore Los Angeles. The Graziadio School and its staff and faculty are not responsible for assisting students with obtaining a driver license and purchasing a car. It is strongly recommended that thorough research regarding the obtainment of a driver license and purchasing of a car be done before you arrive in the U.S.! Seek the advice of current Graziadio School students regarding purchasing a car before you buy one.

Purchasing a Car

Purchasing a car, even if it's a used one, can be very expensive. Make sure every cost is taken into consideration before you come to the U.S. Some additional expenses you should consider are:
Car registration with the Department of Motor Vehicles (mandatory)
Car Insurance (mandatory, cost varies depending on company, year and make of vehicle)
Gasoline (mandatory)
Repairs (if necessary)
You should use caution when buying a used car from a private party (as opposed to through a dealer). Here are a few resources that you can check to get an idea of how much purchasing a car will cost:
Getting a Valid Driver License
A foreign driver's license must be replaced by a valid California driver's license in order to drive in California. You must take a written and driving test to get a California Driver License at the Department of Motor Vehicles.
Department of Motor Vehicle Offices near Pepperdine University
Santa Monica

2235 Colorado Avenue
Santa Monica, 90404

Thousand Oaks

1810 E. Avenida De Los Arboles
Thousand Oaks, 91362

Winnetka

20725 Sherman Way
Winnetka, 91306
 

Customs and Culture

Customs and culture may be very different in the United States from your own. Prepare yourself for these differences, but keep in mind that understanding Americans can be complicated since we are often a mixture of many cultures, and one of the things Americans value most is their sense of independence.

You may benefit from talking with people in your home country who have studied here or by purchasing a travel guide book.
 

Arrival in Los Angeles - Transportation to Pepperdine University
Transportation to your new home
When making your travel plans, try to fly directly or find a connecting flight to Los Angeles International Airport (LAX). Depending on whether you are living on or off campus, there are a few options to get to your new home. It's a good idea to bring cash to pay for your transportation from the airport. Graziadio Business School is not responsible for the transportation of the students from the airport to the University of Pepperdine or their off campus housing.
Shared Ride Vans: Because of the convenience of this form of transportation it is highly recommended. You can get a quote and book them online, or you can go to the Ground Transportation Information Desk on the baggage claim level of most LAX Terminals. These vans will drop you off exactly at the address given. You can catch these by following the orange signs outside the terminals. Note: It's possible that these shuttles will be shared with other passengers and other stops will be made along the way.
Taxis: From LAX to Malibu, a taxi ride can cost up to $120, including tip. There may be strangers outside who offer to give you a ride from the airport. DO NOT accept their offer and DO NOT take a taxi that is not at the designated taxi stands. You can find the designated taxi stands by following the yellow signs outside the terminals.
Public Transportation This is the cheapest option, but could be the most complicated. Los Angeles' public transportation system can be complicated and difficult to navigate, especially for someone who is new to Los Angeles. Unlike the other options, public transportation will not take you to your door. You may have to walk long distances with all of your luggage from the station. Public Transportation may be confusing and stressful, so use these options at your own risk. Some forms of transportation may also have restrictions on the size of baggage allowed.
Santa Monica Big Blue Bus: http://bigbluebus.com/Routes-And-Schedules/Route-3.aspxIf you're moving to Santa Monica, this bus leaves from at the Metro Bus Center located in Lot C. Maps and schedules provided on webpage
Fly Away Bus This bus has drop off locations to Union Station (Downtown Los Angeles), Van Nuys, Westwood, Santa Monica and Hollywood. www.lawa.org
Airport Pick Up Of course, the cheapest and most convenient way to get to your new home from the airport is if you have a friend or current Graziadio School student whom you have gotten to know before you left your country of origin who is willing to meet and pick you up from the airport before your arrival
 

Health Insurance and Healthcare Immunization Requirements
Student Health Center
The Pepperdine Student Health Center (SHC) provides health services to all Pepperdine students, including students of the Graziadio School. The Pepperdine SHC is committed to providing high-quality, multi-specialty, and low-cost healthcare to the diverse community of students. The primary focus is to keep students healthy by providing preventative care, timely treatment of disease and illness, and making appropriate referrals when necessary.
The SHC functions similar to a family practice office and provides a wide variety of services which include care for illness and injury, respiratory problems, women's and men's health, dermatology, immunizations, labs, in-house testing, nutrition, and massage therapy. In addition, the SHC offers specialized clinics such as flu vaccination, travel medicine, allergy, and STI/HIV testing.
Health Insurance
All Malibu registered students are required to purchase a U.S. based health insurance plan. To meet this requirement, students may either purchase their own health insurance plan and provide proof through the online waiver system by clicking here, or enroll in the Student Health Insurance Plan (SHIP). Students must meet this requirement each academic year but an approved waiver does remain effective for the remainder of the academic year it is submitted. It is highly recommended that any insurance plan purchased include care close to Malibu.
Healthcare Immunizations
Prior to registering for classes, all international students must complete mandatory immunizations and submit the GSBM Health History Form, the most current version of this form can be found here. Make sure to use the GSBM Health History Form. community.pepperdine.edu/healthcenter
You may receive your vaccinations in your home country before you arrive on campus or you may receive your vaccines at the Health Center. You will not be able to register for classes if you do not have the required vaccinations listed on the Health Center's website: community.pepperdine.edu/healthcenter/preventativecare/immunizations.htm. In addition, these requirements are all listed on the GSBM Health History Form in Part 5 and 6 for the physician to fill out.
 

Cell Phones

There are four major providers of cell phone service available in the United States: AT&T Wireless, Verizon Wireless, T-Mobile and Sprint.

However, due to the mountainous landscape of the Drescher Graduate Campus, certain cell phone carriers do not provide very good reception, which can be an inconvenience especially if you choose to live on-campus. It is recommended that students enroll in a Verizon Wireless or AT&T Wireless cell phone plan. Other cell phone carriers, such as T-Mobile and Sprint are less expensive compared to Verizon and AT&T but service on the Drescher Campus is limited.

Though Wi-Fi is available throughout the Graziadio School, incoming calls and texts may be limited with Sprint and T-Mobile service due to poor reception.
Bringing Your Phone from Your Home Country
Most phones brought from your home country will work with U.S. cell phone carriers provided that the phone is an unlocked version. If your phone is compatible with one of the U.S. cell phone carriers, in most cases, you will just need to buy their SIM card, and sign up for one of their plans to have your phone activated.
Contract Plans vs. Pre-paid Plans
Below is a general summary of the differences, so you should contact your chosen cell phone company for details. Each company has different offerings for contract and pre-paid plans.  You should find the company that best fits your needs. The Graziadio School and its staff and faculty are not responsible for assisting students with obtaining a cell phone in the U.S.
Contract Plan

Pre-Paid Plan

You must bring a form of I.D. (i.e. Passport, Visa)
Valid form of payment (i.e. checking account or credit card)
If you don't have a Social Security number, the company will likely charge a deposit that can cost up to $500
Depending on the company, the terms of the contract can be up to 2 years.  If you cancel the contract before the term is up, there will be an early termination fee
Discounts on a brand new phone will be given if you sign up for a two year contract (early termination fees apply if you cancel it early)

You must bring a form of I.D. (i.e. passport, visa)
Valid form of payment (i.e. checking account or credit card)
You do not need a Social Security number, so no deposit will be necessary
You will pay a set amount every month. There may be extra charges if you exceed the minutes or data in your plan
You will not get a discount on a brand new phone, but you can use your own phone if it is compatible with the company's system
 

Internet

Wireless Internet service is available throughout Pepperdine. You will be able to access the Pepperdine wireless Internet network on campus through your Pepperdine University WaveNet account, which will be assigned to you once you are enrolled. Off-campus, it is your responsibility to enroll in network provider plan so you will have access to the Internet.
 

Bank Accounts

It is recommended that you do not bring large amounts of cash with you to the United States.  In addition to cash, you can also bring travelers checks to exchange when you arrive in Los Angeles. You should bring cash (and travelers checks) for your immediate needs when you arrive; such as transportation from the airport, meals and if necessary, the security deposit for where you decide to live.  Once you open a bank account, you can send money to it by wire transfer, so you can avoid bringing all your money with you.  Be advised that there may be a charge by the bank per wire transfer.

There are many choices to open a bank account in California; however, the nearest bank to Pepperdine is Bank of America, which is located within the Malibu Colony Plaza shopping area. It's about a five minute drive from Pepperdine's campus and there are multiple branches in the area. You can open a bank account at any bank convenient to where you're living, but be advised only Bank of America ATMs are located on Pepperdine's campus. If you don't have a Bank of America account and you use the Bank of America ATMs on campus, there will be at least a $2 convenience fee per transaction. The Graziadio School and its staff and faculty are not responsible for assisting students with opening a bank account in the U.S.

Below is what is required to open an account at Bank of America, but expect to have similar requirements at other banks.  Please contact the bank of your choice to see what documents are necessary.  At Bank of America, you need to bring TWO of the following documents:
Foreign Passport
Foreign Drivers License
U.S. Government issued TIN Number
Alien I.D. Card
# & Country of issuance of any other government issued document evidencing nationality or residency (document must include picture)
 

Shopping

Your basic shopping needs, such as grocery shopping, can be done at the Malibu Colony Plaza shopping area and the Malibu Country Mart shopping area, both within a five minute drive from campus. While classes are in session for Seaver College undergraduate students, there are free shuttle buses that can take you to both shopping areas. All your shopping needs can be met in Santa Monica, and most of your household necessities (i.e., linens, tableware, electrical appliances, basic furniture) can be purchased at Target in Woodland Hills; however, keep in mind that you will need to drive to the Target in Woodland Hills as there are no bus lines that go there. Santa Monica is accessible by bus; bus transportation information can be found in the DRIVING & TRANSPORTATION section above within.
 

Social Security Number and Card

A social security number and card becomes necessary and can be issued to you only if you find paid employment in the U.S. "Paid employment" includes all on-campus student employment, graduate/research assistantships, paid internships, and any full-time employment. More information on how to obtain a Social Security Number and Card can be found here.
 

Employment

Unless special permission is granted by the Graziadio School and proper work authorization is issued by Pepperdine University, international students are not permitted to partake in an internship or any off-campus employment while they are a student at Pepperdine University.  However, students can be employed in on-campus student worker positions.  There are some requirements and a process that a student must go through with the Office of International Students. 
 

Academic Life

Students unfamiliar with the U.S. system may find many aspects of American education different from those in your home country. It is essential to familiarize yourself with the policies and procedures governing academic coursework at Pepperdine, as you will be responsible for complying with them. As academic life is the heart of the university, these policies and procedures are most strictly enforced and respected among the university community. Please review carefully University policy and procedures in the academic catalog.

At the Graziadio School, you will find that a core component of your coursework involves group projects and group presentations and not just straightforward classroom lectures and exams. Group meetings with your fellow classmates and late-night meetings with your group members is common and necessary in order to succeed in your coursework. Being a good team player, being able to share workloads, and being a good communicator is essential for success at the Graziadio School.

Doing well in your classes is important, but it is just as important for you to participate in social gatherings outside of the classroom, which are called "mixers," where you will go to a restaurant or bar/club off campus (most times to Santa Monica) to socialize with your classmates. It is also important for you to be a member of various student clubs and organizations in order to improve your English, improve your socialization skills with students of different backgrounds, nationalities, and cultures, and truly experience student life here in America. Improving your English communication and social interaction skills is key for success here in the U.S.!

Information regarding the various student clubs and organizations and mixers will be available to you once you start classes in the fall at the Graziadio School. It may be tempting and easier for you to interact with students that speak your native language. However, integration, immersion, and interaction with American students and students that don't speak your native language is necessary for you to improve your English communication skills and get the best experience out of your studying in America. The best way to learn English is by speaking English! As with anything, if you put your effort into it, the results will be fruitful.

The Graziadio School and its staff and faculty are honored and excited that you've chosen us to be a part of your lives and educational experience here in the U.S. We hope that you're excited, too, about becoming a member of the Graziadio School family.

Safe and happy travels, and we look forward to your arrival in sunny Malibu very soon!

If you have any questions, please contact Chris Masigla at chris.masigla@pepperdine.edu. We will try to assist you as best we can and/or direct you to the individuals who may be able to better assist you.