MBA Without the GMAT: Waiver Eligibility
MBA GMAT Waiver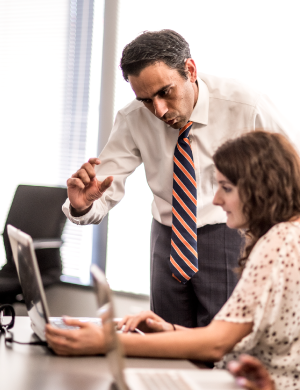 You're More Than a GMAT Score
At the Pepperdine University Graziadio School, we go beyond numbers and take a holistic view of each individual so that we assemble an exceptional group of innovative business leaders for our renowned part-time MBA program. From finance to marketing, our MBA classrooms seat individuals who boast a unique combination of substantial, real-world experience, achievement, and potential—not just a high GMAT score.
Through September 2018, GMAT waivers may be granted to candidates who meet specific criteria and who demonstrate quantitative competency and readiness for our rigorous MBA curriculum. Prospective students who meet our GMAT waiver requirements are not guaranteed admission into the Graziadio School. Please note that the MBA GMAT waiver is not automatic.
Experience Required. Earn An MBA Without a GMAT.
Work Experience Required
To be eligible for a part-time MBA GMAT waiver, candidates must have a minimum of three years full-time professional work experience.
Academic Experience Required
In addition to the work experience requirement, you must also have ONE of the following:
Quantitative bachelor of science degree in STEM (science, technology, engineering and math), finance, or accounting
Degree in economics that is quantitative in nature
Grade of B or higher in a statistics or calculus course completed at the college level
Bachelor of Science in Management from the Graziadio School
Bachelor of Science in Business from Seaver College at Pepperdine University
Please note that the GMAT waiver is not automatic, and that an approved waiver does not guarantee admission to the Pepperdine Part-Time MBA program.


If You Do Not Qualify for an MBA without a GMAT
If you are not granted a GMAT waiver, we encourage you to look into our GMAT Workshops offered in partnership with Manhattan GMAT, Veritas Prep, or Princeton Review. These workshops are designed to help you prepare to take the GMAT or improve your GMAT score through preparatory courses offered at a discounted rate. Contact us for more information.