Part-Time MBA Courses
Traditional Evening and Weekend MBA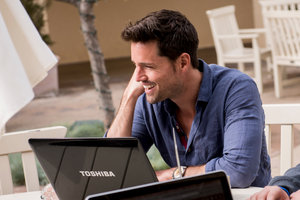 At the Pepperdine Graziadio Business School, our Part-Time MBA courses emphasize leadership development, decision-making, and the practical application of theory to real-world business. Six-trimesters of coursework are typically completed on a two-year schedule. Elective coursework begins when the first three trimesters have been completed (typically year two).
For more information about completing your traditional or flexible Part-Time MBA courses, please see Part-Time MBA Course Schedules.
Core MBA Courses
Trimester 1 - The Heartbeat of Business
Personal and Leadership Development Workshop
BSCI 650 (1 unit)
At the start of your MBA studies, our Personal and Leadership Development Workshop orients you to the Pepperdine MBA program with guidance on ethical behavior, personal career development, and the formation of effective business teams. This workshop is graded credit or no credit, and is taken in conjunction with our 4-unit Behavior in Organizations course.
Behavior in Organizations
BSCI 651 (4 units)
As you solidify your identity as an ethical practitioner and MBA student (in BSCI 650, above), Behavior in Organizations allows you to look outward and assess how members of an organization behave pursuant to personal interests. Students learn to apply the behavioral sciences to management challenges by better understanding self-awareness, motivation, organizational change, and diversity. Development of your oral and written communication skills is a key part of this class.
Quantitative Analysis for Business Operations
DESC 656 (4 units)
Designed to support our integrated learning approach, this class complements the interpersonal aspects of the Behavior in Organizations course and provides an introduction to production and service operations. You will learn to apply quantitative analysis techniques to strategic business decisions through specific business modeling applications that include forecasting, simulation, linear programming, and project management. These techniques assist in decision making within dynamic and competitive industries like finance, marketing, engineering, healthcare, aerospace, entertainment, and global business.
Interactive technologies are used extensively in this course - both inside and outside the classroom.
Trimester 2 - Tomorrow's Growth Essentials
Accounting Information and Control Systems
ACCT 652 (4 units)
This course provides a solid structural model of business and its operation. Students learn to gauge a firm's position of liquidity and profitability through financial accounting information, which then informs strategy. In this hands-on course, business operating cycles are explained, while pro forma and budgeted financial statements are constructed using Excel spreadsheets. Students learn to critique traditional and globally competitive management control systems for their effectiveness in guiding resource allocation.
Prices, Profit, and the Market Economy
ECNM 657 (4 units)
This economics course examines the domestic and global production and distribution of goods and services, with an emphasis on how a firm remains competitive under changing economic conditions. A study of industries currently experiencing such shifts is an important focus, as is the impact of the economic environment on a firm's microeconomic decision making.
Trimester 3 - At the Core
Financial Management of the Firm
FINC 655 (4 units) 
Define, comprehend, and apply a market-driven theory to ethically based, strategic financial decisions. In this class, you will explore risk and return, size of investment, and sources for financing, with each decision approached as part of a greater overall strategy that adds value to the shareholder. Topics include financial reporting, the cost of capital, portfolio analysis, capital structure, dividend policy, options, cash management, and international monetary issues.
Marketing Management
MKTG 658 (4 units)
In this course, you will more closely analyze a number of influences on the creation and distribution of goods and services. This encompasses global, ethical, political, social, legal, and regulatory issues, along with buyer behavior. In alignment with our theory-to-practice curricular approach, we emphasize the application of learned concepts to case problems and to your own current work experience.
Trimester 4 - Your Business in Sync
Information and Process Systems
ISTM 654 (4 units)
Learn how modern information business systems meet growing consumer demands and adapt to change. In this course, you'll explore how businesses use IT to improve information gathering, processing, and sharing. While the application of new technologies enables valuable advances, in taking a holistic view of this area, we identify the potential challenges and benefits of developing these new processes toward their most effective outcomes.
Integration in Business Operations
PGBS 670J (1 units)
This is an integration module that provides experiential learning in which students assimilate and apply the knowledge and skills acquired in the core curriculum to managing a simulated business. Students work in groups and assume the role of the senior management team to make internal operations decisions.
Elective
(4 units)
Choose from more than 25 elective courses to complement core coursework or grow in an area of specialization. See "Electives" (below).
Trimester 5 - Values-Based Leadership
Political, Regulatory, Ethical, and Legal Issues of Business
LEGL 653 (4 units)
Diverse political and social forces impact business and the law, and this course thoroughly covers the historical, cultural, political, philosophical, and religious foundation of legal and social systems. You will hone your critical thinking skills through analysis of both international and domestic policy, and become more adept at anticipating, neutralizing, and defending against liability.
Elective
(6 units)
Choose from more than 25 elective courses to complement core coursework or grow in an area of specialization. See "Electives" (below).
Trimester 6 - Strategy in Action
Strategic Management
STGY 659 (4 units)
Strategic Management is a capstone course that examines an enterprise from the CEO's point of view. It is designed to help students conduct external and internal assessments of an organization, pinpoint key strategic issues, identify and choose from alternative strategies, and defend those decisions. We illuminate the interplay among an organization's structure, culture, technology, and the global environment through experiential learning techniques like case studies and a project that addresses the issues of an existing company.
By integrating all subject matter covered thus far in your MBA curriculum, Strategic Management provides a foundational understanding for managing change from a top-level perspective.
Elective
(4 units)
Choose from more than 25 elective courses to complement core coursework and grow in an area of specialization. See "Electives" (below).
Fulfill 12 units of required elective coursework both inside and outside the classroom.