Conferences and Events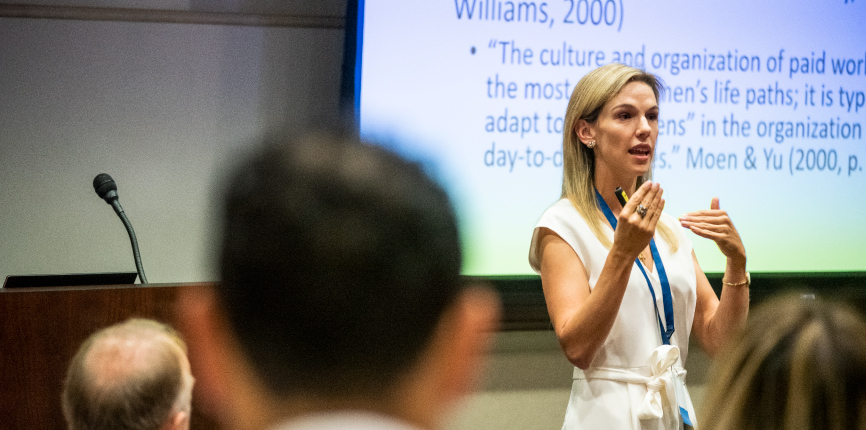 The Research Journey Speaker Series, a series of talks in which distinguished scholars share behind-the-scenes stories of their research process with PGBS fa­culty, has officially been launched in 2018. This series was initiated by Cristina Gi­bson and Bobbi Thomason and suppor­ted by the CAR through the 50th Anni­versary Research Award and is open to all faculty, staff, and DBA students. Contact cristina.gibson@pepperdine.edu for more info.
PEP Talks Research Seminar (philoso­phy, economics, and politics) is an aca­demic research seminar rooted in the PPE Tradition that started in the 1920s at the University of Oxford. This is a tradition of interdisciplinary exploration between the fields of economics, philosophy, and political science, that employs several analytical frameworks and disciplinary methods. Professors present their cur­rent research in a traditional academic seminar style, then field questions from the audience that lead to discussions on their research presentation. Find upco­ming seminars.
Pitch and Posters: The Center for Applied Research hosts PGBS' annual Pitch and Posters research forum, a venue that enables faculty to present current and forthcoming research, and so celebrate and bring awareness to the school's research activities. Each year the Pitch and Posters forum showcase faculty presentations followed by an open-house style Q&A session with poster displays. Faculty presenters touch on findings concerning cutting edge business topics, such as responsible leadership, psychological safety, (un)sustainability, artificial intelligence and the global economy.
Annual Doctorate of Business Administration (DBA) and CAR Conference: The Executive Doctor of Business Administration (DBA) program and the Center for Applied Research (CAR) launched PGBS' first Annual DBA - CAR Conference on Applied Research in 2019. This annual conference invites presenters including PGBS faculty, external academics, and industry heads from diverse sectors around the nation. The conference is designed to be a forum for presenters to share their cutting-edge research insights and lend their minds and expertise to the service of students in the inspiring collective process of dialogue formation. Learn more about the Executive Doctor of Business Administration program.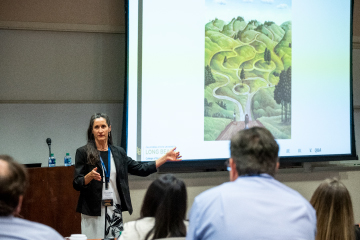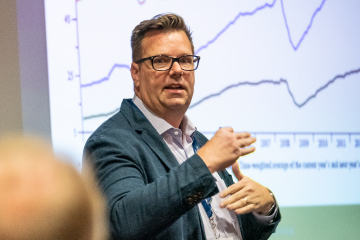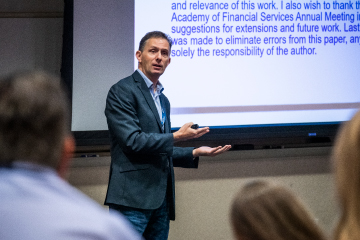 Past Events
On March 5th, 2021, the Center for Applied Research (CAR) hosted Dr. Debra Shapiro at the PGBS annual Faculty Retreat to deliver a keynote address. Dr. Shapiro is a renowned scholar and Clarice Smith Professor of Management at the University of Maryland's Robert H. Smith School of Business. In her address, she described doing business-related research in the multi-stakeholder -inspired way as using a "full-voice meaningful approach." Read the summary of the keynote address here.
The Center hosted the "Faculty Lounge with Denise" on May 28th, 2020, a virtual meeting with award-winning organizational psychologist and Carnegie Mellon Professor of Organizational Behaviour Dr. Denise Rousseau. Rousseau has published a dozen books and 160 articles and monographs in management and psychology. PGBS faculty participants engaged in a lively open discussion with Rousseau on the nature, trends and challenges of academic research, particularly during the current COVID-19 crisis.
The CAR Faculty Lounge (virtual) was launched at the end of September 2020, initiated to cultivate the research community at PGBS and create a safe space for faculty to dialogue on all things research. For example, at the September Lounge, faculty gathered with their favorite drinks and shared their "most ___ research project (fill in the blank!)," as well as an artifact that speaks to their research journey. In the December Lounge, faculty gathered and shared with one another various personally helpful "research hacks" they've compiled throughout their research over the years.
In October 2020, the Center hosted key members from the Office of Research & Sponsored Programs (RSP) and Corporate and Foundation Relations (CFR) presented resources and tips available for faculty in pursuing corporate and government funding opportunities.
The Center for Applied Research (CAR), together with the Office of Research and Sponsored Program and the School of Public Policy, hosted an information session on grant and funding opportunities on the Drescher campus on March 4, 2019. Faculty from both schools shared their research priorities and specific funding needs. More sessions will be scheduled in the fall.
The CAR hosted the "Thriving in Research" Panel during the PGBS Annual Faculty Retreat on March 1, 2019. Seven panelists offered hands-on research tips and thought-provoking reflections on how to achieve excellence throughout the academic journey.