A Recipe for Met Needs à la Française
Gabriel Lockwood, MSOD '16
The opportunity for growth, both personal and professional, is one of the strengths of the MSOD program and Practicum 1 offered it in spades. Growth took place at the beginning of the session when the various learning groups presented material they had prepared for the benefit of their fellow students. There were opportunities to stretch and grow both in the preparation of these presentations, through facilitation of calls and practice with online collaboration tools, as well as in the presentation of the material itself before the group. The work we did as part of the consulting engagement, both with the client and within our team, led to growth for me as a leader and OD practitioner. Most importantly, the practicum allowed me to more fully integrate the various theories and apply them in the context of a "real" consulting engagement.

As one would expect, our time in Lyon was ripe with opportunities for learning. The forms that learning took ran the gamut from a few traditional lectures, to realtime, experiential learning of French culture, both in the hotel itself and on the streets of Lyon. With our minds and hearts primed to observe and experience what we saw with openness and a spirit of inquiry, every moment had the potential to be a rich learning experience. Of course, the learning for Practicum 1 began well before we arrived in Lyon with the material we would need to understand and work with groups and systems, such as OCAI, large group interventions and cultural intelligence. Following the practicum, we completed assignments meant to help us integrate our learning and construct our own model of cultural entry for use in future practicums and international work.
One of the biggest learnings I had occurred as our team reflected on our work after the consulting engagement. As we discussed what we did well and how we could have better served our client, we realized that we could have offered her more opportunities to explore and work with the emotional impact that the transition to CEO was clearly having on her. As we inquired about why we had avoided the feeling aspect of our client's experience, it occurred to us that we hadn't been able to go to a deeper emotional place in our team either. In the end, we all agreed that we hadn't established enough trust to be vulnerable with each other within our team and that lack of vulnerability affected the emotional depth of our interactions with the client. The takeaway, then, is that, the places we are able to go with our client are limited by the places we are able to go with our team.
The topic of trust was one of the most important of the trip. Similar to my experience with the consulting engagement in Dana Point, the consulting portion of Intensive 1 helped me gain trust in my team members and in the client's own capacity. I continued to gain trust in the tools we are acquiring and in the consulting process itself. Equally important, the intensive helped me build trust in my own abilities as an OD practitioner. Judging by our check-outs on the last day, I know that many other students left Lyon inspired with the realization that they can already bring real value to a client system.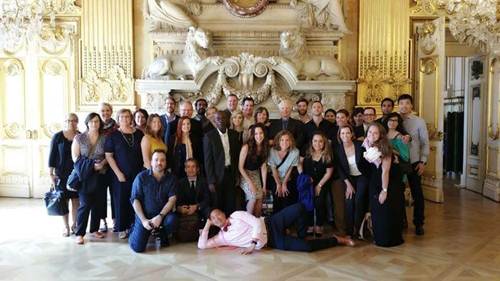 As the third occasion that our cohort came together, this time in a new country, the whole intensive was, of course, an opportunity for connection. Whether at the level of the cohort, the consulting team, or my learning group, opportunities to connect with my fellow MSODers were abundant. The free time we had between sessions and meals also meant that there was plenty of time to connect with cohort members one-on-one, and the park next door, the largest in Lyon, was an ideal setting for walk-and-talks. For those longing for the lakeside conversations of Pajaro, The Tete d'Or park offered a large body of water to circumnavigate. Surprisingly, even our team's experience with the client was quite connecting. The meals we shared with the CEO are an example of the relationship we were able to cultivate in the three days we had with her.
A trip to France can't just be about work and this practicum was no different. Just as we all have needs for growth, learning, connection and trust, we also have needs for fun and play and Lyon had no problem meeting these needs! As could be expected in the culinary capital of France, whether in restaurants or in our hotel, we ate well every day. In addition to modeling exceptional customer service and genuine care for client needs, Dominique, the head of all things edible at l'Hotel des Congress, delighted us with delicious and beautifully-presented meals three times a day. In celebration of our consulting engagement and the new friendships we had made, we took our client out to dinner at one of Paul Bocuse' famous restaurants for one of the best meals any of us had ever had! The city of Lyon is small enough to discover on foot or bicycle and exploring the narrow streets of Vieux Lyon never got old. As luck would have it, the nationwide "Fête de la Musique" fell in the middle of our intensive and some students were fortunate enough to attend the free concerts on offer throughout the city.
On the last day, while meeting with my learning group one last time, I realized that although I had entered into my new consulting team on my own, without the familiar presence and support of my learning group, I hadn't been alone. I had brought each of them into my new team. In other words, I had brought many of the gifts of my learning group members to my new team, because they had become part of me. It is now clear to me that, by the end of this program, we will not only have our learning group to draw on, but we will all be able to draw on the gifts of our entire cohort as we will have made them our own.