Powerful Dialogue at the MSOD Career Insights Series
Angela Martin, MSOD '16
Alumni, current and prospective students of the MSOD program gather together once a month to hear a panel of experts speak about different industries, such as healthcare, entertainment, education, etc. The event allows for career development and networking opportunities. The questions are geared towards learning more about organizational development across a variety of industries and the impact that the MSOD program has in improving effectiveness and performance at work. The rich dialogue inspires and motivates everyone in the room to be better in their role professionally and personally in their life.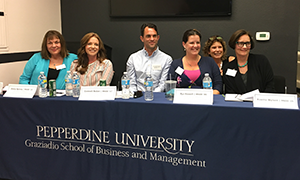 Aja Howell, former MSOD Alum offered thoughts on the Carlsbad event, "Feeling deep appreciation for what the program creates when MSOD members throughout the years and different walks of life are brought together. Two of those that attended the event have since been accepted to the program and have a better sense of what they will encounter and stronger program ties going in. The event was small, intimate and inspiring for future MSOD students. I felt a sense of deep gratitude giving back some of my experience to help contribute to the collective stories and experiences of MSOD".
The MSOD Career Industry Insights Alumni Panel allows for connections with peers, as well as insights about trends in organizational development as it continues to grow and develop. Lori Heffelfinger reflects on the Los Angeles event, saying it was, "great to see old colleagues, meet new ones, and stay up to date on the industry!"
The energy is positive and lively and the intimate setting creates a dynamic that cannot be replicated with anyone else. It was great to network with Alumni, prospective students, and current students and discuss opportunities to partner in the field of organizational development and other areas of business that will help our careers advance.
Personally, I felt honored to be part of an amazing tribe that continues to grow every year with bright minds. I enjoyed re-connecting with alumni I met at the beginning of my MSOD journey and feeling a sense of accomplishment as the MSOD program is about to end. I am hopeful to stay well-connected with people and the industry, knowing that these Alumni events are taking place monthly. It is truly a privilege to be part of such a generous, competent and agile community that continues to expand with expertise, as well as diversity.