BSM to MBA, MSML, and MSHR Pathways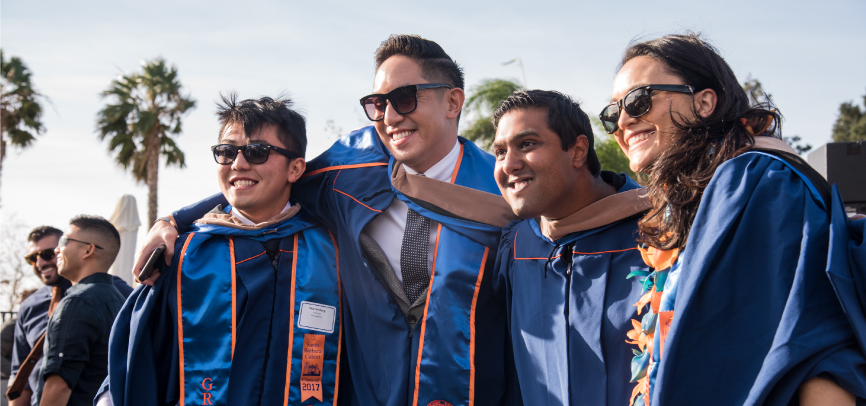 Advanced Opportunities for BSM Students
Got One More Year?
Experience the full return on investment of your time, talents, and tuition by earning an affordable and accelerated MBA or Master of Science in just one additional year at the Pepperdine Graziadio School. That's a total of three years to complete your undergraduate and graduate degree.
Enrolled BSM students beginning fall 2020 who graduate and complete the program will receive a 50% tuition discount if they graduate with magna cum laude status to be applied to the MBAJ program. Summa cum laude graduates will receive a 100% tuition discount to be applied to the MBAJ program. Contact a BSM recruitment advisor to learn more about this scholarship opportunity.
How Your Advantages Add Up
The Pepperdine Bachelor of Science in Management curriculum establishes a solid foundation that covers some of the required courses for your advanced degree and complements our graduate curricula. Upon completion of your BSM, you'll enjoy a significant head start and cost savings toward a degree that distinguishes you as a viable and highly skilled job candidate.
Which Pathway is Right For Me?
BSM to MBA Pathway
Designed for BSM students with a GPA of 3.4 or higher, the MBAJ eliminates obstacles to an MBA by offering a GMAT waiver, reduced tuition, and an accelerated 30-unit MBA program instead of the standard 52.
| | |
| --- | --- |
| Focus | Managing enterprises |
| Units | 30 units |
| Duration | 1-year MBA |
BSM to MSML Pathway
Our MS in Management and Leadership empowers you to persuade and inspire others. For BSM students with a GPA of 3.4 or higher, this pathway is completed with a minimum of 27 units instead of the standard 36.
| | |
| --- | --- |
| Focus | Managing people and teams |
| Units | 27 units |
| Duration | 1-year MSML |
The Pepperdine MBA: Ranked and Respected
Our MBA programs are recognized by U.S. News & World Report, Bloomberg Businessweek, The Princeton Review, and Forbes. Classes are held at multiple campus locations, as well as online. No matter which format you choose, you'll earn an MBA with an international reputation for excellence.
BSM to MSHR Pathway
The Pepperdine MS in Human Resources combines the theoretical foundations of human behavior with the key technical aspects of human talent management. A Pepperdine MSHR features the flexibility of both full- and part-time completion formats. Contact us to learn more about this pathway opportunity for BSM students.