MSOD Student Sheila Tan Gives Insight Into Why She Chose Organization Development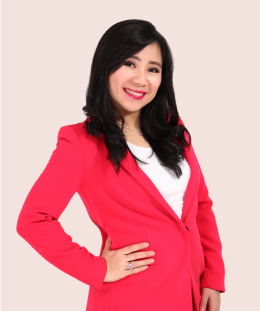 For current Master of Science in Organization Development (MSOD) student Sheila Tan, the power of people is something she knows well. Having ample experience as a coach, trainer, and consultant in the Philippines, Sheila has well-versed experience working with various people in multiple industries. She eventually found herself inquiring about Graziadio through the recommendation of an MSOD alumni, later meeting the Director of Recruitment and Advising, Rachel Guettler, who warmly welcomed Sheila, helping her ensure her decision to attend the Graziadio Business School. Later down the line, Sheila was one of seven Filipinos featured on the United States Embassy's "Education USA" for National College Decision Day. She shared her desire to attend Graziadio was partially influenced by the focus on service, purpose, and leadership. This ultimately allows her to help her clients further and improve her professional goals. Read more about Sheila and her path below.
1. Please provide background on your professional experience and education.
I graduated Cum Laude with a Bachelor of Science in Business Administration from the University of the Philippines. My first job was as an Intern in the Operations-Finance Dept of Intel Philippines, which led to my first full-time job as a Financial Analyst. After that, I spent close to 14 years in Procter & Gamble as Sales Manager and Capability Leader for the Sales Organization. I was based in different parts of the Philippines, handling business across channels, customers, and distribution partners. In my last role as Capability Leader, I was in charge of the training and development plans for the Philippine Sales Organization. In addition, I was part of the Capability Team handling the training plans for APAC-ANZ and the Middle East.
Apart from my corporate experience, I am also a Licensed Meta-Coach, Group and Team Coach, NLP Trainer, and Neuro-Semantics Trainer from the International Society of Neuro-Semantics. I'm also a Certified Practitioner for Leadership Circle Profile. I have been doing Executive Coaching for the past eight years. I've also been conducting private and public workshops on Coaching, Communication, Leadership, and Mental Health. I co-founded an NGO for Mental Health in the Philippines in the hopes of being part of the solution for Mental Health in my country. I contribute articles for Cosmopolitan Philippines as their Body Language Expert and their resource for #AskACosmoCoach for their readers' questions on mental health and other problems in the workplace.
I was doing my coaching and training practice alongside my P&G career for about seven years. Years ago, while I was still employed in P&G, I put up my corporation for coaching and consulting. I was offered to do a part-time role at P&G when I filed my resignation a couple of years back to focus on my corporation. So I tried that for a year, but it was still too much for me, and I had just left my corporate job right before the pandemic hit. I am now President of my own company and doing coaching and consulting full time while pursuing my post-graduate degree.
2. I see that you were featured on the United States Embassy's "Education USA" social media account; please explain this further.
I had inquired about the US Embassy's processes for student visa application last year when all interviews were still suspended. Somehow I stayed in touch with the person who's in charge of the programs of Manila Education USA. She asked me if it was okay to feature me on their social media page and if they could tap me as a speaker in their future events. The feature on Education USA was on the National College Decision Day, where they feature Filipinos who got admitted to US Universities. They asked me why I chose MSOD and why I chose to go to Pepperdine. The intent is to inspire more people to consider studying in the US and give them an idea of the benefits and student experiences.
3. What drew you to Pepperdine Graziadio? What made you choose the Master of Science in Organization Development (MSOD) program?
In my experience as a coach, trainer, and consultant with my clients, I often get to a point where my clients trust me enough to confide in me, ask me for my point of view, and solicit my advice on what to do with their organizations. I realized that my experience in the corporate world and what I've learned in coaching and facilitating training weren't enough for me to advise clients on what to do with their businesses from a bigger perspective. I see many things that they're doing wrong and how to create practical solutions for presenting problems. But I also know that many issues are systemic and that what seems to be the problem is usually just a symptom of a more foundational issue. I wanted to have a systematic approach in helping my clients create an organization that serves profit, people, and purpose.
I wanted to help leaders create a workplace where people would like to go to, maximize their potential, and make them happier individuals that will impact their roles outside of work. I figured that we need happier people who can excel at what they do if we want to live in a better world. It was a big vision, and I knew that I needed to learn so much more to be credible and competent to play that role.
I didn't know what it was that I needed to learn until I found Organizational Development. I first found out about Pepperdine Graziadio's MSOD program from a client who attended my workshops. She is an alum, and she told me that Pepperdine is the best in MSOD. I was interested in looking into it, but after inquiring about it a couple of years back, I just parked the idea for some future time due to my schedule at that time. What convinced me that this is the right program and school for me was the curriculum and the people I encountered during my application process. Each person gave me a peek into Pepperdine's Christian-based culture, caliber, and care. Rachel Guettler was the Recruitment Director who got in touch with me, and I felt so much warmth in the first conversation we had. In that conversation, she mentioned the importance of declaring any mental health issues I may be experiencing. That was a really good sign that Pepperdine cares about its people since I am an advocate of mental health. Then I was interviewed by Terri Egan, who was very accommodating about my time availability given the time zone difference. In that interview, she just asked me all the right questions. She seemed to care about whether I would benefit from the program and how open I would be to the different methodologies and philosophies they use. When I attended the orientation with Gary Mangiofico, I asked what their plan for the program was, if we still won't be allowed to fly on the schedule he has laid out. His conviction and promise that the curriculum will not be compromised and that they might give us additional programs should there be more significant than the anticipated gap between courses was what sealed it for me. I knew I was in good hands. I knew this is an institution that I could trust to be interested in what their students can take away from their programs, rather than just earn from them.
4. How do you enjoy taking classes overseas? Do you have any tips for students in different countries to take classes virtually in another country?
I enjoy the diversity of experiences that is in every single class. The faculty members are doubtlessly among the best in the subjects they teach. The rich experiences of my classmates encourage critical thinking, and a peek into very different perspectives. I would advise students taking virtual classes to understand their learning styles and what could get in the way of them learning and absorbing effectively. Preparing oneself emotionally and mentally is maybe even more important than the physical elements. Working around our initial weaknesses can be strengths that will add to our character as individuals.
5. Do you have any advice for students in other countries looking to earn their graduate degrees?
I'd recommend students wanting to earn their graduate degrees look into why they want it. Many people just want to tick a check box when they get their graduate degrees. Some people do it for status and others for earning self-acceptance. While these are great starting points, they might not be inspiring enough when things get more challenging. There would be times when the readings and papers that need to be submitted would get in the way of enjoying social life or family time. One has to have a reason that's big enough to keep them motivated when things don't go according to plan.