TOCA Soccer and Pepperdine Graziadio Collaborate on MSBA Capstone Course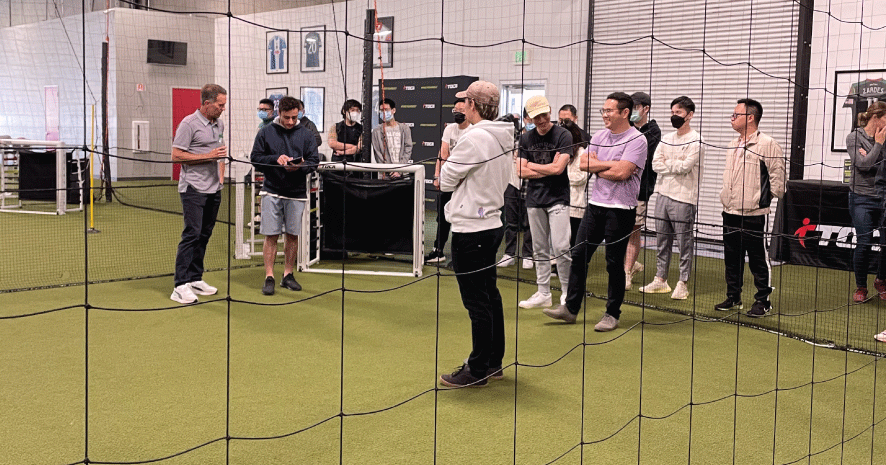 For many Graziadio students, the capstone course project represents a significant learning milestone of their graduate program. Through these projects, students are able to apply classroom concepts to real-world business scenarios–deepening their understanding of learned strategies and enhancing their marketable business skills.
As part of the full-time Master of Science in Business Analytics (MSBA) capstone course, students conducted a project for TOCA Soccer, led by lecturer of decision sciences, Alfonso Berumen.
About TOCA Soccer and the Origins of the Graziadio and TOCA Collaboration
TOCA was founded in 2016 by two-time U.S. World Cup and former MLS and English Premier League midfielder, Eddie Lewis, to provide cutting-edge soccer training using cloud-based technologies. Since then, TOCA Soccer has expanded to 26locations across North America.
Berumen and Sam Cvetkovski, TOCA's director of data & analytics, met in 2018. From that point on, they remained friends connecting over various types of football and their love for analytics. Prior to the summer MSBA capstone project, Berumen presented the idea of inviting TOCA to be a capstone project sponsor to faculty stakeholders, which was enthusiastically approved - marking the inception of this collaboration.
The MSBA Capstone Course Project
For the MSBA capstone course project, students were tasked to explore TOCA player experience data on topics including training habits, curriculum, and performance using predictive analytics. Under the guidance of faculty and TOCA management, students were given the autonomy to explore areas of interest and creatively ideate within that scope.
The students worked directly with Cvetkovski to analyze training session statistics and customer data. They leveraged TOCA's cloud computing-based software, statistical programming systems, and data visualization tools to provide insights around player performance and training session effectiveness.
"The MS in Business Analytics students were able to visit TOCA's facility in Costa Mesa, CA and see the operations (including an opportunity to participate in TOCA exercises), which allowed them to better understand the business model and see where the data was coming from. They then were able to use the business data leveraging TOCA's cloud-based technologies to apply concepts and techniques learned throughout their program. With Sam and Eddie Lewis, founder of TOCA Soccer, being hands-on throughout the process, it was an incredible experience for them to end their degree on and prepare for a career in business analytics."
- Alfonso Berumen
Lecturer of Decision Sciences, MSBA
As Berumen highlighted, TOCA leadership remained committed to the success of the project with Eddie Lewis and Sam Cvetkovski periodically visiting Pepperdine's graduate campus in Malibu for student check-ins and presentations.
Developing Marketable Skills for Graziadio Students
Through this project, students gained hands-on experience utilizing data visualization and coding softwares including Snowflake, Tableau, GitHub, and Python. Instead of simply using sample data on an excel workbook, students were granted limited access to TOCA's data environment to explore working with real-world statistics.
MSBA alumni, Bella Zhou ('22) shared how participating in this project increased her knowledge of how analytics can be used to solve business challenges:
"Through the capstone course project with TOCA, I was able to apply learnings from the Business Analytics program, which aided in my understanding of how business analytics helps to solve complex business problems. We practiced the use of coding languages, such as Python, R, and SQL, and applied data analysis, data modeling, machine learning, and visualization knowledge within our research. Overall, it was a very rewarding experience for me! I really hope the MSBA capstone course project will keep working with more companies to provide students with this kind of experience!"
At Pepperdine Graziadio, experiential learning serves as a long-standing cornerstone of the graduate program curriculum. Through the MSBA capstone project with TOCA Soccer, Graziadio students were given the unique opportunity to synthesize key concepts learned in the classroom, apply leading-edge technologies, and provide data-based recommendations to solve complex business issues affecting today's organizations.
Following the success of this venture, Graziadio and TOCA hope to continue their partnership and collaborate on future capstone course projects.
To learn more about TOCA Soccer, click here