Fulbright Experience with Dr. Kevin Groves: Reflections, Highlights, and Challenges
Kevin Groves, PhD, recently completed his Fulbright Visiting Professor appointment at MCI Management Center Innsbruck in Austria. Below are his reflections on the highlights, challenges, and learning from the Fulbright experience.
What were your interests and plans for the Fulbright program? How would you describe your overall Fulbright experience?
My appointment at MCI was funded by the Fulbright U.S. Scholar program, and MCI is one of Pepperdine Graziadio's international partner schools located in the Tyrol region of Austria. As part of the Fulbright application process, I identified MCI and their ongoing research initiatives as the best fit for my research on executive succession, leadership potential assessment, and executive talent management. As a family, we decided to make this a family experience given the length of the appointment (six months) and the incredible learning opportunity for everyone – myself, my wife Jill, and our daughters Anna (11) and Kate (9).
In terms of our Fulbright experience, first and foremost, MCI is a great host! And, Innsbruck was the perfect size and location for our visit. There were many highlights, challenges, and incredible opportunities that we were afforded.
How did you identify the collaboration opportunity for your Fulbright program?
MCI was an incredible host for my visiting appointment. The global programs team, faculty, staff, and doctoral students at the Family Business Center (where I was placed during my visit), and MCI's Rector were all very supportive and accommodating for me and my family. I'm very thankful for the many conversations that I had with the Pepperdine-sponsored research team and the Pepperdine Graziadio global programs team that ultimately led to selecting MCI for my Fulbright application. For any faculty considering such an experience abroad, I would strongly recommend getting in touch with Ian Ermatinger-Salas (sponsored programs officer) and Maria Flores (global programs director at Pepperdine Graziadio). They were both instrumental in finding the right fit between the available Fulbright opportunities at business schools all over the world and our international partner schools that have a strong reputation as a potential host.
What was your greatest learning from the program?
From a more scholarly perspective, one of the most significant reflections on our visit was the importance of engaging as many of our deeply experienced and connected Graziadio faculty (and colleagues elsewhere) to help inform the journey and specifically the research agenda. I was very fortunate to have multiple conversations with numerous Graziadio faculty months prior to our visit, which was yet another reminder of the expertise, depth of international experiences, and strong mentors in our midst! In advance of our visit, it was incredibly helpful to have had meaningful discussions on how to best 'hit the ground running' with my research agenda, or to be more accurate, a shared research agenda with the faculty and doctoral students at MCI's Center for Family Business. I am very thankful for the many insightful conversations with numerous Graziadio faculty (Zhike Lei, Maggi Phillips, Nelson Granados, John Mooney, Cristina Gibson, Darren Good, and Mark Mallinger) who helped shape this part of my research experience. For any faculty interested in pursuing a visiting appointment abroad, I strongly recommend reaching out to the many highly experienced faculty at Graziadio who can help guide this part of the experience.
As I immersed myself in the MCI environment, one of the clearest highlights of my research experience was the opportunity to work with the faculty, staff, and doctoral students at the Family Business Center. For example, Professor Anita Zehrer and her entire team at the center were all incredibly supportive in getting me 'onboarded' with our shared research activities and planning for future collaborations. In addition to two co-authored presentations at an upcoming conference in September, we are currently collecting data on a project examining succession intention for next generation family business leaders. I am also so grateful that the Family Business Center team will be a central part of an upcoming Global Business Intensive (GBI) in Austria (hosted by MCI) for our Graziadio students in spring 2023.
What were some of your biggest surprises or highlights while living abroad?
Perhaps the most surprising element of our experience abroad, while in retrospect it should not have been too surprising, was the difficulty in establishing meaningful friendships outside of my MCI colleagues during our visit. This was particularly difficult for my wife Jill and our youngest, Kate. Of course, we certainly expected some degree of challenge in this regard given our relatively short visit and the differences in cultural values and customs that we reviewed prior to our trip. We were very grateful to have our children attend international schools in Innsbruck, which offered truly invaluable learning experiences with students from all over the world. For any faculty with school age children who are considering an appointment abroad, I would strongly recommend identifying local international schools for the full 'immersion' experience.
One of the absolute highlights of our entire experience was our daughter Anna's very positive experience with learning German (passing her qualifying exam after just four months!) and establishing several meaningful friendships with students from Vietnam, India, the Bahamas, and beyond. As we were preparing our return trip home, she made clear that she wanted to stay another academic year!
What would be your call to actions?
I would offer one final reflection on my experience abroad regarding the willingness to take on an experience that would be an adventure with all sorts of surprises, challenges, and trials. I had never previously completed an appointment abroad or had an immersive international experience outside of short trips as a tourist, as this was my (and our family's) first extended experience outside the U.S. As I reflect on our entire adventure, the most important take-away is the importance of being open to being uncomfortable in a new place and adopting as much of a growth mindset as possible. I am truly grateful for the full range of experiences – highlights, challenges, and surprises – that the Fulbright appointment provided me and my family.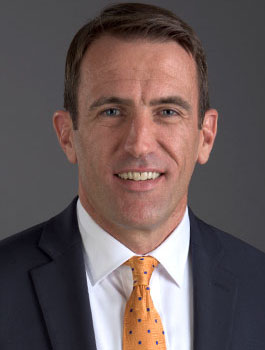 About the Author
Kevin Groves, PhD
Professor of Organizational Theory and Management
Pepperdine Graziadio Business School