Find Your Future at Pepperdine
At Graziadio, we offer a wide range of graduate programs that will best fit your personal interests and professional goals. We are committed to supporting as you consider your business degree options and decision-making process. We have the courses and flexibility to explore your interests, let's find one that is the perfect fit for you.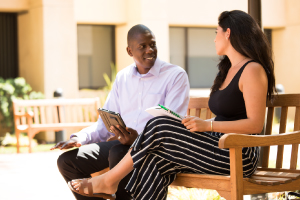 Which Program is Right for You?
Compare MBA, Master of Science, and undergraduate degree programs for full- and part-time students at Graziadio Business School.
Contact Us
Full-Time Programs
Pepperdine University
Graziadio Business School
24255 Pacific Coast Highway
Malibu, CA 90263