Meet the PKE 136 Cohort
Fall 2015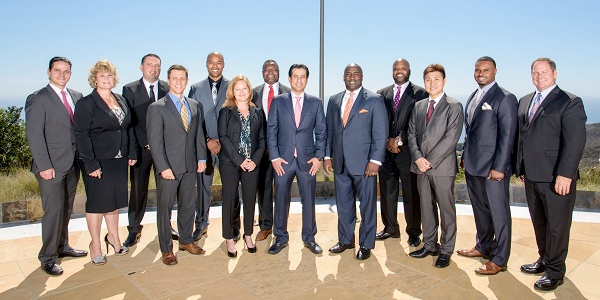 Rashid AL Malik
Chairman & CEO
Hayah Holdings
Rashid started his eight year career as a pilot with Emirates Airlines after receiving his education from Western Michigan University. During his time with Emirates, he began to study the global aviation and aerospace industries, assessing the many innovations and increasing opportunities in developing markets across the globe. This resulted in the founding of the US$15 billion company Dubai Aerospace Enterprise (DAE). He successfully launched DAE globally and led many acquisitions in the industry. In the past five years, he started Hayah Holdings to do alternative investments with partners from USA and the Gulf Cooperation Council countries. Hayah Holdings was involved in various projects in technology and real estate in USA and Dubai. He believes that if you lead with values and follow what you believe in, great institutions will be established and wonderful things will happen.
Ricki Barlow
Councilman
City of Las Vegas
Ricki was sworn into office June 20, 2007, as the Las Vegas City Council representative for Ward 5. Councilman Barlow currently serves on the California-Nevada Super Speed Ground Transportation Commission, the Las Vegas Metropolitan Police Fiscal Affairs Committee, the city of Las Vegas Recommending Committee, the National League of Cities Board of Directors, the Discovery Children's Museum Board, the Commission for the Las Vegas Centennial Board and the Las Vegas Convention and Visitors Authority. Councilman Barlow began his interest in government serving as student body president at Vocational-Technical High School, and continuing on to the University of Nevada, Las Vegas, where he earned a Bachelor's degree in Political Science as well as Master's degree in Public Administration. Additionally, he earned an Executive Management Graduate Certificate from the John F. Kennedy School of Government at Harvard University. His career in public service began as a legislative aide in Washington, D.C. for the United States Senate, and continued upon returning to Las Vegas when he joined the office of the Mayor and City Council as a Chief Liaison.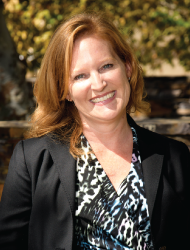 Maureen Burke
Marketing Executive
3Shamrock Marketing
As the owner of 3Shamrock Marketing, Maureen brings more than 15 years of experience leading global teams that deliver customer-focused marketing strategies within the high tech industry. Formerly with Autodesk, Maureen led various organizations within the company including the Customer Acquisition and Retention team for AutoCAD, the world's leading CAD software, generating $800+ million annually in sales. In this role, she was responsible for the go-to-market strategy, product marketing and global campaign execution. Maureen was recognized for successfully launching AutoCAD LT as a subscription service, delivering 128K subscribers within a year. In 2012, she established the Autodesk Small Business marketing organization and was responsible for market research, go-to-market strategy and customer acquisition. Her efforts resulted in a strategic shift in Autodesk's market approach, generating 13% revenue growth for the business. Prior to this role, she served as Director of Corporate Marketing Communications and Senior Manager, Americas Field Marketing where she became known for her innovative programs and practical mindset. Maureen is an honors graduate of the University of California, San Diego with a Bachelor of Arts double major in Communications and Psychology.
George Dagliyan
Chief Operating Officer & Director of Operations
Commonwealth Casualty Company
George currently serves as the Chief Operating Officer and Director of Operations of Commonwealth Casualty Company (CCC) and chairman of the board of strategic management committee. He is responsible for company's internal and external programs and operation. Over the course of 17 years in executive management, George has founded and operated various successful organizations. Prior to joining CCC, he spent 7 years at Expert Care Hospice Inc. where he served as the CEO and Administrator. During the same time, he served as the CEO and the Administrator of Dream Home Health Care Inc. He was the owner and operator of Alhambra Dental Laboratory from 1994 to 2009. Mr. Dagliyan serves as the Chairman of the Board for Western Construction & Development and National Construction Enterprises. He holds a Bachelor's degree in Business Administration from American Public University.
Jason Galetti
Chief Operating Officer
Sentek Global
Jason is the Chief Operating Officer for Sentek Global, a Defense & Cyber Security company based out of San Diego. As COO, Mr. Galetti reports to the CEO and is charged with leading all operational activities in order to maximize growth and profitability for the DoD, Cyber Security as well as Training practices. During his tenure, he has led several business initiatives including the firm's tactical radio practice culminating in the award of a 5 year, $32M contract with the Space and Naval Warfare Command. Prior to his career with Sentek, Mr. Galetti was a manager in the Store Leadership Corporate program at Home Depot. In this role he led vendor negotiations for "At Home Services" and was a regional project manager for a $400M capital investment initiative designed to improve store layout in an effort to enhance market share. Mr. Galetti is a USMC veteran, and currently sits on the Board of Directors for the Marine Corps Recruit Depot Museum Foundation. He holds a Bachelor's degree in Computer Science from Villanova University and a Master's degree in Systems Engineering from the University of California, San Diego. Mr. Galetti is married with two children.
Charles A. Johnson
Purchasing Director Home Division
Liverpool Department Stores
Charles lives in Mexico City, where he is currently the Purchasing Director for the Home Division at Liverpool Department Stores. Liverpool has 108 stores all around Mexico with 5.5 billion dollars in revenue in 2014. The expansion of the company is still very aggressive as there are 17 confirmed store openings in 2016 and 30 in 2017. He started working for the company in 2006 as a trainee in one the stores located in Mexico City. After 3 months, he was promoted to a junior buyer position in men's suits and jackets. In 2008, he became the senior buyer for women's dresses; two years later he moved again to be the manager for furniture and mattresses, a position he has held since 2013. Charles graduated in 2001 from Universidad Anahuac in Mexico City, where he earned a Bachelor's degree in Business Administration. He is currently married with two kids, a two year old daughter and a six months old son.
Kevin Lewis
Owner, Founder and CEO
Lewis K Construction
Kevin has designed, built and remodeled homes for many of headlining celebrities and name-brand retailers. Since 1998, "Lewis K" has been involved in projects for Kim Kardashian, Khloe Kardashian/Lamar Odom, Ozzy Osbourne, Floyd Mayweather, Gabrielle Union/Dwayne Wade, Omega Watches, the Nevada Labor Union, plus many more. His work has been featured on MTV's Cribs, HGTV, and numerous TV shows and publications. Other distinguished accomplishments include a partnership with Executive Construction Management (ECM) to create "The Grand Canyon Skywalk", a one-of-a-kind glass bottom, cantilever bridge, 4,000 feet above the Colorado River. Lewis K has also become the preferred communications vendor for Mastec, Verizon and AT&T. Most recently, Kevin has been awarded numerous asphalt contracts with the City of Las Vegas. He holds a Bachelor's degree in Business Administration and Marketing from California State University, Northridge. He is the QE License holder with a Full A-General Engineering and B- General Building and HIC for California, Nevada, and approved in Arizona. Kevin is a certified "MBE". He is excited and honored to be a part of the PKE MBA Program.
Peggy Nairn
Vice President and Chief Operating Officer
Penny & Peggy Nairn 24 Hour Child Care, Inc.
Peggy is co-founder and business partner with her mother, Penny. Both have been dedicated to making a difference in children's and families' lives for more than 31 years. Peggy oversees and operates two of the first known licensed 24 Hour Childcare Centers in California. Peggy is currently working on expanding services throughout California and nationally. Services are provided to infants, toddlers, preschoolers, school-age children, and families 24/7 with special needs inclusion. Her passion is advocacy, early education, and strengthening families by providing services and resources to assist in overcoming daily obstacles, while meeting individually family needs in each community. Peggy is a life learner and continues to educate others. Penny & Peggy Nairn 24 Hour Childcare, Inc. has been nationally accredited, nationally acknowledged, and awarded for its "Professionalism and Dedication to Children & Families". Peggy is a believer not a dreamer; she believes and has faith that she will achieve her goals while supporting others in achieving theirs. She wants to be remembered for making a difference. When she is not working, you will find Peggy with her three beautiful daughters. She plans to one day complete her pilots license, and she enjoys zip-lining and new challenges. Peggy feels "Blessed," loves impacting others and loves life.
Samuel Nam
Director of Palliative Care Service
Harbor-UCLA Medical Center
Samuel currently serves as the Director of Palliative Care Service at Harbor-UCLA Medical Center and Assistant Clinical Professor at David Geffen School of Medicine, UCLA. Samuel has been instrumental in developing the inpatient and outpatient palliative care programs at Harbor-UCLA. His interdisciplinary team of doctors, residents, nurses, social workers, and chaplains provide patient centered palliative care to hundreds of patients annually. Prior to joining Harbor-UCLA, Samuel has worked at Cedars-Sinai Medical Center and Kaiser Permanente Medical Center in Los Angeles and San Diego. Additionally, he has founded the Korean American Healthcare Professionals (KAHP) to promote community services, professional activities, and social networking for the young professionals. Samuel has completed his post-graduate medical training at USC/LAC, UCLA, and San Diego Hospice and the Institute for Palliative Care.
Bernard Péan
Physician Executive
Rx IT Consulting
Dr. Bernard Péan has more than 25 years of experience in Healthcare, Education and Information systems. As a Lean-Six Sigma practitioner, Dr. Péan has consulted with top Fortune 500 companies and upwards of 25 hospitals, leading teams, performing strategic analysis, implementing process improvement, building relationships and spearheading crisis management. A focused and tenacious leader, Dr. Péan's forte is devising tactical action plans to translate policy objectives into operative procedures. His accomplishments include: optimizations, advancing safe and high quality innovative healthcare solutions; and maintaining patient and family centered, cost-effective, evidence based care. He is a respected and motivated leader and among his colleagues is known as a poised and proficient visionary. His expertise in the areas of management reform, care delivery modification, inpatient/outpatient and post-acute services has led to him being recruited as a key consultant in the most challenging EMR contracts nationwide. He regularly leads multi-disciplinary teams and develops medical teams of various sizes to achieve clinical benchmarks in readmission reductions, improved time metrics and blood management. He is an avid traveler, having visited more than 40 countries, nine of which he participated in medical missionary work. He is multilingual, with fluency in French, French Creole and conversational Spanish. Bernard is married to Cynthia Chea Péan, he is the father of three adult daughters and grandfather to one grandson. When not on the road, he makes his home in Los Angeles.
Shaphan Roberts
Entrepreneur/ Consultant
Shaphan is a seasoned interdisciplinary executive, who is predisposed to pursue vision and practicality simultaneously. He excels as a social media innovator and problem solver and has held key level management positions within global technology and entertainment firms. He has a background in increasing corporate value through executing key acquisitions and joint ventures, and was among the first to broadcast live events via Facebook. Recently awarded a patent for an innovative technology that will appraise the value of online video distribution, Shaphan continues to advise clients around content and programs that measure viewer engagement while sharing live experiences around the globe. As a problem solver, he has a knack for mediation and recently received his official certification through the Los Angeles City Attorney's office where he was later contracted as a consultant. He was key in the design and implementation of the city's award winning Neighborhood Justice Program, as well as the city's award winning Biased Policing Complaint Mediation Program. His experiences continue to afford him the opportunity to advise, consult and provide management services to select clientele. Shaphan is happily married to Susan Roberts and they enjoy travelling and working together.
Freddie L. Scott
Fire Cache Manager of the Southwest Pacific Region
Forest Service of the U.S. Department of Agriculture
Freddie is the Fire Cache Manager of the Southwest Pacific Region of the Forest Service of the United States Department of Agriculture. His oversight includes the management of the largest facility and fleet nationally that supplies 22,000 stock items of fire and emergency equipment of southern California, Hawaii and Guam. He has more than 21 years of experience in operations, warehousing and distribution management. Prior to joining the USDA Forest Service in 2012, he worked in various management positions with key companies such as, General Motors Inc., MARS Inc., OMNI Hotels Inc., Toys R US Inc. and The Home Depot Inc. Additionally, he serves as a Captain in the United States Army Reserve with more than 18 military years of experience (both U.S. Navy and Army, combined) while currently holding the position as Human Resource Manager for the 358th Civil Affairs Brigade of which he is the Adjutant to the Brigade Commander and oversees the personnel, medical, and readiness records of more than 1038 Soldiers in the unit. He holds an MBA in Operations Management from Golden Gate University in San Francisco and has post graduate training from The Ohio State University in Supply Chain Management.