National Hispanic Heritage Month: Rebeca Gaxiola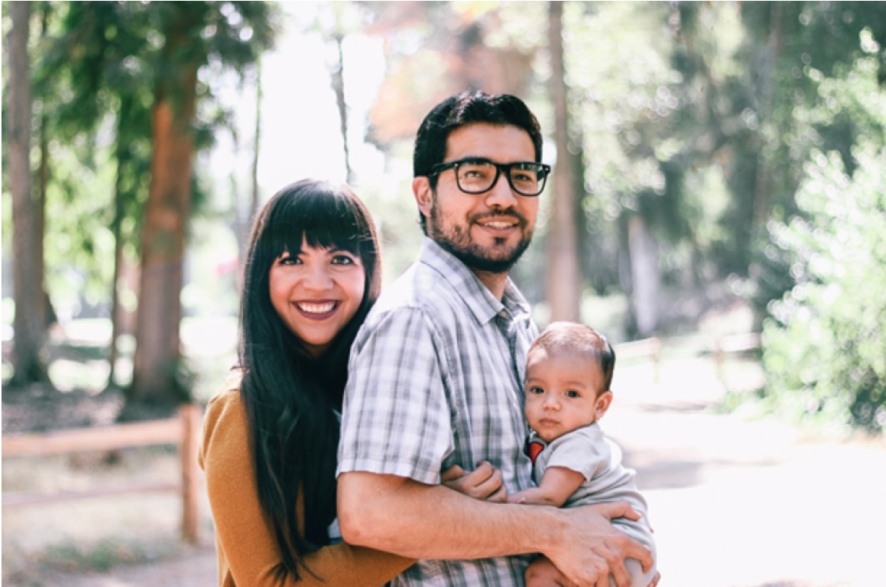 Share a little bit of your background:
I was born in Xalapa, Veracruz Mexico. I moved to the US when I was under 10 years old with my parents and my younger brother. My mom studied Chemical Engineering and was not able to find a job as an engineer in Mexico, so we left our hometown in order for her to seek employment opportunities in the US. Growing up in a home with an educated mother and supportive father, I quickly learned to love education and my cultural background. So much so that I chose to pursue a BA in Intercultural Studies. Outside of work and school, I am also a mommy to a two-year-old and am married to a half-Honduran and half-Mexican loving man who is the son of immigrant parents.
Do you and your family celebrate National Hispanic Heritage Month? If so, how do you celebrate?
My passion for understanding what brings a community together started when I was a little girl soaking up the love my grandmother spread. She gathered an entire family for holidays, birthdays and other celebrations. Her generosity, delicious food and talents sparked a desire in me to find ways to give freely and love unconditionally. Although my grandmother is not Latinx (she is German) she learned the Spanish and embraced the Mexican culture as her own.
My family and I celebrate National Hispanic Heritage Month by honoring and remembering el Grito de Independencia on September 16. Independence Day is a national public holiday in Mexico with fireworks, parties (fiestas), food, dance and music. My family usually remembers this day by either watching "el grito" (the war cry) on TV or wearing the Mexican flag colors, green, white and red.
What are some Hispanic/Latinx customs/traditions that are meaningful to you?
One of my favorite family traditions is the Posadas Navidenas. We celebrate Posadas with a procession of friends and family that re-enacts Mary and Joseph's search for an inn on their way to Bethlehem, and is akin to a street-theater musical. The protagonists of the story carry lighted candles outside the house asking, through means of special Posada songs, for 'room at the inn', being refused multiple times (through songs) until finally Mary and Joseph are allowed to pass, and a Christmas party ensues inside the home. It is a magical moment when we can all join in a celebratory song and remember the joy of generosity and food.. lots of FOOD!
Maintaining my family traditions is key for me because it helps me remember the land I come from and the way my family paved. I am proud to be Mexican, I appreciate my culture and it is essential for me to represent diversity at work, school, and my community.
What is a local Hispanic/Latinx business that you support?
Food in Mexico is a staple and hospitality usually starts by sharing a meal. In my culture, feeding friends and family is a way to love and care for others. We have a saying that says "ay, mas agua para los frijoles" (it is just more water for the beans), meaning it is never an inconvenience to feed an extra 2 or 3 people, or sometimes 10 more! The more the merrier!
Latinx restaurants I recommend:
Honduras Restaurant Address: 6747 Tampa Ave, Reseda, CA 91335 (my husband is Honduran)
Leo's Tacos Truck Address: 15421 Parthenia St, North Hills, CA 91343 and Address:
1515 South La Brea Ave, Los Angeles, CA 90019 (literally best tacos I have had in LA)


Do you have a favorite Hispanic/Latinx family recipe to share?
El Guacamole mas rico (The best Guac) receta:
Ingredients:
4 avocados
¼ white onion chopped in small pieces
½ tomato chopped in squares
1 bunch of cilantro chopped (remove stems)
1 lime
1-4 Jalapenos chopped
1 ½ tablespoons of olive oil (secret ingredient)
Salt
Mash the avocados with a fork until desired consistency. Expert tip: leave the avocado seed in the guacamole to keep the guac from turning brown.
Add the chopped onion, tomato squares, chopped cilantro and lime juice. Then add the jalapenos, this can also be left out of the desired spicy level is zero. Add 1 jalapeno for mild and up to 4 jalapenos for a spicy kick. Add the olive oil and salt to taste! Enjoy with tortilla or banana chips!
Do you have any closing thoughts or comments?
I am incredibly thankful for this space to share my culture and background with the PGBS community and my hope is to have more opportunities to love our community through my culture and FOOD, after all, "ay, mas agua para los frijoles".
Soon enough, the nations will gather and sit together and feast with our Creator, might as well get some practice now, salud (cheers)!
"People will come from east and west and north and south, and will take their places at the feast in the kingdom of God." (NIV Luke 13:29)