National Hispanic Heritage Month: Lleni Sandoval
VP of HR at NBCUniversal Telemundo Enterprises
Share a little bit about your background: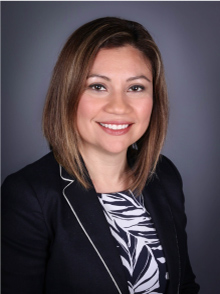 I was born and raised in Los Angeles, CA, and my family is originally from El Salvador. Both my parents are from small farming communities, and they immigrated to the US when mom was in her teens and dad in his early 20's. They did not have access to higher education themselves, so growing up, they always stressed the importance of doing well in school and going to college.
I am the oldest of three and the first in my family to go to college in the US. I went to UCLA and received my BS in Biology. While I was studying, I secured a job at Universal Studios Hollywood, which is part of NBCUniversal, and after graduating, was introduced to Human Resources by my mentor. I've been with the company for almost 25 years and had the opportunity to work in different divisions. Five years ago, I moved to Miami for work, and I am currently the Vice President of Human Resources at NBCUniversal Telemundo Enterprises. I lead training and development programs for the division as well as support our corporate functions teams and the operations and technology team.
I am also the very proud mom of identical twins, who are currently sophomores in college, studying chemistry and computer engineering.
What does it mean to be Hispanic/Latinx?
Being Latinx means celebrating both Hispanic and American cultures. It means that I have an appreciation for the rituals and traditions of being Salvadoran while also celebrating being American. My ability to fluctuate between two languages and two identities (Latina and American) provides an opportunity to clearly see the good and not so good of both. I choose to focus on the good.
Like many other Latinx cultures, Salvadorans express their love by gathering together and with good food. I enjoy our family dinners on Sundays with traditional food like chiles rellenos, pupusas and tamales. And while Thanksgiving is not celebrated in El Salvador, my family celebrates it with turkey, ham and stuffing because it's also our tradition.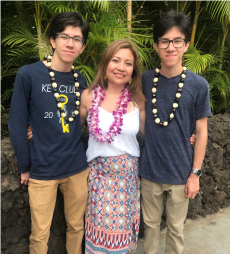 Family and community are also an important part of our culture. Growing up, we always ate dinner together at the table. It was dedicated time for conversation, catching up, and sometimes debate. My sons and I continue this tradition in Miami and our friends regularly join us. We give back to our community by volunteering and donating to causes that are meaningful to us. Last year, I was able to take my sons with me on my annual medical mission with Helps International. We traveled to Guatemala with a team of doctors, nurses, and other personnel from Cedars-Sinai Hospital to set up a hospital in a remote area of Salama. I'm in charge of O.R. scheduling with my friend Kathy and my sons help in dentistry.
Being Latinx also means regularly explaining myself and trying to fit in. As a child, it meant educating my classmates that I was not Mexican and that not all Latinxs are Mexican. When I visited El Salvador, it meant convincing people that I too was Salvadoran. In college, I joined Latino groups to see others like me because there were often no other Latinxs in my classes. And it has always meant explaining how to pronounce my name, since it is spelled in Spanish - something I have learned to appreciate.
What is your favorite Hispanic/Latinx food or recommended food?
I am a foodie, so my list of favorite foods is extensive. So, I will share the most meaningful.
I love chiles rellenos. These are my favorite because mom, dad and I work together to deliver the perfect stuffed bell pepper (Salvadoran style). This means charring the skins of the bell peppers and removing the burnt outer layer, stuffing them with a mix of ground turkey and veggies, and finally coating them with egg batter. We laugh as dad tries to avoid burning his fingers over the open flame (because he will not use the tongs). Mom tells me I am the only one that can beat the eggs as fluffy as they are needed - but we all know it's because she doesn't like to do it. Sometimes, my brother joins us in the kitchen, and I'll convince him to do it. I am the expert at frying the assembled product making sure the egg cooks and seals it all together. This too, may just be something mom and dad don't like to do, but I'll take the compliment. Mom then prepares the sauce that they will be placed in once it's served. Everyone participates in eating them.
Tamales are a close second. This is the time when the women of the family bond. We take turns stirring the masa – it's a thick corn-based dough and we mix in potatoes and cooking oil as it cooks over the stove. Mom preps the sauce, veggies and protein (chicken or pork) to place inside. Ingredients are placed in a row and we arrange ourselves around them so we can all reach. As we assemble them – masa, sauce, protein then veggies placed in the center of a banana leaf – we catch up and gossip and laugh. We wrap each tamale tightly, so it doesn't fall apart and neatly so it looks like a little gift to open at dinner. Mom makes a special one for dad and we'll be able to spot it because she's tied it with a ribbon of banana leaf. They will be arranged in a large pot to cook while we prepare the curtido (a lightly fermented relish made of cabbage, onions, carrots, oregano, and lime juice. Like sauerkraut, or kimchi).
Pupusas are likely the most traditional of Salvadoran foods. They are handmade corn tortillas stuffed with beans and/or pork, and cheese. Nowadays we even make them with veggies. Grandma and mom are the only ones with the skills to pat these into the perfect shape without letting the ingredients ooze out. There's a rhythm to it - as if they are clapping to the beat of a song only the two of them can hear.