National Hispanic Heritage Month: Paula Gomez
Admissions Specialist at Pepperdine Graziadio
Share a little bit about your background: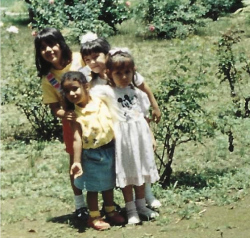 I was born in Michoacán, Mexico in a little beach city called Lázaro Cárdenas. My parents immigrated to the United States when I was 8 months old, so I did not have the opportunity to experience growing up in the gorgeous little town of Lázaro Cárdenas. When we arrived in the United States, we touched down in Los Angeles and eventually settled down in Huntington Beach, where I spent the larger part of my childhood. I did not have a traditional hispanic upbringing in some aspects, as you will read about further into my testimonial. I grew up as an only child for 15 years before my sister was born.
After my mom converted to Christianity, we stopped celebrating many of the traditional Mexican and U.S. holidays that were not biblical. Additionally, I did not grow up with my aunts, uncles and cousins, who all lived in Mexico, or get to experience the big family get-togethers on a regular basis. For this reason, I cherish every moment spent visiting my family in Michoacán. Some of my most memorable times in Mexico were climbing trees with my cousins, helping my great grandparents with their huerta where they grew mangos and other fruits and vegetables, and eating tortas de tinga and licuados de fresa! I loved the simplicity of life there as a child, and can't wait to travel there and share my experiences with my future children!
Do you and your family celebrate National Hispanic Heritage Month? If so, how do you celebrate?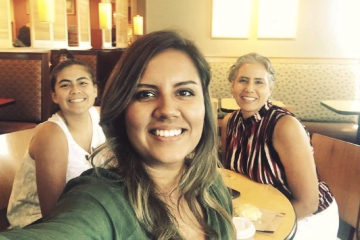 There are so many beautiful aspects of our heritage that are salient in our everyday lives. The language, food, and most importantly our family, are three of the most cherished aspects of our heritage that are celebrated everyday.
Growing up, we always had to speak Spanish around my Abuela because she didn't speak English, and it was considered rude to exclude her from our conversations by speaking in a language she didn't understand. I even had friends whose parents had a no-English rule at their house. This was their way of paying their respects and preserving the language, and although we might have thought it was silly then, I am so grateful our parents nurtured the development of such a valuable skill.
I am also thankful for my Abuela's cooking. She is the one who has inspired me over the years to learn how to cook Mexican food. My grandparents ran a restaurant from their home in Mexico, where many of her recipes originated. Although she has passed now, I cherish all those moments in her kitchen, watching her deseed chiles for mole, mixing aromatics for the perfect broth for pozole, and soak and clean beans for frijoles de la olla. Lastly, growing up with such a small family, it has been important to look out and take care of one another.
My mom being a single-parent and only provider, meant that I had to step in and help with my sister a lot when my mom worked long hours - so much that I was often mistaken to be her mother. Now that my sister and I are older, and my mother is close to retiring, I look forward to sharing my success with my mom and providing for her when the time comes. Despite how busy we get with everyday responsibilities, it is important for us to make time for each other. Whether that is taking the time to call my mom and sister throughout the day or meeting up for coffee or dinner, I try to prioritize and invest in the people that matter most, my family!
What does it mean to be Hispanic/Latinx?
Being Hispanic/Latinx doesn't mean one needs to speak Spanish or be born in Latin America. There are many things that are associated with being Hispanic/Latinx, however, one common quality between all Hispanic/Latinx people is their courageous and resilient character. We have the courage and resiliency to persevere despite any obstacle life throws at us. One of my favorite Mexican painters, Frida Kahlo, said it best, "Échame tierra y veras como florezco."
What does being part of Hispanic/Latinx community mean to you and your family?
What are some Hispanic/Latinx customs/traditions that are meaningful to you?
The traditions that I have experienced have been centered around food. Going over to my Abuela's house was always my favorite because I knew I would be eating good food all day long! From cafe con pan dulce in the morning, to a plate of morisqueta in the afternoon, and chiles rellenos for dinner. It was never a dull moment in my grandma's kitchen! Ever heard of a tamalada? It's essentially a tamale-making party, another one of our traditions. Tamales are a popular holiday dish and are often made early on Christmas Eve, when family and friends gather to make tamales together for Christmas Eve dinner. Tamales are often paired with champurrado or ponche.
Then, leftover tamales are eaten for breakfast, lunch and dinner the next day (similar to turkey on Thanksgiving Day)! This is kind of the running joke when Hispanic families make big, elaborate meals - if you come home and mom is cooking something in a big pot, you know you will be eating that all week! Additionally, most people think tamales are a lunch or dinner food (including my significant other, who is not Hispanic and is new to the tamale eating ways, who was very confused when I brought tamales home for breakfast one morning), but tamales are versatile, ranging from sweet and savory flavors, and can be eaten at any time of the day. Pictured below is my favorite, a jalapeño and cheese tamale.
What is a local Hispanic/Latinx business that you support?
My fiancé and I have this little dinner tradition going for almost a year now - we call it Matador Mondays. Every week we go to a little Mexican restaurant in Costa Mesa called Matador Cantina and order the same thing - crunchy tacos and a side of beans for me, and rice for him. I always say, you know a restaurant serves authentic Mexican food if they have good salsa, rice and beans. So, if you are ever in the Orange County area, I recommend visiting them for Taco Tuesday… or Matador Monday!
What is your favorite Hispanic/Latinx food or recommended food?
My ultimate favorite Mexican dish as a kid was good ole cheese enchiladas. Also, if you have never had pan dulce, I highly recommend a warm concha fresh out of the oven with a glass of milk! I ate way too many of these as a kid, and I am not mad about it!
Do you have a favorite Hispanic/Latinx family recipe to share?
I recently made the best albondiga soup you will ever have, I will share the recipe below:
Albondigas Soup - a hearty and warm Mexican meatball soup made with juicy, well-seasoned rice and beef meatballs simmered in a flavorful tomato-based broth along with some carrots, potatoes, and zucchini. Truly a fantastic dish that the whole family would love!
Ingredients
Mexican Meatballs
1 pound (453.59g) ground beef or use ½ pound ground pork or ground beef , I use 90% lean
½ cup (125g) cooked white rice
2 teaspoons (10g) minced garlic
1 large egg
¼ cup (4g) cilantro or parsley leaves chopped
¼ cup minced onions
1 teaspoon (3g) ground cumin
1 teaspoon (5g) salt
½- 1 teaspoon (1g-2g) black pepper
1 teaspoon (1g) ground oregano
1 teaspoon (2g) ground paprika
For the Soup
1 tablespoon (14ml) olive oil
1 large onion , diced
1 tablespoon (8g) minced garlic
1 large celery stalk , sliced (about 1 cup)
2-3 carrots , peeled, quartered and sliced (1 ½ -2 cups)
1 large zucchini , quartered and sliced (1 ½ - 2 cups)
salt and pepper to taste
6-7 cups (1500ml-1750ml) beef broth or water
3 tablespoons (48g) tomato paste or 8-ounce tomato sauce
1 teaspoon (3g) ground cumin
1 teaspoon (1g) dried oregano
½ tablespoon (1g) chicken bouillon
½ tablespoon (3.5g) smoked paprika
1 ½ cups (183g) potatoes, cut into ½-inch pieces (2 potatoes large)
¼ cup (4g) cilantro leaves , chopped
Instructions
In a large mixing bowl, add the beef, rice, garlic, egg, cilantro, onions and spices and combine ingredients with your hands until thoroughly mixed.
Roll out the meatballs using hands. If you'd like larger meatballs you should have around 14-16 total. Set on a plate and to the side.
Heat olive oil in a large dutch oven over medium-high heat. Add onions, garlic, celery, carrots, zucchini. Add salt and pepper to taste.
Add broth, tomato paste or sauce, cumin, oregano, chicken bouillon, and paprika followed by potato chunks. Bring everything to a boil then reduce heat to medium and simmer uncovered for 10-12 minutes.
After the broth has achieved a low simmer, place the meatballs into the broth one by one. Be careful in doing so, as to not create splashes. Simmer for 10-12 minutes more.
Adjust seasonings to taste. Garnish with chopped cilantro leaves. Serve with toasted bread and rice!
What's your favorite Hispanic/Latinx song or type of music?
Te llevare al cielo by Maná
Me voy by Julieta Venegas
Do you have any closing thoughts or comments?
As a first-generation immigrant, I am thankful for my Mexican heritage and how it has contributed to the woman I am today. I hope to continue paving the way of success for my sister, and future children here in the U.S., while persevering my culture along the way.