National Hispanic Heritage Month: Paul Barela
Executive MBA Student and General Manager at Reyes Coca-Cola Bottling
Share a little bit about your background: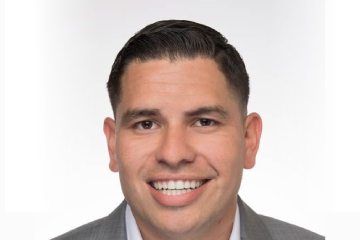 I was born and raised in San Bernardino, California. I grew up in a diverse area, primarily with first generation Mexican Americans and African Americans. Growing up in a diverse area helped my family, and I appreciate different cultures. My mother's side of the family migrated into Needles, California from Mexico in the late 1800s. My mother's side of the family was led by my great-great-grandmother Momma Linda, great grandmother Felicitas, grandmother Erlinda, and my mother, Irene.
They often made delicious Mexican meals, my cousins and I grew up eating. My father's side of the family migrated to Santa Fe, New Mexico from Spain in the late 1800s. My Grandfather, Jose Paul Barela, always stressed the importance of family, heritage, and education. He is very proud of having ancestors who were past generals and leaders. He says, "I am making him proud, as I strive to lead our family into a new direction." Unfortunately, some of our family's Latin heritage did fade away the longer they lived in North America. Fortunately, not all of it faded away. Speaking Spanish faded away as my family entered the millennial generation, but the food played a large role in our Hispanic/Latinx culture. I do not speak Spanish, but understand a lot.
After I graduate from the Executive MBA program at Pepperdine Graziadio, I plan to work with a tutor to learn to speak Spanish fluently. I would love to have conversations speaking Spanish with my fiancée Yesi, mother in law Maria, and son Paul Barela III since they all speak the language fluently.
What does being part of Hispanic/Latinx community mean to you and your family?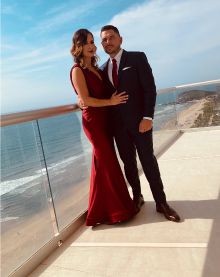 For my family, we are proud of our heritage and representing our culture in our community. We recently moved to Santa Clarita, California, and are pleased to live in a city representing all cultures. Both my fiancé and I were the first in our family to graduate college. We are proud of our accomplishments and feel it's our responsibility to continue representing our heritage as we strive for our goals and work in our community. I also encourage my son to be a part of his grandparent's lives and embrace the culture. His grandparents on his mother's side are from Manzanillo, Mexico, so he often visits the city with them.
Right picture: Yesi and I in Mazatlán, Mexico.
What is a local Hispanic/Latinx business that you support?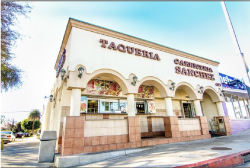 My family and I share a love for Hispanic food, so we often shop at local Hispanic grocers. My mother in law, Maria, has managed a local Hispanic/Latinx owned business for over thirty years. The place of business is a well-known market called Sanchez Meat Market and is located in Culver City, California. Yesi and I often shop at our local Vallarta Supermarket to purchase our needs for dinner or a carne asada outdoor BBQ.
Picture left: Sanchez Meat Market in Culver City
What is your favorite Hispanic/Latinx food or recommended food?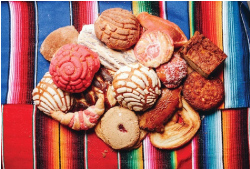 The Hispanic/Latinx food has played an enormous part in my family's life. When I was a child, my grandmothers often made handmade tortillas. My cousins and I loved helping them roll the tortilla dough. My grandmothers also made dishes such as enchiladas, chile rellenos, chile con carne, and often had refried beans and Mexican rice on the side. For dessert, I enjoy a hot cup of champurrado and Mexican bread on a Sunday morning.
What's your favorite Hispanic/Latinx song or type of music?
Yesi and I love to hang out with friends and family outdoors. Especially during the summertime while listening to reggaetón music! When we do, you will most likely hear artists such as J Balvin, Bad Bunny, and Maluma.
What does attending Pepperdine Graziadio Business School mean to you? (or Why Pepperdine?)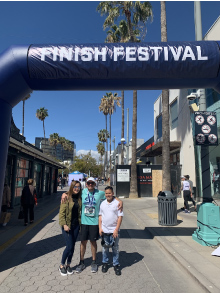 Attending Pepperdine is one of my proudest accomplishments in my life. Pepperdine's values and focus on encouraging diversity throughout the education system inspires me. Within a month of attending Pepperdine, I have already begun building meaningful relationships with my cohort members. Pepperdine offers a platform and network that will allow me to grow and to continue to represent my heritage and family proudly. It also allows me to continue to be a positive role model for my son and family.
Yesi, Paul III, and I after finishing the 2020 Los Angeles Marathon.
Do you have any closing thoughts or comments?
I want to thank Pepperdine for giving me this opportunity to celebrate National Hispanic Month and being open to celebrate all walks of life. I am excited about the positive difference Pepperdine is already making in my family's life and what it will lead to in the future!