The Faces of Graziadio: Cameron Ward Highlights the Impact of Being a Graziadio Student Ambassador
Generosity, passion, and loyalty. Traits that are desirable, yet can not be taught or explained. The ability to inherit these traits is built within one's character and grows over time, especially as an individual self-reflects upon their values and goals in life. From there, a snowball effect begins to ensue. These traits establish one's purpose, which in turn helps grow them into the person they aspire to be. As they continue to work towards fulfilling this purpose, they naturally step into the place of a leader with the ability to influence others to follow the same pursuit. At Pepperdine Graziadio, we like to give these generous, passionate, loyal individuals a name: Graziadio Student Ambassadors.
Typically seen at engaging student events such as Frist Fridays and end-of-the-term celebrations, Graziadio Student Ambassadors (also known as GSAs) welcome prospective and current students to experience the Graziadio community firsthand. GSAs accumulate knowledge throughout their education, gaining the skills and passions to guide all students in the professional path they set out for themselves. The broad purpose of a GSA is to act as a reliable resource for the business school community as they showcase numerous ways for students to get involved and find a sense of belonging. Simply put, GSAs act as respectable, student representations of Pepperdine Graziadio as a whole.
Current GSA and soon-to-be Graziadio graduate, Cameron Ward, truly exemplifies the ideals and role of a GSA to be a trailblazer for future generations. Cameron's Graziadio journey is unique, to say the least, with dreams of attending Pepperdine starting at a young age. As he grew older, his aspirations would only be more solidified as he noticed "signs" pointing him towards Malibu along his path.
Each step along Cameron's professional journey played an important role in his time at Graziadio, contributing to the connections he made both inside and out of the GSA network. Having been inspired by a previous GSA member, Cameron set out to inspire students to make the most out of their Graziadio experience - encouraging others to develop knowledge, passion, and loyalty along the way.
Read the Interview
A little bit about Cameron:
Cameron is originally from San Diego, California, which holds a special place in his heart. He attended San Diego State University for an undergraduate degree in Business Marketing and after working in the professional field for about four years, Cameron decided to pursue an MBA. As he stops to reflect on his accomplishments in the past 20-months, Cameron notes that the MBA program has been outstanding.
Prior to attending Pepperdine Graziadio, Cameron was a Human Resources Manager for an iconic hotel in San Diego. Throughout his MBA program, he has been fortunate enough to participate in several internships that helped shape his future career path post-graduation. Cameron's first internship was with Alcon, a medical device company in Texas, where he worked on the Human Resources Global Employee Relations team. He then landed an internship with Alteryx, focusing on technology sales. Having the opportunity to work with Pepperdine alumni grew Cameron's network and positive impressions of Pepperdine even more, continuing on to earn a full-time offer at Alteryx upon graduating from Pepperdine Graziadio.
Cameron's path to Pepperdine: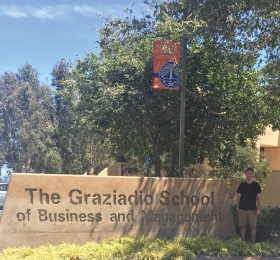 Ever since he was a kid, Cameron always wanted to attend Pepperdine – whether it be for an undergraduate or graduate degree. Driving past the Malibu campus when frequently visiting a family friend grew his excitement for his post-secondary education. Receiving an MBA had always been on Cameron's mind, valuing higher education and the benefits of attending an admirable university.
Signs pointed to a Pepperdine post-undergraduate degree when he experienced the most memorable trip of his life – being the first time he received a passport, the first time he traveled outside the United States to visit Peru, and the first time he flew in first class on a United plane – striking the discovery of the previous CEO of United, at the time, was a Pepperdine Graziadio MBA alum. This revelation solidified Cameron taking a visit to the Malibu campus for a First Friday event, where he met Vanessa Beltran, Graziadio Enrollment Engagement Specialist, present GSAs, and future friends – individuals he still remains in touch with today. Not only did the campus visit exceed his expectations, but Cameron also developed an appreciation for Graziadio's values and mission of training people to be Best for the World Leaders.
Cameron's role as a GSA and what he enjoys most:
As a GSA, Cameron explains that they are current students who act as a representation of the University overall as a whole. A highlight for GSAs is being able to speak with students who have already committed to Pepperdine or provide support for prospective individuals while going to engaging events. Becoming a GSA comes with many advantages:
Ability to collaborate with other organizations
Communicate with purpose-driven leaders
Attend and speak at memorable events
Share his Graziadio experience with current and future students
Cameron is one of several members who want to help all students throughout their graduate journey, no matter the resources they may need. He enjoys supporting students, being able to work with other clubs and departments, and contributing his voice to provide feedback about the student experience. From Cameron's perspective, he definitely recommends becoming a GSA to anybody who is interested in getting involved and taking advantage of the opportunities to support Pepperdine Graziadio and engage with current and future prospective students.
Where can students go to connect with GSAs and receive more information on becoming a GSA?
Cameron directs students to go to the GSA website to connect with a current GSA and learn more about the organization. On this page, students can view the requirements for applying to become a GSA member as well. Cameron points out in the video interview that GSAs represent all different programs at Pepperdine Graziadio, including the Full-Time MBA, Part-Time MBA, Bachelor of Science in Management (BSM), and much more. A listing of the current GSAs and their experiences can be found here.
By going to the GSA website, students can seek out GSAs that have similar interests by looking at each of the student profiles and connecting with the members via email. For more information on GSAs, reach out to graziadiogsa@pepperdine.edu. Overall, Cameron recommends students use their network at Pepperdine to get in contact with a GSA.
What are the impressionable traits of a GSA and how does one become a successful member?
As Cameron describes the traits of a GSA that come top of mind, he believes that truly anyone can become a GSA. An individual who wants to make the most out of their experience, desires to help people, and carries a sense of leadership all attribute to Cameron's perspective of an ideal GSA. Students who have the desire to get involved and gain exposure to the entire Graziadio experience should look into becoming a part of the GSA family. Just as Cameron has done so, GSAs continue to seek out more opportunities to get involved within the Graziadio community, expanding their network and meeting lifelong friends. Cameron mentions three key traits to becoming the best GSA member a student can be: a friendly personality, a compassionate spirit, and a genuine attitude to help support fellow peers.
Cameron's thoughts on how being a GSA will impact his future:
Joining the GSA family has not only given Cameron the ability to experience Graziadio at its fullest but given him the resources to grow his personal network to access post-graduation. He has continuously met people from outside his network through being a GSA, further enhancing his communication and collaboration skills as well as self-confidence. Beyond networking, Cameron has inherited many values along his GSA journey that have helped shape him into the person he is today and down the road. He has learned how to uphold the representation of a higher education institution as a leader – impacting Graziadio and students with his voice and opinions. As a GSA, Cameron has developed competencies that have set him up for success in his future career as well as cultivated a network that he can always rely on. Cameron tapped into Graziadio's exclusive community of thought-leaders and alumni – as he plans to join this lifelong community after he graduates in Spring 2022.
Cameron's advice for students looking to get more involved at Graziadio:
"Make the most out of your experience and go for it!"
Cameron goes on to quote Jon Koegler, Director of Full-Time Programs, Career and Professional Development at Pepperdine Graziadio, "you only MBA once." He mentions that there are so many ways to get involved at Graziadio including clubs, organizations, and resources available to guide all students – like GSAs. Cameron makes an important point that receiving a graduate degree is not just about studying but creating long-lasting relationships.
One of the biggest themes that Graziadio curates for students and something Cameron has taken advantage of during his MBA is to step outside one's comfort zone and explore the things they never considered before – turning dreams into realities.