National Hispanic Heritage Month: Maria Flores
Director of Global Programs at Pepperdine Graziadio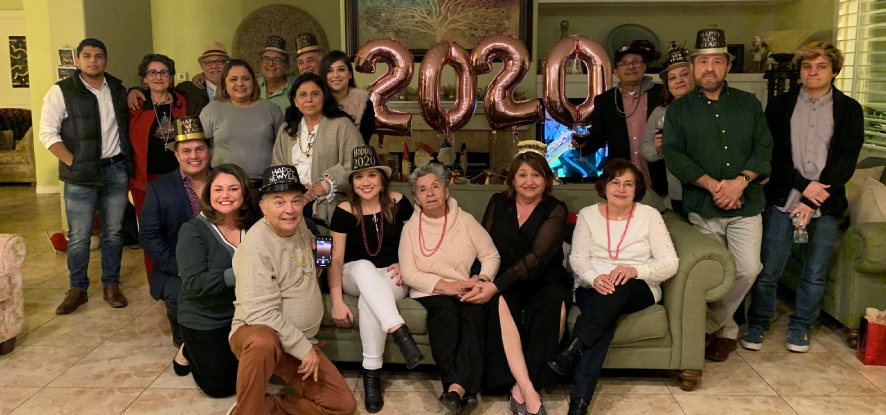 Share a little bit about your background:
I was born in Santa Ana, El Salvador and moved to Los Angeles with my mother and older sister when I was eight years old. I couldn't speak or write in English and I made it a point to get out of English as a Second Language (ESL) courses as fast as I could because I was an avid reader and wanted to learn how to read in English right away. While growing up, I visited El Salvador every two years or so during summer breaks to spend time with my father and my paternal grandparents.
At the time, I didn't realize how defining those summers would turn out to be as it gave me the opportunity to bond with my family, keep up with the Spanish language, Salvadoran culture and all the wonderful food! Many people don't know that I took a gap of six months between high school and college and spent that time in El Salvador, where I started to learn German, continued taking French courses, and worked on improving my written and spoken Spanish. In fact, when I was pursuing my degree in comparative literature at UCLA, I was able to focus on contemporary Latin American and German literature. As many of you know, I have the opportunity to travel the world and feel comfortable navigating different cultures, but when I start speaking in Spanish, I do feel another version of me emerges.
Do you and your family celebrate National Hispanic Heritage Month? If so, how do you celebrate?
Admittedly, we don't truly celebrate National Hispanic Heritage Month with my family. In a way, I feel we celebrate our heritage in our everyday lives through our food, customs, and the many excuses we create to have gatherings and honor different milestones in our lives. Our family is quite known for our epic parties, but due to the current pandemic, we have found ways to still keep close even though we can't all physically be in one space. For example, many of us continue to cook different dishes at home, and always make extra to drop it off at each other's households.
What does it mean to be Hispanic/Latinx?
To me being Latina is the epitome of family and legacy. I think my ancestors have paved the way for the life I have due to their various sacrifices. I have a very strong sense of family, whether by blood or my chosen family. I also think our actions can carry a lot of weight and constantly think of how I'm paving the way for future generations to come.
What does being part of Hispanic/Latinx community mean to you and your family?
The Hispanic/Latinx community is not monolithic but, instead, quite diverse. We are a mix of so many cultures from various roots ranging from indigenous, African and European, to identify a few. Additionally, the Hispanic/Latinx community speaks a variety of languages/dialects in addition to Spanish. Admittedly, I didn't grow up speaking any of the indigenous languages in Central America although some towns/city names derive from indigenous languages and I learned how to properly pronounce them. In addition to a variety of non-Spanish languages that are spoken in Latin America, the Spanish language can have various dialects, accents, and idioms depending on the country/region.
I actually find it fun to discover words that might have a negative connotation (or labeled as a "bad word") in one Spanish speaking country, while it's a very innocent word in another country. Needless to say, it makes for an interesting way to break the ice! Asides from the importance of the Spanish language as the common language in many of the Latin American countries, I think food is so vital and important. I love speaking to people from different Latin American countries and learning about their food. Now, if you get an invitation to come to their home and try a nice home-cooked meal, you know you are golden! Those moments of being in community are truly special.
What are some Hispanic/Latinx customs/traditions that are meaningful to you?
So many, but perhaps passing on family recipes from generation to generation and coming together to celebrate different milestones. There are so many family recipes that have been adapted over the years from great-grandmothers and we continue to make small tweaks here and there throughout the generations. Of course, these amazing recipes need to be shared in community, which gives us another excuse to host parties and gatherings throughout the year (except nowadays, of course).
Also, in El Salvador we don't celebrate Dia de los Muertos (Day of the Dead) like in Mexico--they have some beautiful traditions to honor their loved ones that have passed away. In El Salvador we usually go to the cemetery on El Dia de los Difuntos (Day of the Dead) which takes place on November 2nd every year, and it's an opportunity for us to come together as a family and place fresh flowers on our relatives' tombstones. Also, we usually go home and eat fiambre, which is a dish composed of cold cuts and pickled vegetables. Because most of my family is buried in El Salvador, I can't pay my respects in the usual tradition. Instead, during the death anniversary of a loved one, my family and I take the time to prepare their favorite meal and chat about shared memories.
What is a local Hispanic/Latinx business that you support?
Here is a very short list for now, but I'm still exploring and trying to identify more!
Metapan Restaurant (Salvadoran)
Rincon Criollo Peruvian Grill (Peruvian)
Versailles (Cuban)
Buenos Aires Grill (Argentinian)
Guelaguetza (Oaxacan, Mexican)
Taqueria El Tapatio (Mexican)
What is your favorite Hispanic/Latinx food or recommended food?
I actually embrace all sorts of Latinx food, and I eat a lot of Salvadoran food with family quite often. Of course, a street taco always hits the spot, and if you have ever tried a Salvadoran pupusa, well, you know that you can't say no to that delicious doughy goodness! El Salvador also has some amazing fully loaded soups, that for some reason we eat in the summer.
I enjoy tlayudas when I eat Oaxacan, Mexican food and you can't wrong with a Peruvian ceviche or their roasted chicken. I also enjoy buying good quality beef from an Argentinian restaurant or butcher shop. The list above gives you a good idea of my favorite Latinx cuisines!
Do you have a favorite Hispanic/Latinx family recipe to share?
Salvadoran food can be quite complicated, and most traditional recipes take hours to prepare. My favorite thing to prepare is chile relleno, but not with cheese, but with picado (pork stuffing). Here is a recipe that can give you the base: (you can have it translated into English through Google Chrome). The changes I would make are the following:
Instead of ground beef, my family and I use pork loin chopped into small cubes for the picado (stuffing)
Omit green beans, the mixture will get mushy when sauteeing together for the picado (stuffing)
If you are into the savory and sweet combination, I would add raisins to taste to the picado (stuffing)
When preparing the chiles (bell peppers), I don't dip them in oil, but instead, I roast them in the oven and then peel the skin off; this will give the chiles a little smoky flavor
What's your favorite Hispanic/Latinx song or type of music?
I love all sorts of music, and that is not an exaggeration! Growing up, I was very much into the rock en espanol (Spanish rock—new wave and grunge). Of course I grew up listening to cumbia, salsa, and merengue. In my 20s, I discovered bachata at a club in Boston out of all places. My favorite music tends to have strong percussion that stem from African nations, such as Afro-cuban son/salsa. Here's a short list of favorite songs:
Cuando Pase el Temblor, Soda Estereo (Argentinian Rock)
La Pollera Colora, Aniceto Molina (Colombian Cumbia)
Yamulemau, Joe Arroyo (Colombian Salsa)
La Cosquillita, Juan Luis Guerra 4.40 (Dominican Republic Merengue)
Do you have any closing thoughts or comments?
First of all, thank you for the opportunity to share my story, heritage and my experience growing up Latina. I think the most important takeaway from this is that the Hispanic/Latinx community is so diverse, composed of different languages/dialects, countries, customs, traditions, food, etc. Oftentimes, people assume that because I speak Spanish or because my last name is Flores, that I am from Mexico. I take it as an opportunity to share my background and heritage, but it does get "old" when people constantly make those assumptions about me. If you ever want to practice your Spanish, I'm happy to chat with you!