Waves Rise Together: How Graziadio Students are Radiating Light in Dark Times
In times of darkness, the strength of selfless individuals becomes apparent as they radiate a guiding light that cuts through the thick of the dark, reminding us all what it means to be human. At Graziadio, nothing brings greater joy than seeing our students exhibiting what it means to be a Best for the World Leader, manifesting lives of service, purpose, and leadership. It is with much pride that we highlight three of our current Part-Time MBA students, each contributing acts of selflessness during the COVID-19 global pandemic and putting the needs of others before their own. We're proud to recognize them for their hard work and hope that others will find inspiration to follow their lead.
Rachael Wendel
Volunteer Grant Writer, Strategic Kids Fund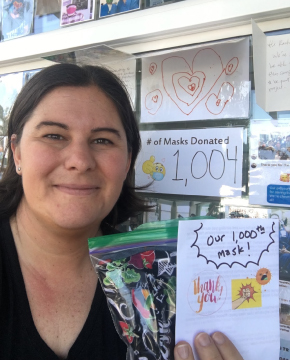 For Rachael Wendel, community service is at the core of her mission. With a diverse career background from marine biology and education to non-profits, she is highly passionate about sharing her knowledge and skills to create positive change. After a life-altering car accident in late 2015, she was left unable to work, but never lost her passion for giving back. When the COVID-19 pandemic hit, she immediately saw an opportunity to help using principles she learned from the Pepperdine Graziadio MBA program.
She began assembling a team of enthusiastic volunteers, including her friends, Karen, Nancy, Jack, Tim, Daun, and Lara, as well as others, who all donated and assisted with secretarial tasks. By combining all of their skills, they formed a well-rounded team, and with the help of medical professionals, designed and created high-quality fabric masks. Today, Rachael and her group have donated over 1,500 masks and counting. Recipients have been as diverse as the patterns used to create these gorgeous masks, ranging from nurses, therapists, and food pantries to animal shelters, grocers, nursing homes, and other non-profits.
In place of contributions to Rachael and her mask efforts, you can have the unique opportunity to pay it forward and donate to the Strategic Kids Fund to provide underprivileged youth with a more positive future. Rachael and her team hope that you can join them in discovering the joy in serving others and will step outside of your comfort zone to help those in need.
Majken Sumicad
Registered Nurse, Evaluation and Treatment Center
City of Hope Cancer Hospital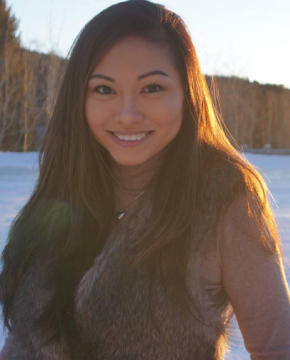 Majken was born in the Philippines and grew up in the beautiful island of Guam. Most members of her family predominantly work in the medical field, so it only felt natural for her to choose nursing as a profession. After receiving her Bachelor of Science in Nursing from the Adventist University of the Philippines in 2007, she began her nursing career at Loma Linda Medical Center. Today, Majken works as a charge nurse at City of Hope's equivalent of an emergency department, a comprehensive cancer center catering to the oncology patient population.
As a frontline healthcare worker, the COVID-19 pandemic has "upped the ante" into what is already a physically and emotionally taxing career. However, despite the daily challenges Majken faces, she (as she should) is proud to be part of a strong team and profession that remains resilient in the face of crisis, standing loyal to their calling in faithfully serving those in need of medical care. She aims to use her MBA degree towards a leadership role that would positively impact the nursing field. Experiencing these current challenges has inspired her to explore and come up with more effective solutions for healthcare institutions to foster more positive values while upholding medical professionals' integrity, especially amid crisis management.
Heather Nakamura
Assistant Store Director, Gelson's Markets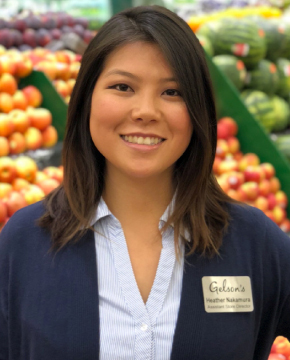 Growing up in Santa Clarita, Heather decided she wanted to venture out from her hometown and went to Cal Poly Pomona for college. She earned her bachelor's in business administration with an emphasis in marketing management and human resources. Heather proudly works for Gelson's Markets, with an outstanding tenure of 11 years and counting. She started from humble beginnings as a clerk's helper, transitioning into the marketing department as a marketing coordinator and marketing manager. She is currently working back at the store level as the Assistant Store Director.
Being in her current role during a global pandemic undoubtedly became a unique and challenging experience. When it first began, her store's priority was making sure the customers and community had everything they needed in a time of uncertainty. They made sure they're shelves were stocked by placing quantity limits on higher demand products and increasing their deliveries. Gelson's remained one of the only businesses left open in her community and was moved to calm the masses. Heather proclaims that this is not something any retailer would ever think they would have to deal with. It has challenged her emotionally, physically, and mentally, but she resides with her team and knows that their efforts are the best for the communities they serve.