Best for the World Leadership is Servant Leadership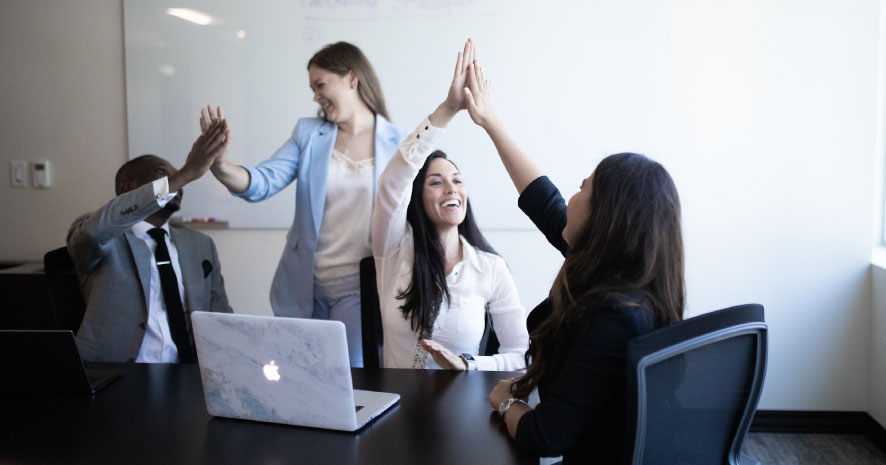 Servant leadership, for some, is a term that reflects a set of guiding values—influencing behavior and the types of decisions made in various situations. For others, servant leadership is seen more as an immediate action—doing instead of saying and finding ways to make an impact in real-time.
In either capacity, servant leadership is positive—instilling the philosophy behind integrity, doing what's right, every time, especially when no one is looking.
As it relates to the world of business, servant leadership takes various forms. Organizations like Patagonia take an activist approach to their business model—promoting people and the planet. Others, such as Bombas, use their values to guide their business model—utilizing the Donation Behavior Model (DBM) to instill the doctrine of "give what you get." Even further, organizations such as Graziadio use servant leadership as a strategic road map to influence the overall mission and vision of the school.
Whatever the model, it's fair to say there is currently a significant uptick in stewardship in the marketplace. But why is servant leadership becoming more prominent? And what's fueling the rise of this critical principle?
Throughout this feature, we'll explore some potential factors fueling this uptick, share a few examples of servant leadership at its best, and provide food for thought that could benefit any business or organization.
Changing Tides Require Adaptable Strides
As businesses expand their footprints or touch the ground for the first time, leaders at the helm must decide how to do what is expected—lead. As the world needs change, businesses must consider how they want to change alongside it. This can encompass a myriad of things, including their position(s) on various social, political, and economic dynamics within global business.
Whether it be shifting focus on expanding the offering of green careers to combat climate change or providing viable solutions to address systemic issues through workforce programs, it appears some decision-makers are focusing on servant leadership as a central tenant in their business models. Why? Because there's a growing need.
Ethical Business is Good Optics
For decades, businesses (at times) used publicity stunts (donations, gifts, etc.) to deter negative press that stemmed from a poor decision made on their behalf. However, many of today's business leaders understand that leading with a servant attitude is superb optics and the right thing to do. This isn't to say businesses should consider servant leadership as a tenant only to cultivate positive PR, but rather state a point that if companies do what's right, it will cause others to take notice.
Generations of Today Demand Change
A popular adage goes, "if you want something done right, you have to do it yourself." While this may not be true in every scenario, for some, creating change starts from within. Think of someone like Greta Thunberg, the notable climate activist from Sweden who has sparked waves of change for her generation. She took matters into her own hands when no one else was demanding change, and while it seems change may not be coming soon enough, her actions have helped drive forward activism globally.
The takeaway is to avoid practicing "the bystander effect". Do not assume others will fix our problems; it takes us all to create lasting change.
Embodying Best for the World Leadership
Now that we've explored a few potential factors contributing to the rise of servant leadership, we'll take a closer look at those who embody this principle daily.
Founded by a theologian family, African Bible College has nearly 800 graduates serving in a broad spectrum of Christian ministries. It is proving to be a key component in the evangelization and transformation of Africa. Dr. Paul Chinchen, ABC's president, unexpectedly passed away last month.
DonorSee's mission focuses on providing the world's poorest with the help, dignity, and human connection they need to thrive. Their belief in the power of community is how they focus on creating lasting change.
For all the animal lovers, the Humane Society focuses on ending suffering for all animals, a critical initiative that people often forget.
World Vision is a global Christian humanitarian organization operating in nearly 100 countries, partnering with children, families, and their communities to reach their full potential by tackling the causes of poverty and injustice. They partner with hundreds of corporations and small businesses to provide CSR business solutions that are good for the world and good for the bottom line. Alumnus Russ Shumaker (MBA '18) speaks to World Vision's critical initiatives and how it directly emulates Best for the World Leadership.
Animal Sanctuaries
While there are too many to list (which is a good thing), animal sanctuaries critically embody the servant leadership attitude of "being a steward of the earth". Finding a local animal shelter or sanctuary to volunteer in your community (whether through a monetary donation or a helping hand) is always needed.
RecycleForce is a mission-first organization that helps at-risk and at-need individuals reintegrate into the workforce and society. Helping tackle issues of homelessness, environmental justice, and more, RecycleForce embodies the spirit of Best for the World leadership daily.
Food for Thought: Servant Leadership isn't a New Concept
Today's environment instills a culture of accountability, partly stemming from the rise of social media, the internet, and technology altogether. While servant leadership may be on the rise, it's critical to note that it isn't a new concept—it's simply gaining more traction because it's prevalent how badly the world needs it. Its rise is crucial and should continue to drive organizations and businesses to consider how and why they should lead in a way that benefits the planet, people (animals too), and profit.
If one is truly going to identify themselves as a Best for the World Leader, servant leadership needs to be at the core of everything. Actions speak louder than words, and servant leadership is critical—the time is now to act.