Distinguished Alumnus and Student Speaker Honorees
Graziadio Commencement
The Distinguished Student Award and student speaker represents the highest honors the Graziadio School bestows upon an individual. During each commencement ceremony, the awards are presented to distinguished leaders and luminaries who have achieved preeminence in academia and business. The honoree delivers the keynote addresses at graduation and shares their insights and guidance with the business leaders of tomorrow.
Summer 2017 Commencement Student Speaker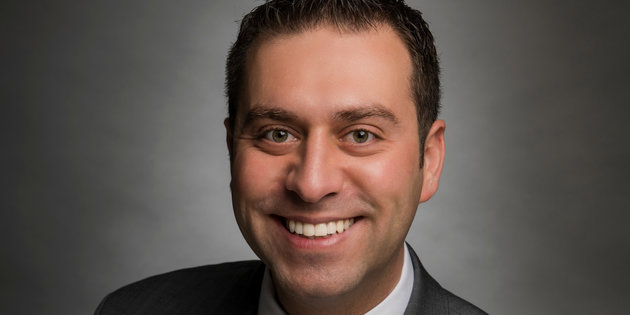 Giuseppe Nespoli
2017 Summer Commencement Student Speaker
Giuseppe (Joey) Nespoli was born and raised in Southern California by an Italian immigrant father and a second-generation Italian mother. He has been connected to Pepperdine University since he was an infant when his father would walk him around Alumni Park after taking his mother to work each day.

Giuseppe graduated from Seaver College in 2004 with a B.A. in economics, then he moved to Washington, D.C., to begin a career in politics. After experiencing two campaign cycles and learning what not to do as an elected official, he returned home to alma mater to develop alumni programming around the world.
In 2010, he entered the world of fundraising for the Graziadio School where he met MSOD alumni who eventually recruited him to join the life-changing graduate program. Now, he serves the undergraduate students, raising funds to benefit Seaver College scholarships, research, international partnerships, and financial training programs.
As an MSOD student, Giuseppe traveled the world exploring cultures, learning theory, and putting that theory into practice with consulting projects in D.C., France, Chile, and China. His classmates became teammates and are now lifelong friends.
He shares his organization development knowledge with undergraduates when invited to lecture in classes and workshops on interpersonal skills, team building, emotional intelligence, conflict management, and vocation. This fall, he will teach a course at Seaver College on financial development for non-profit organizations.
Of all the relationships he values--from classmates to colleagues at Pepperdine University--Giuseppe was blessed to meet and marry another Pepperdine alumna, Minda ('06) in 2014. They reside in Santa Monica, California, with no pets or children... yet.

Past Honorees
2006
December 2006
Distinguished Alumnus
Richard D. Cordova, President and CEO, Childrens Hospital Los Angeles Video
Honorary Doctorate of Laws
Wesley G. Bush, President and CFO, Northrop Grumman Corporation
Duane Denney, Vice President and Director, Corwin D. Denney Foundation
August 2006
Distinguished Alumna
Gloria L. Austin, Chief Executive Officer, Brown & Toland Medical Group Video
Honorary Doctorate of Laws
Michael C. Kuan, Founder and Managing Partner, Strategic Impact Group
April 2006
Distinguished Alumni
Marco G. Maimone, Founder and President, Marco's Auto Body, Inc.
Lillian C. Maimone, CEO, Marco's Auto Body, Inc. Video
Honorary Doctorate of Laws
Thomas V. McKernan, President and CEO, Automobile Club of Southern California
2007
December 2007
Distinguished Alumna
Forescee M. Hogan-Rowles, President and CEO, Community Financial Resource Center Video
Honorary Doctorate of Laws
Roger Ailes, Chair and CEO, FOX News; Chair, Fox Television Stations
August 2007
Distinguished Alumnus
Arif Shakeel, Former CEO and Director, Western Digital Corp.
Honorary Doctorate of Laws
Foster Friess, Founder, Friess Associates
April 2007
Distinguished Alumni
Robert C. Marshall and James R. Marshall, Co-founders and Managing Directors, Selby Venture Partners Video
Honorary Doctorate of Laws
Eli Broad, Founder and Chairman, SunAmerica Inc. and KB Home Video
2008
December 2008
Distinguished Alumnus
Luis Faura, PKE MBA '04, President and Chief Operating Officer, C&F Foods Inc. Video
Honorary Doctorate of Laws
Wolf Hengst, President, Amala Holdings and Consultants; Former President of Worldwide Operations, Four Seasons Hotels and Resorts Video
August 2008
Distinguished Alumna
Melody Mayberry-Stewart, MBA '83, Chief Information Officer, New York State Video
April 2008
Distinguished Alumnus
Alejandro Bustamante, MBA '82,President, Plantronics Mexico (PLAMEX)
Honorary Doctorate of Laws
Bonnie McElveen-Hunter, Owner and CEO, Pace Communications Video
2009
December 2009
Distinguished Alumna
Susanna (Poon) Kass, MBA '88, Chief Operating Officer, Trilliant Inc.Video
Honorary Doctorate of Laws
Anne Sweeney, Co-Chair, Disney Media Networks and President, ABC/Disney Television Group Video
August 2009
Distinguished Alumna
Fiona Ma, MBA '00, Majority Whip, California Assembly 
Honorary Doctorate of Laws
Bob Eckert, CEO, Mattel 
April 2009
Distinguished Alumnus
John Figueroa, MBA '97, President, McKesson U.S. Pharmaceutical Video
Honorary Doctorate of Laws
Mark Burnett, TV Producer, "Survivor," "The Apprentice," "Are You Smarter Than a 5th Grader" Video
Roma Downey, Emmy and Golden Globe nominated actress, "Touched by An Angel" Video
2010
December 2010
Distinguished Alumnus Award
T. Kendall Hunt
Founder, Chairman of the Board, and Chief Executive Officer
VASCO Data Security International, Inc.Video
Honorary Doctorate Laws
Dr. Craig and Barbara Barrett
Former CEO, Intel; and Former Ambassador to Finland Video
Student Speaker
Dan Sanders
President, ACME Markets Video
August 2010
Distinguished Alumna Award
Lynn Powers, President and Chief Executive, Gaiam Inc. Video
Student Speaker
Matthew Brewer, Controller, California Institute of Technology Video
April 2010
Distinguished Alumnus
Dave Bowman, Vice President and General Manager, Boeing Integrated Defense Systems Video
Honorary Doctorate of Laws
Carl J. Schramm, President and CEO, Kauffman Foundation Video
2011
December 2011
Distinguished Alumni Award
David T. Feinberg, M.D., MBA '02
President, UCLA Health System
Chief Executive Officer, UCLA Hospital System
Associate Vice Chancellor, UCLA Health Sciences   Video
Honorary Doctorate Laws
Paul N. Hopkins
Retired Chairman of Farmers, Group, Inc.
Retired Chairman of the Americas for Zurich Financial Services  Video
Student Speaker
Gabriel Crecion
Executive Master of Business Administration
The First American Title Company Video
August 2011
Distinguished Alumni Award
Bernard Kinsey
MBA 1973
President and Founder
KBK Enterprises, Inc. Video
Honorary Doctorate Laws
Richard G. Newmanrong
Chairman of the Board
AECOM Technology Corporation Video
Student Speaker
Scot J. Hutton
Bachelor of Science in Management
United States Marine Corps. Video 
April 2011
Distinguished Alumna Award
Robin Washington
Senior Vice President and Chief Financial Officer
Gilead&nbspSciences, Inc.Video
Honorary Doctorate Laws
Dan T. Cathy
President and Chief Operating Officer
Chick-fil-A Video
Student Speaker
Gina Warren
Graziadio Emerging Leader Video
2012
December 2012
Distinguished Alumni Award
Britta Wilson, Executive MBA '92
Vice President of Human Resources, Paramount Pictures Corporation Founder, Video
Honorary Doctorate of Laws
William McMorrow
Chairman and CEO, Kennedy Wilson, Video
Student Speaker
Linda LoRe, PKE '12
CEO and President, The Engagement Principle LLC, Video
August 2012
Distinguished Alumni Award
Jeff Sprecher, MBA '84
Founder, IntercontinentalExchange (ICE), Video
Student Speaker
Jack Schlafer, MSOD '12
Principal Program and Change Manager, Microsoft, Video
April 2012
Distinguished Alumni Award
Lore Harp McGovern, MBA '81
Director, McGovern Institute for Brain Research at MIT
Director, GoFish Technologies Inc.
Chairman Emeritus of the Board of Associates of the Whitehead Institute for Biomedical Research at MIT, Video
Student Speaker
Kevin Streeter, BSM '11/MBA '12
Director, Ambulatory Surgery Center at Saint John's Health Center
Retired U.S. Navy Veteran, Video
2013
December 2013
Distinguished Alumnus Award
Zack Hicks, BSM '97
Chief Information Officer, Toyota North America, Video
Commencement Speaker
Stevan Calvillo
Attorney at Law, Calvillo & Meyer, LLP, Video
Student Speaker
Margaret Stonestreet
Fully Employed MBA, Video
August 2013
Distinguished Alumnus Award
David W. Neu, PKE MBA '09
President, AmerisourceBergen, Video
Honorary Doctorate of Laws
Gary D. Burnison
CEO, Korn/Ferry International,Video
Student Speaker
Rui "Alice" Wan
MS in Applied Finance, Video
April 2013
Distinguished Alumni Award
Blake Irving, MBA '88
CEO, Go Daddy Video
Honorary Doctorate of Laws
Al Plamann
CEO, United Grocers, Video
Student Speaker
Thomas Mitchell, MBA '13
Full-time MBA, Video
2014
December 2014
Student Speaker
Kenny Roberson
MS in Applied Finance
Kendrick (Kenny) Roberson hails from Carson, California in the County of Los Angeles. Having first attended El Camino College, Mr. Roberson attained an Associate's Degree in the field of Economics. During his time at El Camino College, Mr. Roberson was a winner of a nationwide competition hosted by NASA, granting him the honor of National Aerospace Scholar. He has also taught college mathematics, and is currently employed by the Los Angeles Air Force, Space and Missiles Systems Center, where he helps estimate the cost of satellites. 
After transferring to Pepperdine for his undergrad, Mr. Roberson was a member of the Debate team, Director of the Genesis Gospel Choir, a transfer mentor, and a host of Songfest. In 2013, he achieved his Bachelor's Degree in Economics, and was accepted into the Master of Science in Applied Finance program at the Graziadio Business School.  Kenny was involved in many events during his stay at Graziadio, and also enjoyed being a member of the Finance Club. 
Mr. Roberson hopes to use the knowledge gained from his MSAF degree to open his own wealth management firm. He understands that the future will require that he accomplish even more formidable tasks, and welcomes the manifold challenges.