MBA Entrepreneurship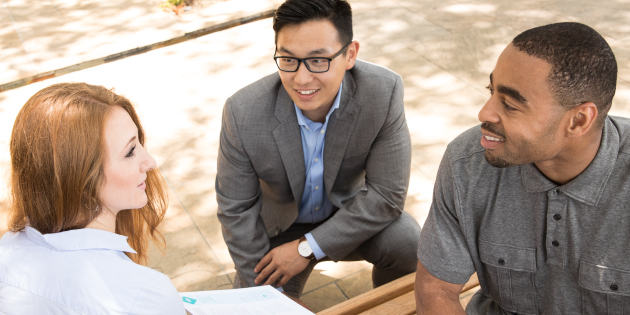 Entrepreneurship MBA
Available to 15- and 20-Month MBA Students
Entrepreneurship is, at its core, a creative activity. It involves starting a new venture with an innovative idea — frequently for a market that currently does not exist. As a result, the entrepreneurship concentration at the Pepperdine University Graziadio Business School is built upon MBA courses designed to help you tap into your creativity, and then translate your vision into a real business that not only produces wealth, but allows you to express your personal values.
Your first step includes two MBA courses to assist you in discovering your own brainchild - a personally compelling venture idea with large market potential. These are followed by three MBA courses to help you flesh out a business model that will generate profits, build your organization, and make a connection with your market.
Your final step is a course that pulls it all together, resulting in a business plan that you present to a panel of angel and venture capital investors.
Required Entrepreneurship MBA Courses
ENTR 661 and ENTR 662 must be taken in sequence and precede the other courses. ENTR 663, ENTR 664, and ENTR 665may be taken concurrently or in any order but are best taken in sequence starting with ENTR 663, followed by ENTR 664, and ending with ENTR 665. ENTR 667 is a capstone course which must be taken upon completion of the other five courses.
Students who complete the Entrepreneurship concentration and produce a business plan (as part of the course requirements for ENTR 667) that adequately addresses the SEER macro-values (as determined by the SEER Committee) will have satisfied the course requirements necessary for the Certificate in Socially, Environmentally, and Ethically Responsible Business Practice. All Entrepreneurship courses (i.e. ENTR 661, ENTR 662, ENTR 663, ENTR 664, ENTR 665, ENTR 667) are SEER certified, and the capstone course for the Entrepreneurship concentration (i.e. ENTR 667) is a pre-approved substitute for STGY 645 as the final required course for the SEER certificate. In addition to completing all the SEER certified courses, students must also meet designated service requirements to earn the Certificate. Further information on the service requirement can be found in a different section of this catalog specifically pertaining to the SEER Certificate.
| Course No. | Course Title | Units | Suggested Term |
| --- | --- | --- | --- |
| ENTR 661 | Entrepreneurship and the Generation of New Venture Ideas | 2 | Fall Session A |
| ENTR 662 | The Feasibility of New Venture Ideas | 2 | Fall Session B |
| ENTR 663 | Financing Entrepreneurial Ventures | 2 | Spring Session A |
| ENTR 664 | Managing Entrepreneurial Ventures | 2 | Spring Session A |
| ENTR 665 | Marketing Entrepreneurial Ventures | 2 | Spring Session A |
| ENTR 667 | New Venture Creation | 2 | Spring Session B |
* Please note that this sequence is for 20-month MBA students. Since a specific course sequencing is required, other Full-time MBA students desiring a concentration in entrepreneurship must speak with their program advisor before the start of the fall term of their first year. This includes all 12- and 15-month students.