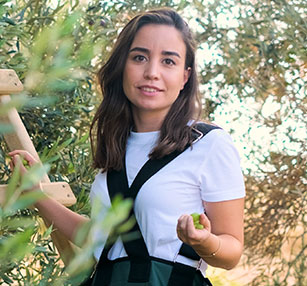 Ece Er, MBA '18
Founder, Olizzi Olive Oil & Superfood
What was the inspiration to start this business?
"After completing my primary and secondary education in the Mediterranean-scented classes of Izmir, I studied Industrial Engineering at METU in Ankara and then moved to Istanbul. I was lucky to breathe in the air of all three major cities of Turkey, and got into marketing in the fast-moving consumer goods sector at Coca-Cola. After 5 years in Istanbul and a great work experience, I moved to Los Angeles to study MBA at Pepperdine University. During my studies, I worked for the USA's biggest catering reservation platform, Roaming Hunger, as a part-time strategy consultant.
Growing up, I learned from my family that extra virgin olive oil is a miracle. My dad, who is a surgeon, says high-quality olive oil is both a food and a remedy. Mom, who is a food engineer, taught me how to embrace healthy fats in my diet and why we need them. So I decided to pursue this! Being an industrial engineer dedicated to responsible and sustainable production; I learned what it takes to produce the best olive oil!
I strongly believe that "You are what you eat". There is no stopping me when it comes to good food; be it in Istanbul, Los Angeles or anywhere in the world! Wherever I travel, the first thing I look into is the best food spots and only after then, sightseeing.
That's why I am very passionate about olive oil – the ultimate superfood and the best ingredient of all – and all the superfoods that work miracles in our bodies!
As a Mediterranean country, Turkey has great potential in agricultural products, yet we are not performing this potential because our producers underestimate the value of marketing and branding. As a marketer, I decided to get into this beautiful and delicious business, and started selling the best quality Turkish olive oils under the Olizzi brand, which I started during my studies in Pepperdine."
How did your entrepreneurship classes help to move your business forward?
"Not to mention all the tools and knowledge we gained, my MBA at Pepperdine has played a major role in Olizzi's existence. I practically made use of the classes I took from our valuable professors. I chose to come to the USA, and chose Pepperdine to start my business. I did not know what it was going to be. Dr. Cox's classes helped me come up with ideas. At the end I found myself launching an olive oil line.
However, as a foreign student, I also received so much help from my classmates. For example, at first I was using another name for my brand. Upon pitching the brand several times, I discovered that my classmates were not able to pronounce the name as it was Turkish. I immediately worked on new names and carried out a poll. That's how I decided to go forward with the name Olizzi, it was the result of my classmates and several other friends."
What have been the challenges you've faced so far?
"There have been, and there are still ups and downs. I started my business in 2018, then establishing the brand and getting into production took more than a year. My plans did not go the way I wanted. My priority was to sell on Amazon, and I couldn't verify my account due to address change for more than 8 months. Those times were very depressing and I couldn't travel to the US either, due to COVID. Then I decided to sell in Turkey. That was a major milestone, because after that, I practiced everything in Turkey first, learned, and then applied in the USA. From new products to packaging, Turkey was easier for me to implement and experiment. Now our products are available in Turkey, Japan and the USA with 4 different products and various package alternatives. We have won taste awards from worldwide prestigious competitions within the last 2 years for our superior taste. Olizzi Baby Organic - a special olive oil for babies - has been the best seller in Turkey in online sales within 6 months after its launch."
What is your hope for the future of your business?
"Olizzi provides value-added and curated superfoods to the people who care about what they eat. Starting off with the ultimate superfood, extra virgin olive oil, we are expanding our product portfolio in Turkey, Japan and the USA. My goal is to add more superfoods in practical and environmentally friendly packages to the people of the world."
Why should someone choose Pepperdine Graziadio for their MBA?
"Whether you have a business idea or not, if you choose Pepperdine for MBA and do the Entrepreneurship concentration, you will finish your degree with a solid business plan and actionable to-do's - if you really want to go this way, and focus on creating a meaningful business. You should choose Pepperdine Graziadio for your MBA for the great network, quality of education, sincere and to-the-point help from career coaches, and once again the great network that you will belong to after you graduate."