Three MBA Students and One Experience for a Lifetime: E2B with the Grand Central Market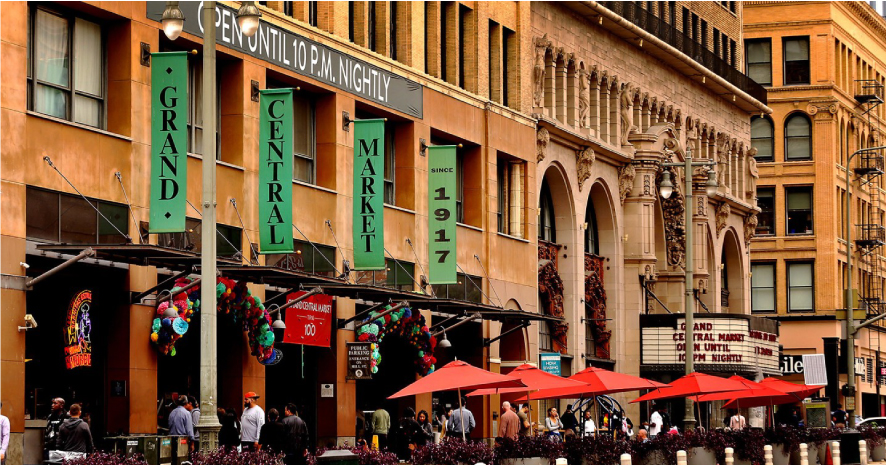 It's one thing to learn in a classroom – it's another to apply the classroom directly to the real world. Through Pepperdine Graziadio's integral Education to Business (Pepperdine E2B™) program, participating students go beyond theory to act as consultants to leading executives at notable organizations. In this high-impact course module, students are able to address complex issues facing global powerhouses, regional brands, and startups. In the case of current MBA students, Atalie Oliva, Cristina Iraheta, and Sasha Nicole, they were able to take on Los Angeles' most iconic landmark, the Grand Central Market.
The Grand Central Market in Downtown Los Angeles, established in 1917, represents a key part in LA's history and is woven into the fabric of what makes the city of angels truly unique. The market brings in local vendors and LA owned businesses to one central hub, where customers can explore, taste, and discover the vibrant energy of LA. In their MBA marketing class, led by faculty member Jeffrey Brunell, students were able to dive deeper into the market, understand its operations, and propose new business strategies to help it overcome its current organizational challenges.
Working alongside the company's leading executives, Atalie, Cristina, and Sasha provide their first-hand insights on their key takeaways – and how the E2B program made an impact on their Part-Time MBA experience.
Questions:
1. What drew you to attend the Pepperdine Graziadio Business School?
Atalie: I was attracted to the mission statement and the global focus of the school. It's important to me to be of service to others, which goes beyond all 50 states.
Cristina: As a Christian woman, I wanted to join a program where I could participate in spiritual activities and get an exceptional education. When I saw their mission and slogan, Best for the World Leaders, it immediately resonated with my core values of servant leadership. The program class size was also essential to build more intimate relationships with my colleagues and professors.
Sasha: The opportunity to challenge myself in areas I had not studied prior, and become more business oriented drew me to the Pepperdine Graziadio Business School.
2. Through our E2B program, you were all connected to personally work with the Grand Central Market (GCM). Please detail your project and its main objectives?
Atalie: The E2B project required us to play the role of consultants to the owners of Grand Central Market. As a Los Angeles native, it was exciting to work with these clients and get first-hand experience utilizing my newly acquired business acumen. The main objectives were increasing global brand recognition, driving revenue, and maximizing the current space of the market.
Cristina: The iconic Grand Central Market hired us as consultants to develop marketing and sales strategies ​​to increase brand awareness and create alternate revenue streams. We analyzed their brand portfolio and financials to recommend three strategies that we felt aligned with their brand heritage and opened the door to new markets. We had meetings and site visits with the GCM executives throughout the trimester and then we presented our final pitch.
Sasha: Our project presented a deep analysis of the demographic make-up of GCM's customer base in Los Angeles. We developed strategies that aligned with each segment and targeted their needs and interests specifically. In all, our recommendations were developed using real data, while keeping the history and culture of GCM in mind throughout our recommendations.
3. Through our E2B program, you were all connected to personally work with the Grand Central Market (GCM). Please detail the purpose of your project with the GCM and the main initiatives you needed to execute on?
Atalie: The purpose of our project was to help amplify the legacy of the market as the "Tastemaker Central'' with new offerings such as a chef-in-residence, increased social media presence, i.e., Tik Tok), and unique local partnerships. Our group visualized GCM as a family-first, multimedia, and food-first experience. We suggested that GCM focus on the historic Latin history of the market and the large Latino millennial community that resides within the area. These initiatives would help build increased brand awareness and draw more visitors.
Cristina: The purpose of the project was to recommend new, creative solutions to their current offerings. They were looking for ideas on maximizing an attached event space, new marketing channels and content to invest in, revamping their merchandise and e-commerce shop, and building new partnerships within the Downtown LA area. We had to research their target markets and competitive landscape to conduct an extensive internal analysis of their current offerings and make the best recommendations that stayed within the project scope budget. We also created quantifiable metrics, a marketing calendar, and a budget plan for our recommendations.
Sasha: Through our project we aimed to help GCM take their offering to the next level, and utilize their existing resources to bring in more customers. For example, GCM has been around for decades as a staple landmark in downtown Los Angeles. Everything from the vendors to the building brings a rich history and many stories to share. Knowing from our research that tourists are a huge percentage of the customers GCM sees, we brought all these elements together to develop a GCM tour focused on Food and History. Our strategy was based on figuring out the main pillars of GCM's offering and expanding them into ideas that could be easily executed, while staying true to the GCM brand.
4. How did experiencing the GCM first-hand help with your project and make client recommendations?
Atalie: After the visit, our recommendations were better tailored to what we experienced and what the client needed. We had a chance to see the market through a consumer, client, and consultant lens. Overall, we could capture more what the needs were and the current status of the market.
Cristina: Visiting GCM with different lenses was fun and helped me understand the space and client better. It allowed me also to take pictures that we were able to incorporate into our paper with mock-up designs for better visualization. Also, getting the information directly from the client as well as hearing their passion and excitement as they showed us their space made me feel more connected to the project, which led to more creativity.
Sasha: Working with the client directly provided the ability to present options and get feedback in real time. I enjoyed learning more about their internal plans for GCM, and feeling like I could potentially make a difference with my ideas.
5. What were some key takeaways from working with the Grand Central Market?
Atalie: The key takeaways are that market segmentation and research of the competition is essential for client success. Understanding the legacy of the market, current acquisition, and community will help provide valuable recommendations. The client should feel that you've done your due diligence through your market analysis.
Cristina: One key takeaway was the importance of protecting a brand's heritage. Grand Central Market has been around since 1917, and they thrive because they have remained true to their brand identity that customers love. Also, asking questions was very important as we learned that many of our ideas had already been tested,in the works, or there were things we could not change in the iconic space. We were able to overcome these challenges early on by asking lots and lots of valuable questions.
Sasha: GCM was a fantastic client to work with because of their dedication to the market and their willingness to grow into new areas of business such as their apartments and theater. Working with a client that is open to new ideas and testing the waters is always ideal – and GCM taught us that it's important to both build a solid foundation with loyal customers, but also expand into new territories to attract more business.
6. Would you consider doing another E2B project again? Why?
Atalie: Yes, I love getting a chance to work with a client directly and getting real-life experience while still in school. This type of experience helps better prepare for future endeavors and makes me more marketable post-graduation.
Cristina: Absolutely! I am a natural problem solver, and I enjoy deep diving to restore, resolve, enhance or implement a new strategy. The E2B project allowed me to gain real-world experience and opportunity to develop a plan for a current business's challenge. Knowing that one idea could potentially be implemented and make a difference in their business is an honor. This was a great learning experience as I plan to pivot to consulting post-graduation.
Sasha: Definitely! I work on brand partnerships and with clients all the time in my career and I think this experience is great practice for real-life conversations. I enjoy consulting, researching, building strategy and presenting new ideas to companies in order to improve their business and help them reach KPIs.
7. How has the E2B program impacted your graduate school experience?
Atalie: It has been one of my highlights of the program because we could visit GCM and communicate with the client on-on-one. It went beyond my expectations of what I thought I would be learning in graduate school. It was also fun to spend the day with the professor and classmates!
Cristina: E2B has been one of my favorite projects to work on. I knew we would be working hands-on with a company, but I did not think it would be such an exciting challenge. The experience was valuable, and the networking afterward surpassed my expectations. This project was a capstone of everything we had learned thus far, and it enhanced and positively impacted my Graziadio graduate school experience.
Sasha: It was a valuable experience to work with a client who is focused on food, beverage and hospitality as my prior experience has been with e-commerce and entertainment brands. I feel this experience helped open my eyes to a new way of thinking about strategy, and provided me the opportunity to take my past experience and apply it to a new field. Overall, the E2B program was a great opportunity to utilize what I have learned so far at Pepperdine Graziadio and apply it to a real world situation.
About the Authors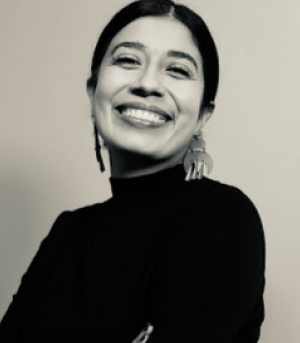 Atalie Oliva
Program: FEMBA
Field of Interest: Human Resources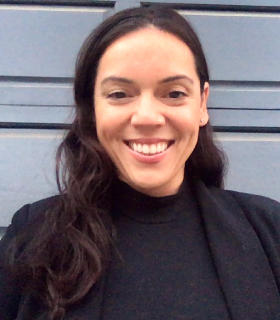 Cristina Iraheta
Program: FEMBA
Field of Interest: Consulting, Strategy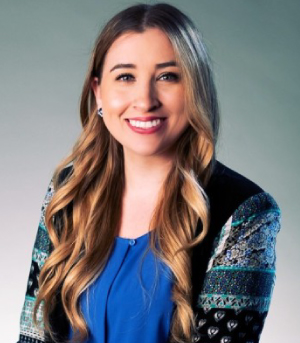 Sasha Nicole
Program: FEMBA
Field of Interest: Diversity and Inclusion, Strategy