The Building Blocks of Success: Yassi Youdai (MS '20) Details Her Experience in Graziadio's Master of Science in Real Estate Program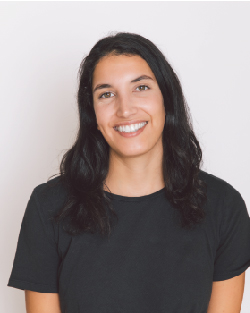 When referring to the "building blocks" of success, some may picture building a house. Finding the perfect patch of land, establishing a solid foundation, and piece by piece, creating your vision of an ideal home.
For Yassi Youdai (MS '20), a former student in Graziadio's Master of Science in Real Estate program, the building blocks of success came through her academic journey and internship experience—later budding into a full-time career opportunity.
Yassi's initial draw to Pepperdine came from the desire to be part of a tight-knit values-based community offering small class sizes and intimate relationships with professors. Much to her satisfaction, she found that in Graziadio. She credits her relationship with Dr. Park, a Graziadio professor, for inciting the initial connection between her and California Buildings. After learning more about their real estate internship and putting forth her due diligence, she successfully landed a summer internship—which eventually led to a full-time position.
Yassi's key learnings from the program reside in the importance of being communicative and expanding outside one's comfort zone. This necessary lesson has taught Yassi how to grow and develop herself into a well-rounded professional, much to her—and California Buildings—benefit.
Interview with Yassi Youdai
1. Provide some information regarding your academic background.
I have a bachelor's degree in psychology from Boston University.
2. What drew you to attending the Graziadio Business School?
I live in Malibu, so it is conveniently close to my house. I didn't know what career path I wanted to take, so I started looking into real estate programs and ended up going to the Pepperdine Graziadio open house the very next day. I liked how there was a smaller number of people in attendance, as I wanted to go to a smaller school to get more professional attention from my professors. All the staff at the open house were delightful. The fact that I met Dr. Park that day and was able to speak with him one on one was excellent. It furthered my idea that if I went to Pepperdine, I would receive the amount of attention and support that I would like from my professors. Last but not least, the campus is beautiful. I think my environment plays an influence in how I immerse myself in a situation.
3. What was the nature of your internship, and what interested you in that position?
It is in the construction industry. I have always been interested in luxury homes, so it was a remarkable coincidence. When I was younger, I would scroll through Zillow for hours, so I am lucky to now see how these luxury homes are built and to see the operations behind them.
I was also interested in the position because California Buildings is a family-owned business. Much like my interest in a smaller graduate program, I was also interested in working at a more intimate company. It is an environment that I saw myself thriving rather than in a large corporation. I get to work one on one with the company's owners every day, so I am fortunate that I have been exposed to every aspect of the business itself and what goes into running your own business in general.
4. Share positive points about your experience in Graziadio's Real Estate program.
I love that I was one of 30 students. I got to meet people of different ages and different stages in their careers. The older students were sometimes mentors and had a lot of information about life and career choices. I also befriended people from other countries and learned more about different cultures.
The professors were all fantastic. You could tell that their goal was to have us understand all of the material, whereas, in other programs I have been in, the professor would try to jump from chapter to chapter as quickly as possible. I liked that each class was once a week for 4 hours. The number of hours consecutively spent in each category was helpful. It was also great that we would then have a week to finish our work for that class. I also enjoyed how the professors would tie in our lessons from other studies into their lessons. You could tell they were all in communication with each other. It brought together the whole program and helped us understand the bigger picture.
5. Explain how it led to an internship and then a full-time position.
I was lucky to be one of the few people Dr. Park emailed for the "California Buildings" position. They were looking for someone who lived in Malibu, and luckily I was one of few who did. That goes back to the idea that I liked being in a small program. We were not in competition with each other, but if we were, I still would have been one of 30 applying, not one of the thousands. Darrell ended up reaching out to me, and I got an interview with California Buildings. My internship was three months in the summer, but after the first month, Nick, my boss, had already extended the opportunity to work full time for California Buildings. I was fortunate we were such a great fit.
6. Talk about how you have grown and developed along the way, key learnings.
One key thing I learned is to be more communicative. At first, I was shy, calling people I had never met to get things done, but after a while, I realized that it was necessary and that it would be for everyone's benefit.
Another thing I learned was to care about my work. The "care" I am referring to is looking at it more than a 9 to 5. Now that I have grown to love my bosses and coworkers, I do my work not just because I have to but because I love my company and only want the best for it.